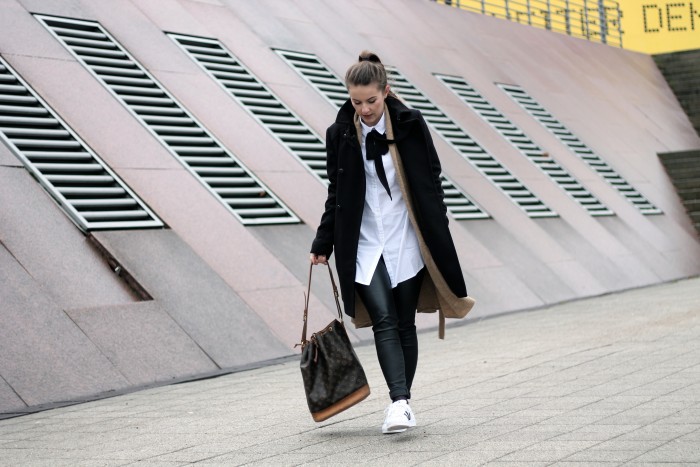 Vor einer Woche haben Maike und ich den Beginn unserer Semesterferien mit einem richtig tollen Mädels Shopping-Tag eingeläutet. Wir waren bei Dean & David essen und sind danach durch die Innenstadt gezogen und haben einen kleinen Shopping-Trip gemacht. Wir Mädels verbringen so viel Zeit zusammen, doch Maike und ich konnten uns nicht mehr dran erinnern, wann wir das letzte mal so eine Tag zusammen in der Stadt verbracht haben. Es hat auf jeden Fall mal wieder richtig gut getan einen Mädelstag zu verbringen.
Natürlich hatten wir wie immer unsere Camera im Gepäck um zwischendurch noch ein paar Outfit Bilder zu schießen. Ich hatte an diesem Tag das Wetter irgendwie total unterschätzt. Es war so windig! Als ich meine Bilder zuhause angeschaut habe bin ich aus dem Lachen gar nicht mehr rausgekommen. Fast auf jedem Bild hatte ich meine Augen zu und habe vor Kälte lustige Grimassen geschnitten. Aber zum Glück habe ich ein paar passable Bilder gefunden, euch meinen Shopping Look mit meiner neuen Lieblingsbluse von Edited zeigen zu können. Sie hat eine etwas längere Passform und wird mit der schwarzen Schleife zum echten Hingucker.
Ich wünsche euch einen guten Start in die neue Woche.
TRANSLATION///
A week ago Maike an I started our semester break with a really amazing girls day. We had a tasty lunch at Dean & David and went for a shopping trip that day. The three of us spend very often time together, but Maike and I noticed, that it was so long ago since we were shopping the last time. It was such a nice day and we hope that we will do this more often from now on.
Of course we had our camera with us, because we wanted to shoot some pictures of our outfits in between the shopping trip. And I have to say, that I underrate the weather that day. It was so windy! As I saw all my pictures at home I had s to laugh a lot. I had my eyes closed on almost every picture and made a funny face because it was so cold. Fortunately I found some nice shots to show you my look with my new favorite blouse from Edited. It is a real eye-catcher because of it't longer shape and the cute black bow.
I hope you all have a nice start in this week.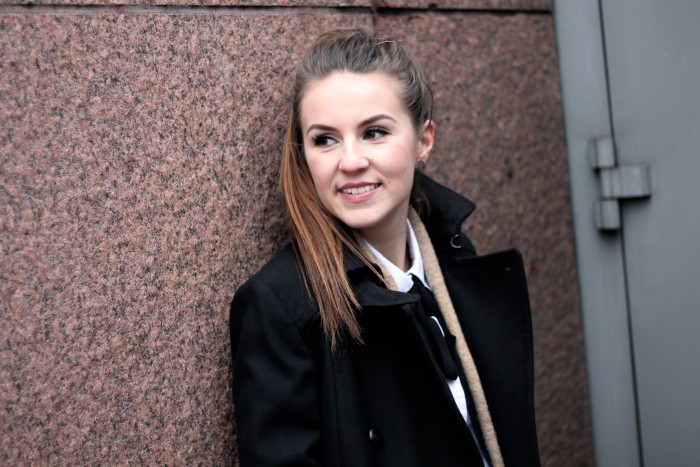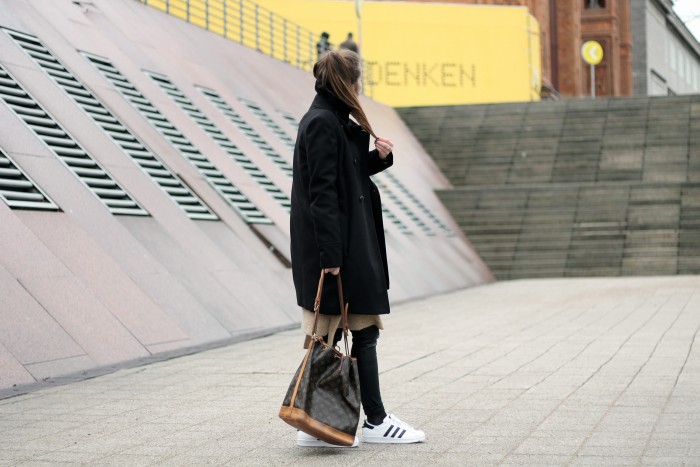 I was wearing:
Mantel / Coat: Mango
Cardigan: Mango
Bluse / Blouse: Edited (shop it here)
Schuhe /Shoes: Adidas Superstars (shop it here)
Tasche / Bag: Louis Vuitton