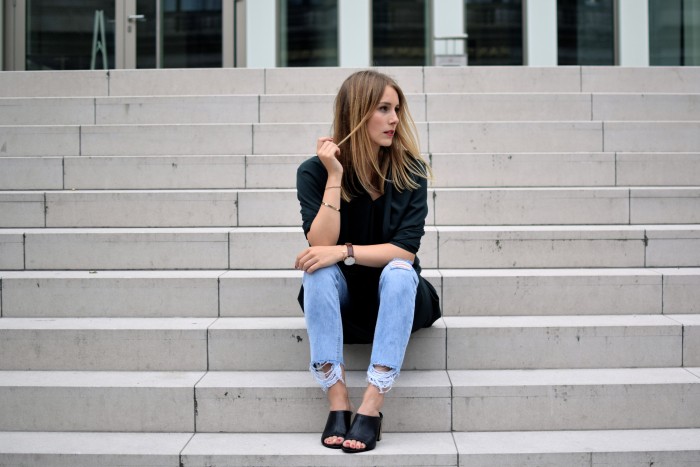 Ob man will oder nicht…in manchen Momenten dreht sich doch alles um die eigenen Person. Bei dem wöchentlichen Fotoshootings mit den Mädels richtet sich für einige Minuten die Aufmerksamkeit auf einen selbst. Zu Beginn war mir diese Prozedur sehr unangenehm und ich habe mich nicht so wirklich wohl in meiner Haut gefühlt. Mittlerweile kann ich damit aber ganz gut umgehen und auch die vorbeigehenden Menschen einigermaßen ignorieren.
Doch es gibt auch Situationen, in denen sich diese ungewohnte Aufmerksamkeit gut anfühlt. Wie beispielsweise an diesem Tag, als wir uns nach meinem Urlaub das erste Mal wiedergesehen haben. Wir haben uns total gefreut einander wiederzuhaben und natürlich waren die Beiden auch gespannt, was ich über den Urlaub zu berichten hatte. Es ist ein unbeschreiblich schönes Gefühl zu merken, dass Menschen sich für dich, deinen Urlaub, deinen Arbeitsalltag und auch kleinen Problemchen, interessieren. Dass es ihnen wichtig ist, wie es einem geht und einem immer mit dem richtigen Rat zur Seite stehen.
An diesem Tag habe ich erstmals meine neuen Mules mit goldenem Absatz und einem leichten Cape-Oberteil von About You ausgeführt. Diese besondere Mischung aus elegant und lässig ist wohl der rote Faden, der sich durch meinen Kleidungsstil zieht. "Modern Elegance", "Casual Chic" oder wie man diesen Stil auch nennen mag. Und auch das Feedback von Sonja und Kira war eindeutig…Maike das Outfit bist zu 100% du!
TRANSLATION///
Like it or not … in some moments, it's all about the own person. In the weekly photoshoots with the girls, the whole attention is directed on you for a few minutes. At the beginning of this procedure, I was very uncomfortable and did not really felt comfortable in my skin. Meanwhile, I can deal with it quite good and ignore the passerbys reasonably.
But there are situations, where this unusual attention feels good. For instance, as on this day, when we saw each other again after my vacation for the first time. We totally enjoyed each others company and of course the two were also curious to hear, what I had to report from my holidays. It is an indescribably feeling, that people are interested in you, your holidays, your working life and also little problems. That it is important to them, how you are and always have the right advice.
On this day I first run my new Mules with golden heel and a slight Cape Top. This particular mix of elegant and casual is probably the common thread, that runs through my clothing style."Modern Elegance", "Casual Chic" or how this style can be called. And the feedback from Sonja and Kira was clearly … Maike the outfit is 100% you!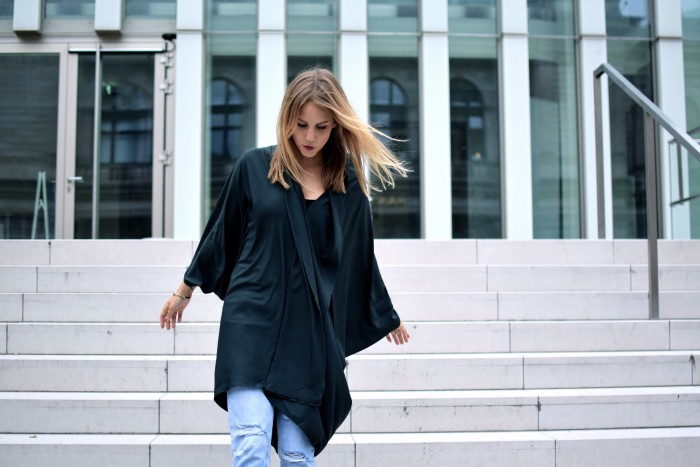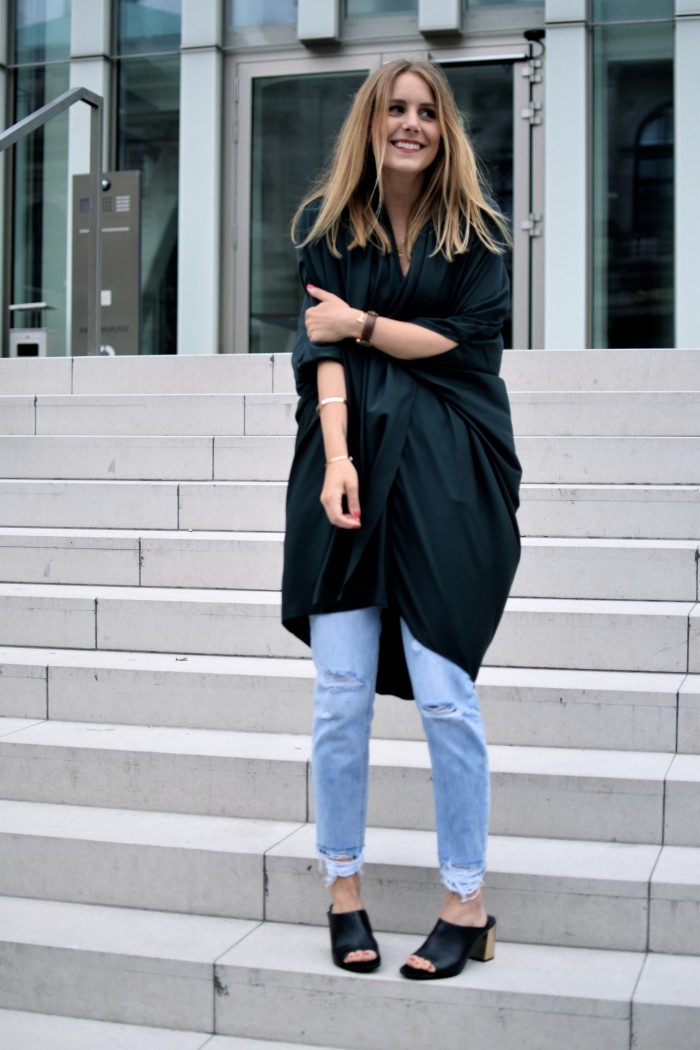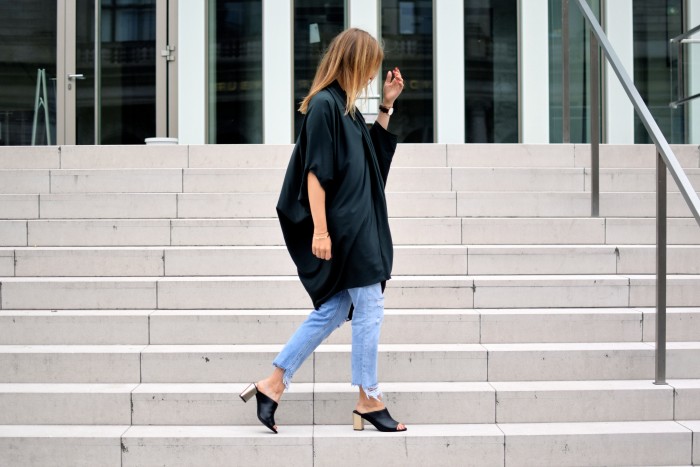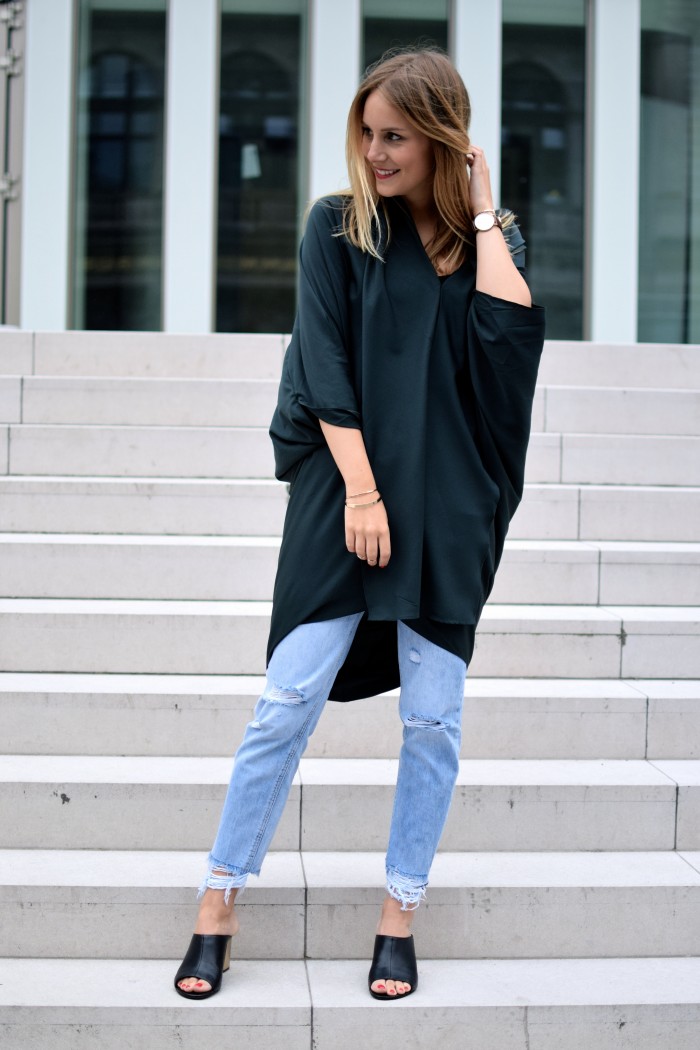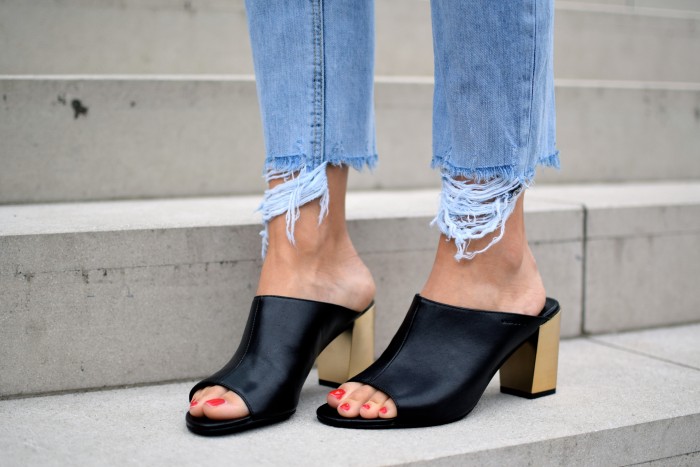 I wore: 
Oberteil/ Blouse: About You
Jeans: Zara Trf (similare here)
Schuhe/ Shoes: About You
Lippenstift/ Lipstick: Mac
Nagellack/ Nailpolish: Alessandro
*In liebevoller Zusammenarbeit mit About You