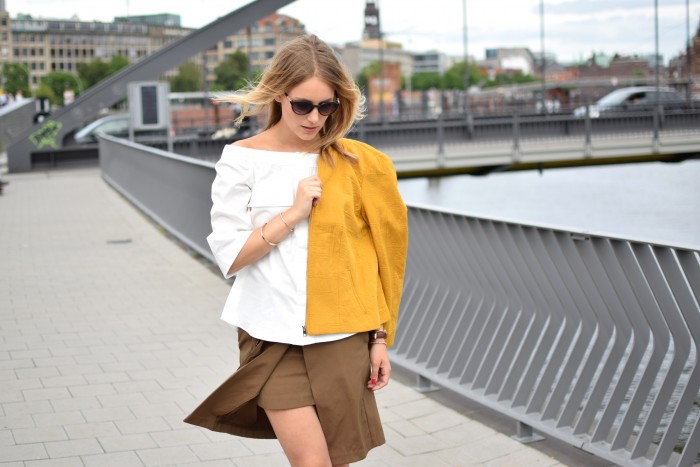 Bye bye Berlin und Hallo Hamburg! Wir haben aufregende Tage auf der Fashion Week erlebt und sind um viele Inspirationen und Bekanntschaften reicher.
Das Wochenende bietet sich an, um ein entspanntes Gegenprogramm zum Blitzlichtgewitter und vollen Terminkalender zu genießen. Dabei lohnt sich ein Spaziergang in der Hafencity jedes Mal aufs Neue und bietet glücklicher Weise auch eine tolle Kulisse für die heutigen Bilder.
Die Senfgelbe Bomberjacke mit Aztekenprägung von Grain de Malice hat mir auf Anhieb den Kopf verdreht und ist der Beweis, dass Gelb auch blonden Frauen steht. Es kommt eben auf die Nuance an, die man auf seinen Haut- und Haartyp anpassen muss. So lassen sich spielerisch sommerlich Farbakzente setzten und man ist auch gegen fiese Windböen gewappnet. Der heutige Look greift einige Trendaspekte des beliebten Boho-Looks, wie beispielsweise  Musterungen, Erdtöne und auffällige Schnürschuhe auf und gibt der Kombi aus Off- Shoulderbluse und Wickelrock das gewisse Extra.
TRANSLATION///
Bye bye Berlin and Hello Hamburg! We had some exciting days at the Fashion Week and we gained a lot of inspiration and acquaintances.
The weekend is advisable to enjoy a relaxed counter-program to a flurry of flashbulbs and busy schedules. Here, a walk in the Habour City worth time and is fortunately also a great backdrop for today's images.
The mustard yellow Bomber Jacket with aztec embossing from Grain de Malice has immediately turned my head and is proof, that yellow can be worn when you have blond hair also. It all depends on the shade that you have to adapt to his skin and hair type. So playful summery color accents can be set easily and you are prepared against nasty wind gusts. Today's look draws on some trend aspects of popular boho looks, such as surveys, earth tones and flashy Lace and gives the combination of Off-Shoulder blouse and wrap skirt that little bit extra.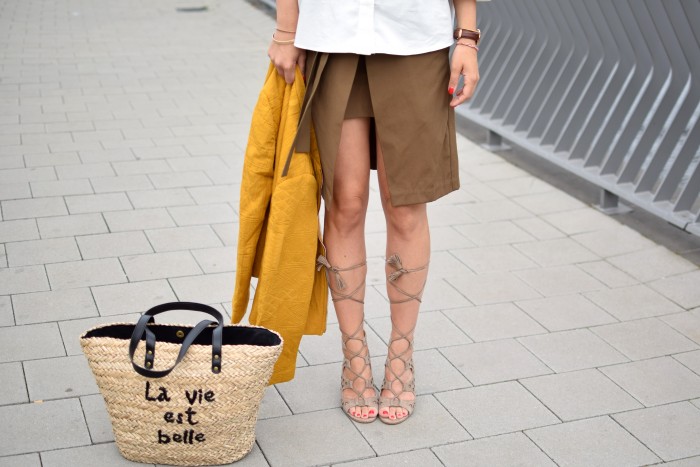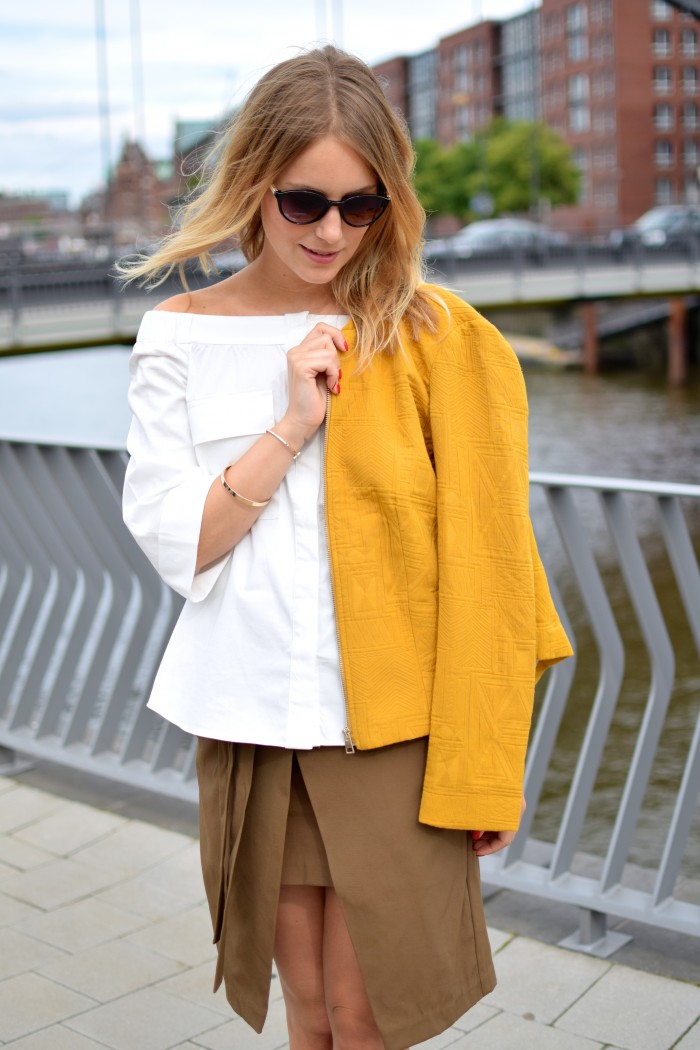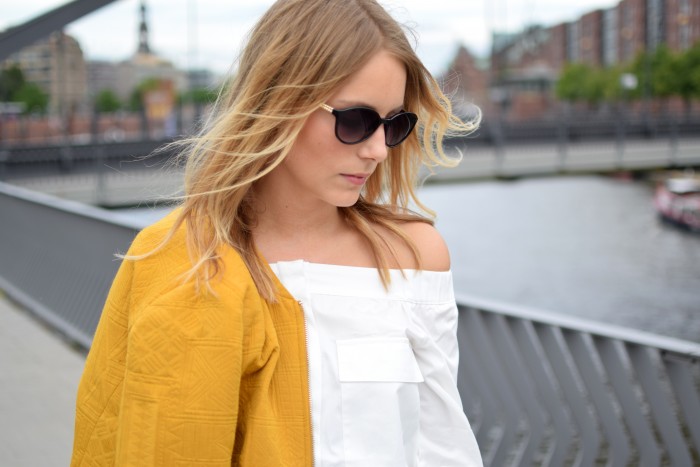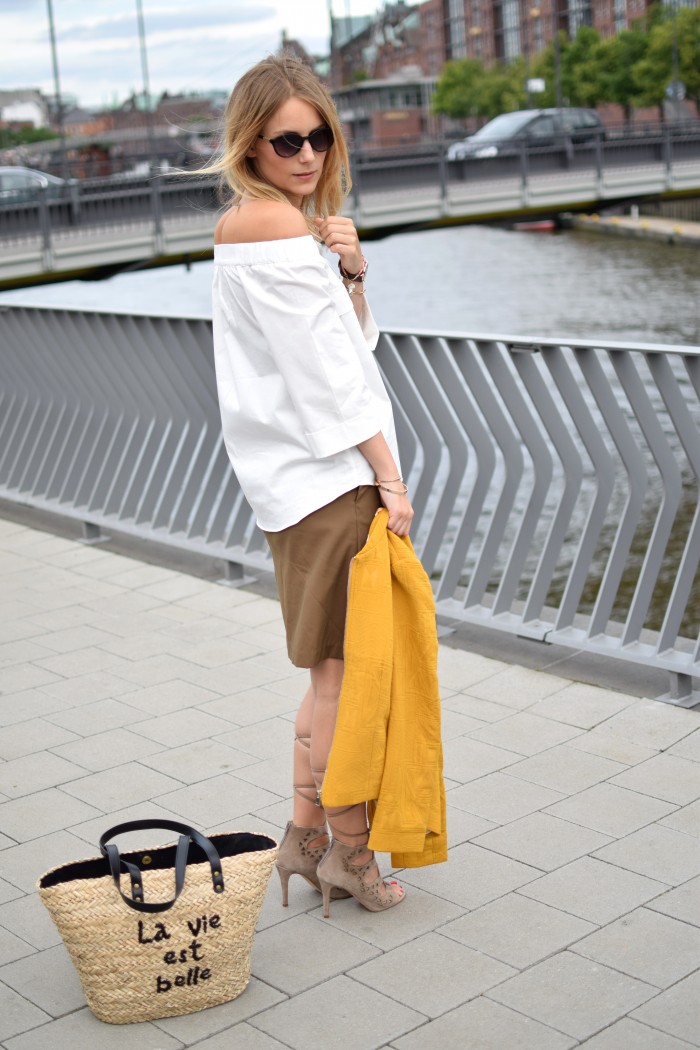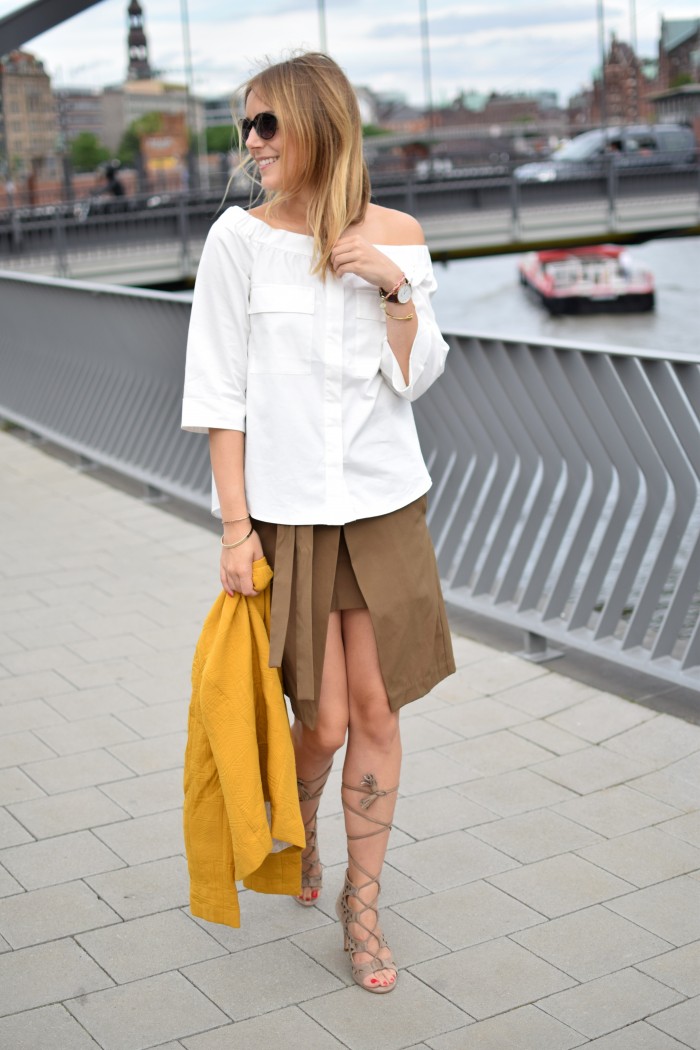 I wore:
Jacke/ Jacket: Grain de Malice
Bluse/ Blouse: H&M Trend (similare here)
Rock/ Skirt: Zara (similare here)
High Heels: Fashionchick
Sonnenbrille/ Sunglasses: Grain de Malice
Korbtasche/ Bag: Grain de malice
*In liebevoller Zusammenarbeit mit Grain de Malice