Die letzten Tage waren wettertechnisch einfach nur schrecklich. Am liebsten wäre ich jeden Tag zuhause geblieben, hätte mich in eine Decke eingekuschelt, mit einem Tee in der Hand und hätte den ganzen Tag im Warmen verbracht. Doch bei uns ist in der Uni gerade mal wieder die heiße Phase angesagt. Und so muss man sich jeden Tag aufs Neue aufraffen, um morgens aufzustehen und bei schlechtem Wetter den Weg zur Uni anzutreten.
Durch das Schietwetter und den Sturm den wir letzte Woche in Hamburg hatten, war es natürlich nicht wirklich einfach ein paar vernünftige Outfitfotos zu machen. Und so hat mein Freund diese tolle Location vorgeschlagen, die ich bis dahin gar nicht im Sinn hatte. So konnten wir ganz entspannt an der U-Bahn Haltestelle "Universität Hafencity" Bilder machen, während draußen der Sturm wütete.
Die U-Bahn Station ist ganz anders, als wir es für gewöhnlich in Hamburg kennen. Dort stehen riesige Leuchten, die die ganze Zeit ihre Farbe ändern. So seht ihr heute auch auf meinen Bildern das tolle Lichtspiel in der Station.
TRANSLATION///
The last days we had horrible weather here in Hamburg. It was raining all day long and it was so windy. Perfect weather to stay at home, to relax and drink some tea. But at university we have so much to do right now. So it was very hard, but we had to get up early and took the cold and rainy way to university every day.
Because of the terrible weather and the wind of last weeks , it wasn't easy to take some outfit pictures. But my boyfriend had the nice idea, to take some pictures at the Hafen City Underground Station. So we could take some Pictures unstressed, while the storm outside took range.
The underground station looks very different to the other stations here in Hamburg. There are huge lights, that are changing their colors all the time. You can see the wonderful light-show on my pictures today.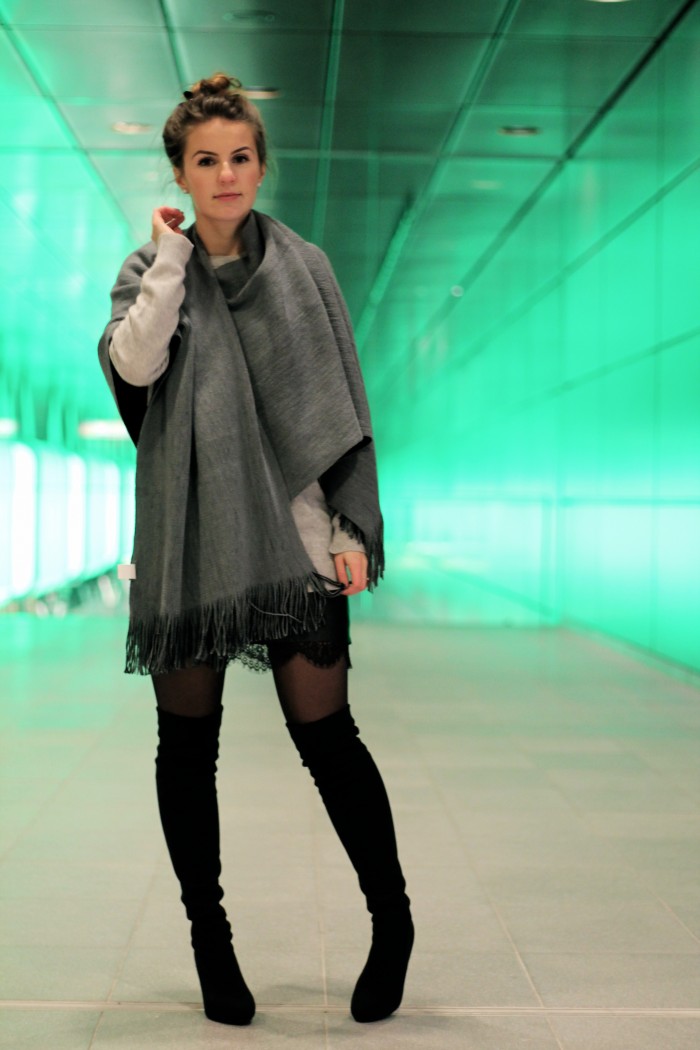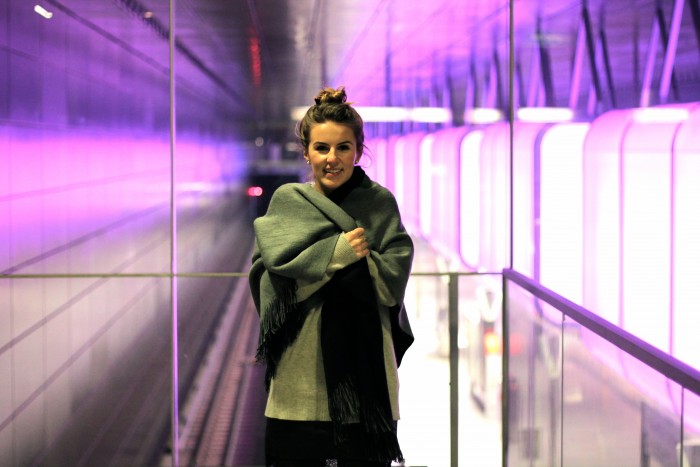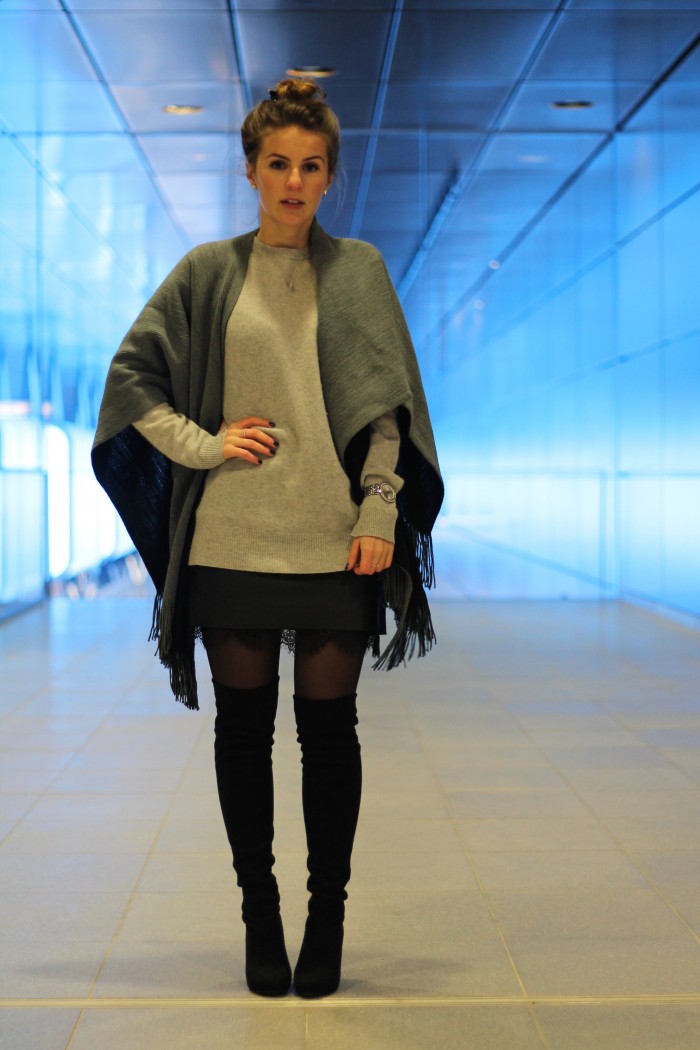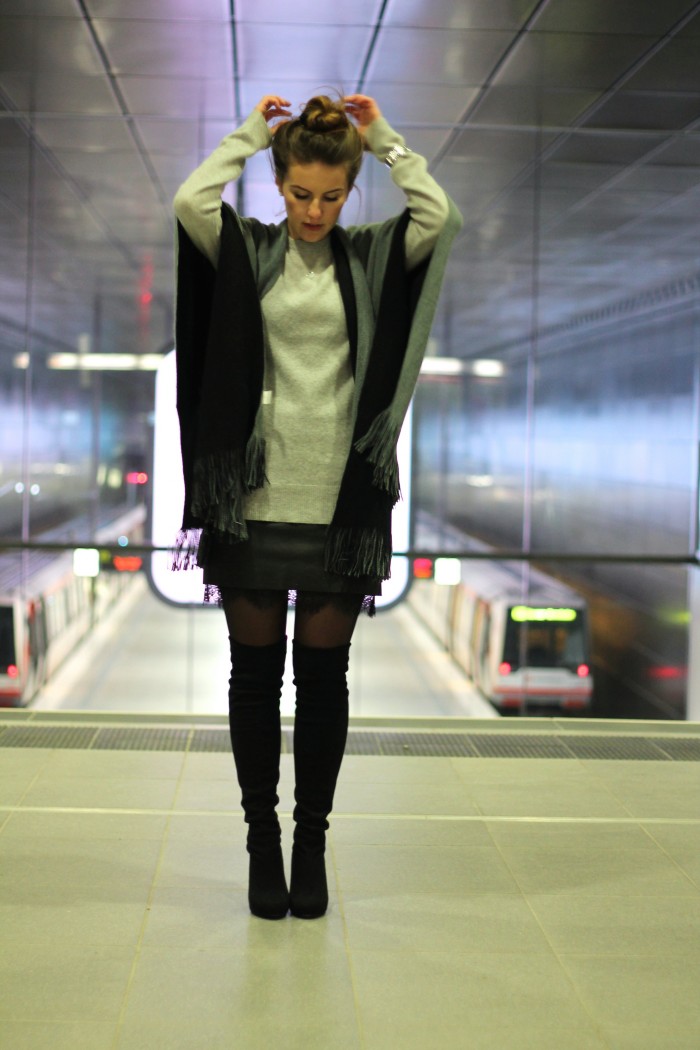 I was wearing:
Pullover: Zara
Poncho: Kleidoo
Rock / Skirt: H&M
Overknees: Zalando
Schmuck /Jewelry: Tiffany & Co., Swarovski
Uhr / Watch: Michael Kors