---
Today it´s exactly one week ago that we are back from our dream vacation. It's hard to believe how quickly time flies by. Nevertheless, as promised, I would like to share my Sansibar Travel Guide – Part II with you. Already last week I reported about our planning & booking of the trip, about Zanzibar itself and our hotels. Today you learn everything about our trip to Tanzania, our safari, the hike at Kilimanjaro, the attractions & tours we made and the best restaurants we visited.
T A N S A N I A 
Via AirTanzania we booked two domestic flights from Zanzibar to Kilimanjaro Airport. From there we went directly to Arusha. A small village of no importance, which is the starting point for most safaris.

---
S A F A R I
Safaris are a must when flying to Africa. An unbelievably great experience that we will probably remember forever. At the beginning we had planned to plan three to four days safari. After a short look at the prices (2.500 – 5.000 p.p. upwards) we were astonished to find that this would exceed our budget. I was aware that safaris are expensive, but they cost more than I expected.
We changed our mind and planned a safari day trip (approx. 9 h) in Tarangire National Park. This was not cheap (174 – 360€ p.P. depending on the season) but absolutely worth its money. We booked our trip without any problems through Get Your Guide (advertising, unpaid) and were picked up directly at our hotel and dropped off again in the evening. Basically, one does not only have to pay for the guide and the car but also high entrance fees for the national parks.
Already after a few minutes, numerous zebras were in front of our car, giraffes that ate some leaves and elephants that walked next to us. Fortunately for us, Flo and I were the only two in our jeep and could enjoy our safari in privately.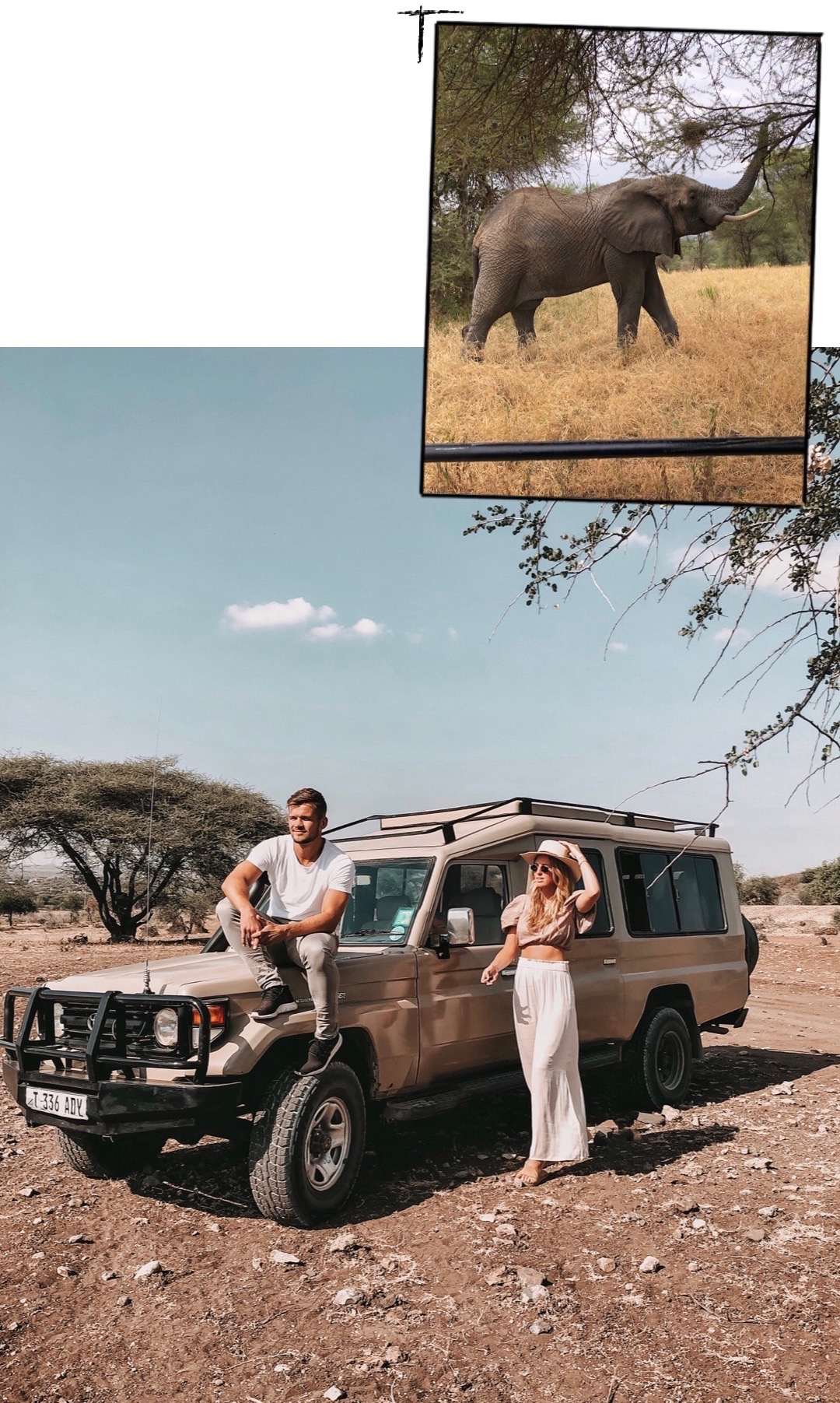 ---
K I L I M A N D S C H A R O
Basically, there is a cheap alternative for almost all attractions & tours. But if you want to climb Kilimanjaro up to the summit, you should plan a lot of time and money. We decided against it for time reasons, but we would have liked to do the tour already. Accordingly, I can not give you the information directly from my own experience, but only what I got myself. A tour to the summit usually takes about seven days and costs between 1.200 € – 1.700 € per person. This includes the entrance fees for the National Park, the guide's fee and the Porter (the people carrying your luggage). The more time you take for the hike, the better. Because the Kilimanjaro with its 5.895 m altitude is definitely not to be underestimated. Especially at high altitudes, when you are not used to this, a so-called altitude sickness can quickly occur.
Nevertheless, even for a smaller budget, a tour to Kilimanjaro is definitely worth seeing. Altogether we took two full days for the Kilimanjaro. We stayed in the small village Moshi and from there we went with the Dala Dala, a public transport in form of a minibus, to the small village Marangu, directly in the valley of the Kilimanjaro. From here all tours around Kilimanjaro start. The nature is particularly impressive. For a smaller budget a smaller hike of about 4 hours to the waterfalls is definitely recommended. In addition, it is offered to visit the national park, but here also an entrance fee of 90$ per person is due. It is definitely recommendable to take a personal guide (about 20$ for us two for the whole day), as the paths are totally hidden and not visible via Google Maps. We were approached in Marangu directly on the road by a guide who accompanied us on our hike. The tour was absolutely recommendable and one of our highlights. Finally, we made a small stop at a coffee plantation where we could produce coffee ourselves and drink it afterwards.
A T T R A K T I O N E N  &  T O U R E N
In Zanzibar and Tanzania there is more to experience than just lying on the beach. One attraction is cooler than the other. Because this destination offers not only relaxation but also the right amount of action. Basically I would advise you not to book the tours directly through the hotels, as these are at least three times as expensive as they are otherwise offered. Even though in many travel guides it is not recommended to book any tours on the beach, we have only made good experience with it. And also here you can still get the price down by at least 1/3. I'll give you a short summary of all the tours we did on the spot and which we liked best.
Safari Blue
Near Jambiani | Price ca. 35 – 50 € per Person
This tour is not for non-swimmers or people suffering from seasickness. Here one goes with a small wooden boat approx. one hour to a small island. It is held for snorkeling and on a sandbank and afterwards grilled on the beach Sea Food. In comparison to the other tours, this was one of the tours that I would most likely delete from the program.
Delfin Tour
Near Jambiani | Price ca. 25 – 40 € per Person
Whoa! One of the greatest experiences of my life. Even though I heard some negative reports about the dolphin tour from some tourists, I can't confirm them at all. The dolphins were considered in their natural environment and were not disturbed by the people and boats. Our absolute highlight was that you could jump into the water and dive with the dolphins. We were right in the middle of a dolphin swarm and were so close that we could almost have touched them.
Touren mit Guide:
Spice Tour
Near Stone Town | Price ca. 20 – 30 € per Person
On a plantation, one is shown the most different spices and fruits. A super interesting tour, where you can definitely learn something. We had a lot of fun.
Stone Town Tour
Stowe Town | Price ca. 15 – 30 € per Person
I would rather not recommend this tour. We had a nice guide who guided us through the city, but the only thing really worth seeing is the museum of slavery. The rest of the city does not offer much history and this can be better explored on your own without having to pay a guide.
Prison Island Tour
Stone Town | Price ca. 20 – 30 € per Person
The Prison Island Tour starts with a small boat directly from the beach in Stone Town. The special thing about the tour are the giant turtles that live on the island and run around freely. They can also be fed and stroked.
In addition, a small stop on the water is made for snorkeling.
Tours without Guide:
Kuza Cave
Near Jambiani | Price ca. 10 $ per Person
Personally, I liked the cave a lot, but Flo liked it less. So this is a matter of taste. You really don't get much for the entrance fee. There is a big cave with crystal clear water in which you can swim and dive. If one has not visited a cave of this kind yet, it is definitely worth a visit.
Turtle Aquarium
Nungwi | 10 $ – 15 $ per Person
There are two different aquariums here. The Manarani Marine Turtles Conservation Pond and the Baraka Natural Aquarium. The Manarani takes care of sea turtles caught in fishing nets, nurses them back to health and then releases them into the sea again. This project is purely for a good cause and serves to educate the tourists. The Baraka Aquarium is a saltwater lagoon where sea turtles also live. The special thing about this lagoon is that the tourists are also allowed to swim with the turtles. We visited both aquariums and would recommend both.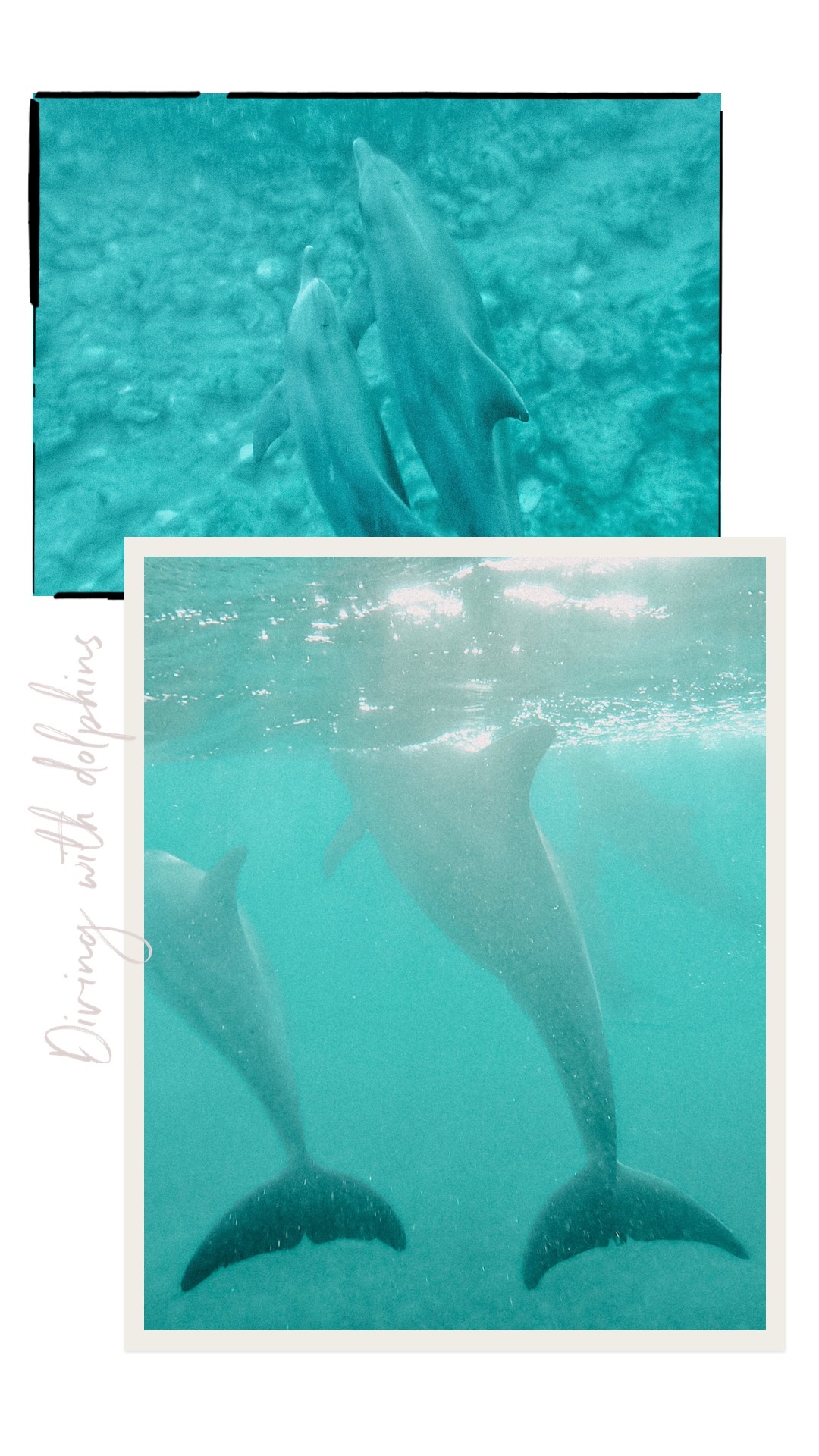 ---
R E S T A U R A N T S
You can eat really well in Zanzibar. Of course you have to have the right addresses where you go. We have invested a lot of time in research and have always been informed about the best restaurants in the area via Google and TripAdvisor (advertising, unpaid). Here are our best restaurant tips:
Taarab
Stone Town | 15 $ – 35 $ per Person
The restaurant is located on the roof terrace of the Double Tree Hilton Hotel in the heart of Stone Town. Super nice view over the city, delicious food and very nice service. We were thrilled and still rave about the great food! An absolute must if you are in Stone Town.
Emerson on Hurumzi
Stone Town | 15 $ – 20 $ per Person
This restaurant puts you right in the middle of an Aladdin movie set. The restaurant is also on a roof terrace and offers a beautiful view over the city and the sea. The food is oriental but super delicious. A little tip: make sure to book in advance!
More than a drop
Moshi, Tansania | 15 $ – 20 $ per Person
A beautiful small restaurant with mainly vegan cuisine. The food was delicious and we even went there two days in a row because we liked it so much. The special highlight is the direct view to the Kilimanjaro.
Sunrise at Bandas
Matemwe | 15 $ – 30 $ per Person
The restaurant is located on the north-east coast of Zanzibar and offers a wonderful romantic atmosphere. Also here we went two days in a row, because the food tasted so incredibly good. On Friday there is a special menu with live music. An absolute recommendation – we are still enthusiastic about the unbelievably good food.
The Rock
Michamwi | 20 $ – 35 $ pro Person
The restaurant offers an incredibly beautiful ambience as it is built on a rock in the middle of the ocean. Depending on the tides, the restaurant can be reached by foot or by boat. The food is a bit more expensive but was of good quality. Not the best food that we had on the island but very tasty. All in all, the restaurant is definitely worth a visit – we liked it very much. Reservation is a must!
More restaurants we visited and enjoyed:
Kisiwa Hotel – Jambiani für 25 $ per Person
Michamvi Sunset bay Hotel – Michamvi für 25 $ per Person
Spice Island Hotel Resort – Jambiani 15 $ – 25 $ per Person
New Teddy's on the beach – Jambiani 15 $ – 25 $ per Person
Bahari Pizza – Jambiani 15 $ – 25 $ per Person
So and that was already my summary of our vacation. I hope I could give you a good impression and provide you with some tips. Even though I have made many, many trips in my life, this trip was something very special for me. If not the most beautiful trip I have ever experienced. For this reason I can only recommend this destination to you!
For more inspiration visit our Shop …