*Advertisement/ This post contains brands & hotel names (non-paid)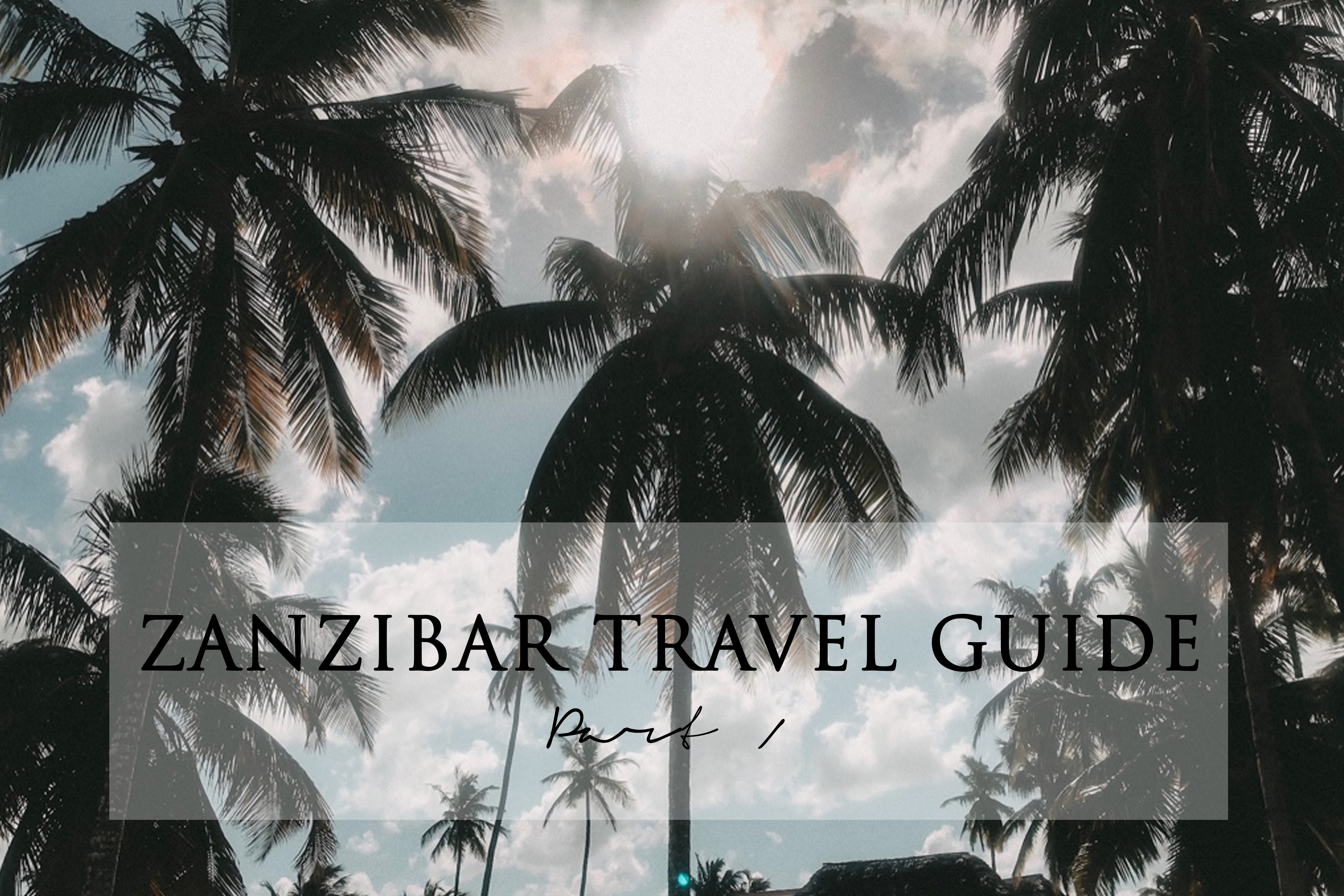 ---
Miles of white sandy beaches, palm trees everywhere you look and turquoise water of the Indian Ocean – that's Zanzibar, if I had to describe it with just three words. But the island and especially the country Tanzania offers much more than that. The pictures do not lie, the beach is whiter than white, the sea shining turquoise and all around the most beautiful nature.
The African dream island can thus quickly put one or the other island in the Caribbean or even on the Maldives in the shade.
Three whole weeks Flo and I have travelled Zanzibar & Tanzania and couldn't be happier with our travel choice. Truly a dream trip that we will probably always remember. But in order to explain our travel planning a little better to you future travelers and to make the destination itself a little tastier for you, we start from the beginning.
B OOKING   &   COSTS
Basically one must say in advance that Africa is not Southeast Asia and therefore similarly low prices for hotels and other activities cannot be expected.
To be honest, Zanzibar and Tanzania is even a quite expensive destination, which surprised us at the beginning. One thing is clear that our three week trip to Africa will not be cheap, we were of course already aware of this before. However, it is also possible to find an inexpensive alternative to the utopian prices of hotel resorts, safari & tourist attractions and still experience a dream holiday.
We went in July, with is one of high seasons, and of course affected the cost a little bit. Nevertheless, we found a good possibility for us to save some money. If one wants to travel longer, I would advise against package tours. Because with a little research, the own travel planning can be planned on the one hand much more exclusive and also cheaper.
First of all we have booked the flights and searched several providers online for the best prices and flight connections. Here I would recommend the sides momondo, Kayak, opodo & elumbus (advertisement unpaid) both for long-distance, and for shorter flights. After the flights were booked, we started with the actual travel planning, the itinerary and the selection of the hotels.
For this purpose we have read through the travel guide as well as online travel reports and made our stay in Zanzibar mainly dependent on the most beautiful beaches on the island. Accordingly, our itinerary was planned as follows: Jambiani – Stone Town – Tanzania (Arusha) – Tanzania (Moshi) – Michamvi Kae – Jambiani – Matemwe. 
We deliberately chose our stay in Tanzania in the middle of our vacation, because we wanted to start and end our vacation with relaxed beach days on Zanzibar. In conclusion a very good decision, because we had the perfect mixture of action and relaxation.
---
---
S A N S I B A R 
It was important for us to get as much as possible of the island, the country, the people and the culture. Because if you already start such a long journey, you should have seen a little bit at the end of the day and not only the beach section of your own hotel resort. For this reason we chose several hotels on Zanzibar as well as in Tanzania to travel a little on the island and on the mainland.
We started our journey in the beautiful beach town of Jambiani, on the east coast of Zanzibar. With our five days stay in the beautiful Spice Island Hotel & Resort (advertisement) we could not have imagined a better start for our trip.
But also the food, is absolutely recommendable for evening as well as for breakfast. The staff is charming, very competent and speaks English very well. We especially liked the fact that the hotel also has a traditional touch. We felt very comfortable and recommended the Spice Island Hotel & Resort. The beach of Jambiani stretches over several kilometres. A soft sandy beach that is so white that it even seems surreal. Beside the blue turquoise water there is a scenery of numerous palm trees that rise up into the sky. Postcard feeling pre-programmed!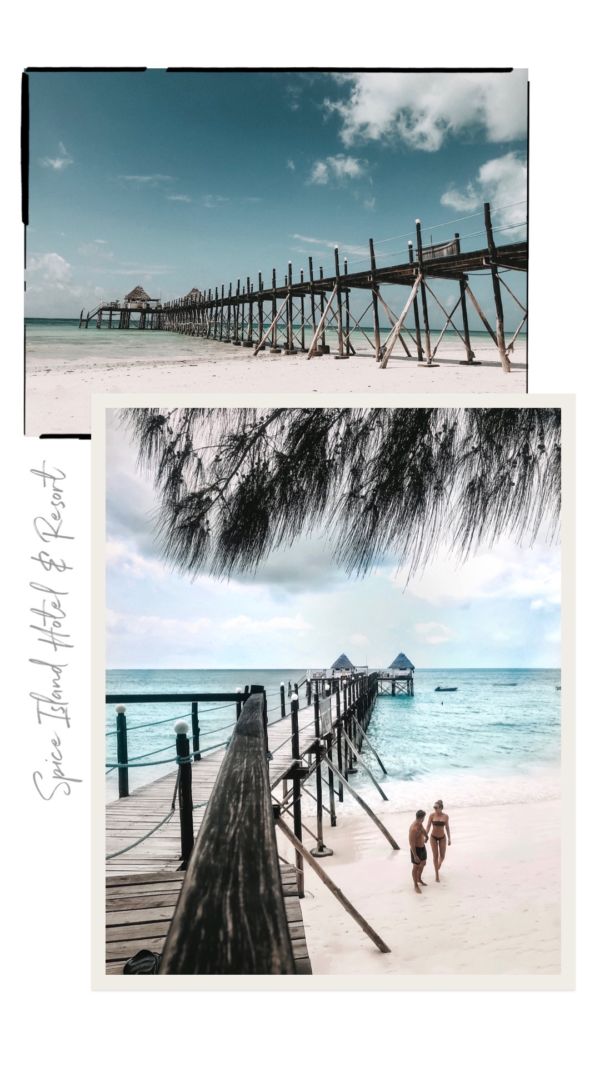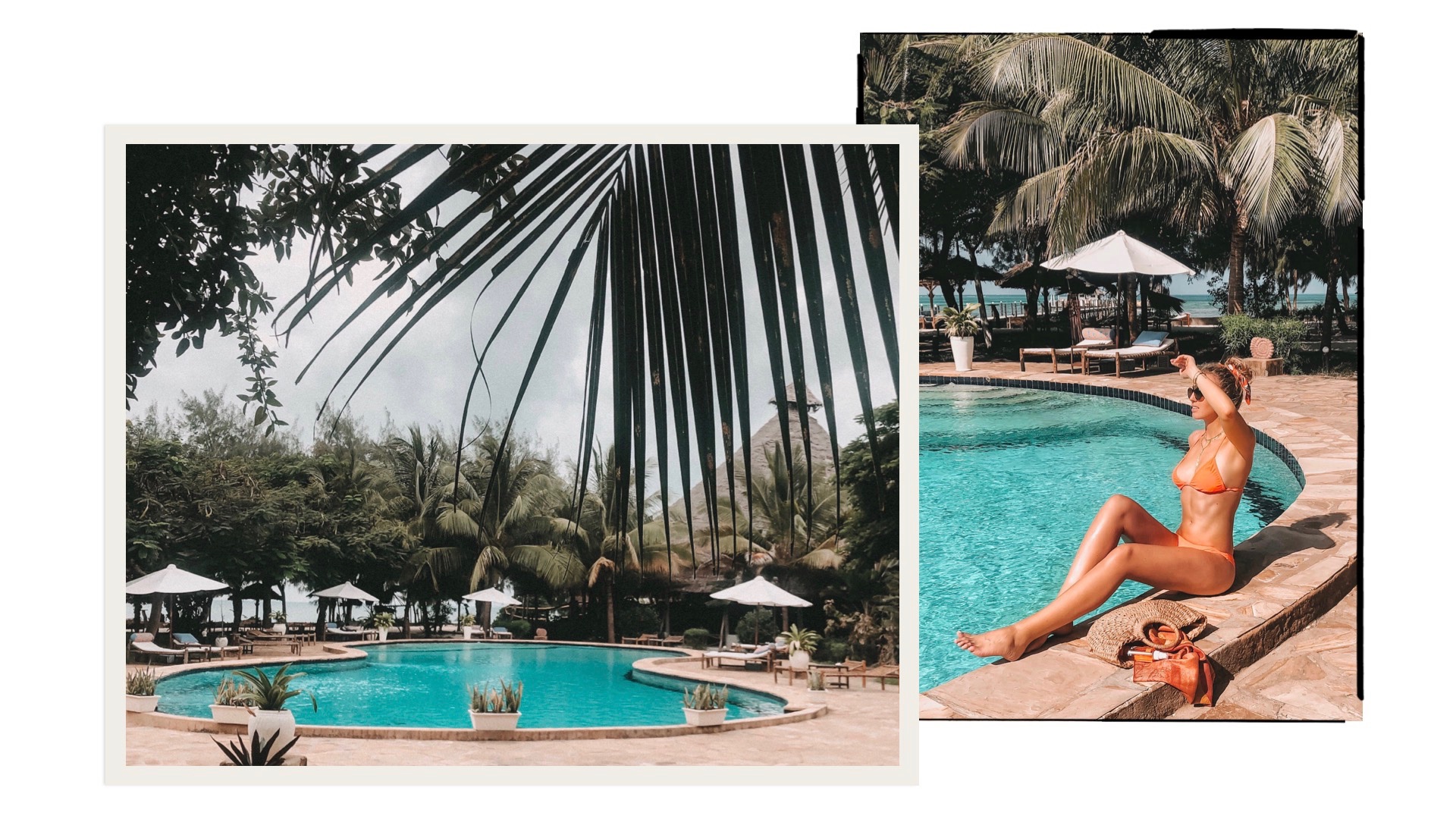 From Jambiani we went directly to Stone Town, the biggest city on Zanzibar. Everything a little bit angled and bustling but we were happy to get this insight as well. Absolutely recommendable are two Rooftop Bars & Restaurants, which take you directly into the movie scenery of Aladdin. The Emerson on Hurumzi & Taraab were our absolute favorites and we still rave about the delicious food today. Another point that you can easily check off from Stone Town is the Spice Tour and the Prison Island Tour, which I will go into in more detail later.
From Stone Town we went to Tanzania for five days and then back to Zanzibar. Our next stop was Michamvi Kae. Michamvi is located at the east coast of Zanzibar but at a south-western tip, so that the beach is laid out to the west. Accordingly, one can also enjoy the most beautiful sunsets from there, which of course cannot be perceived so well on the rest of the east coast. The sea is shallower and calmer whereas the beach is also dreamlike beautiful but in our opinion not as beautiful as in Jambiani and Machemwe.
Our highlight, we discovered only five minutes from our hotel a sandbank to which we could walk through the water at low tide. A really paradisiacal scenery in the middle of the Indian Ocean.
Our last stop was a beautiful hotel in Matemwe.
We booked all other hotels directly through booking.com (advertising, unpaid) and were always satisfied. Tembo Hotel (Stone Town): Price performance was okay, location of the hotel was top, food not recommended.
Kikoi Boutique Hotel (Michamvi): beautiful pool area directly at the sea, big & nice room, food was okay but not outstanding.
The Loop (Jambiani): Beautiful pool directly at the sea, turquoise-blue sea water all around only palm trees, food & breakfast super delicious, staff very helpful & friendly, massages & tours super value for money.
AHG Dream's Bay Boutique Hotel (Matemwe): Beautiful modern rooms, great beach beds directly on the beach, friendly staff.
(Advertising, unpaid)
P.S. As a little tip for all further journeys, make a google email account and create your own list via google maps, where you can put numerous pins, save all places directly and easily find them again.