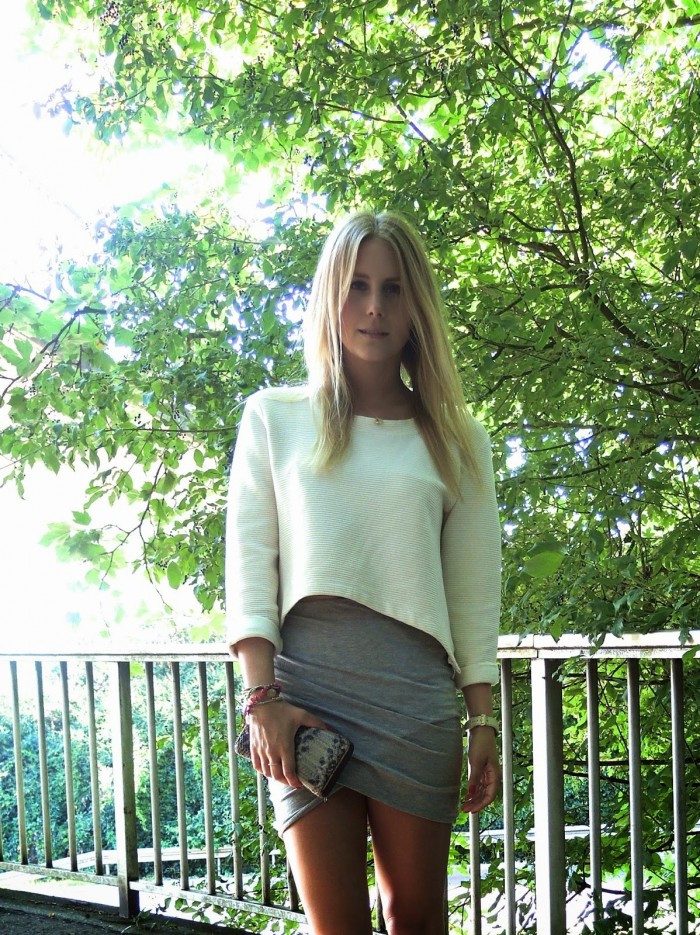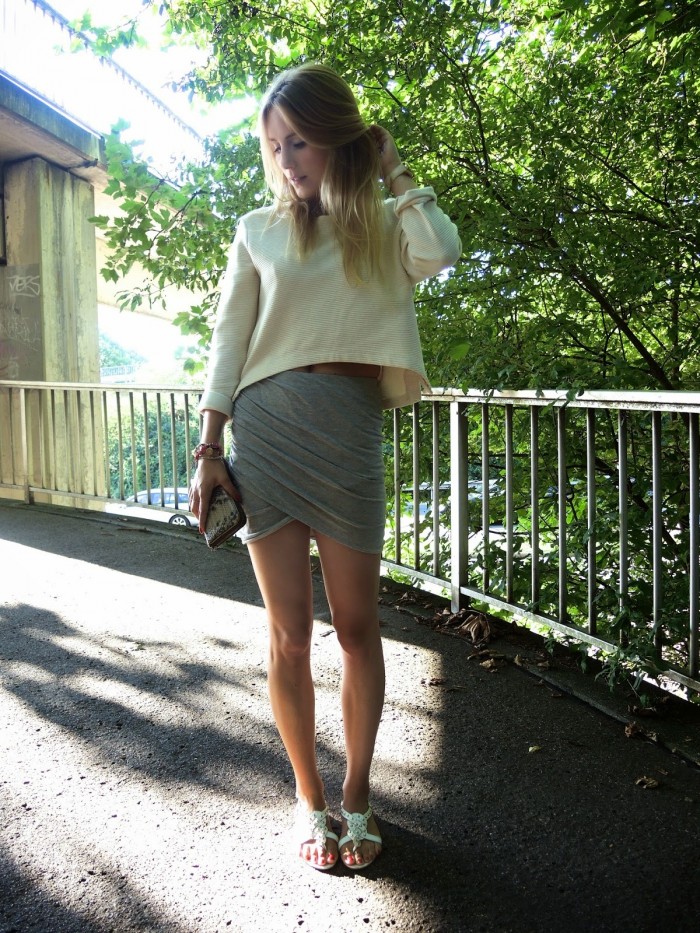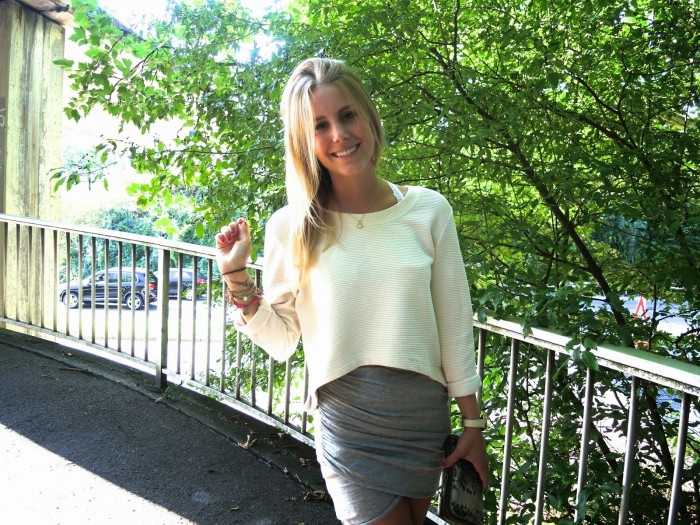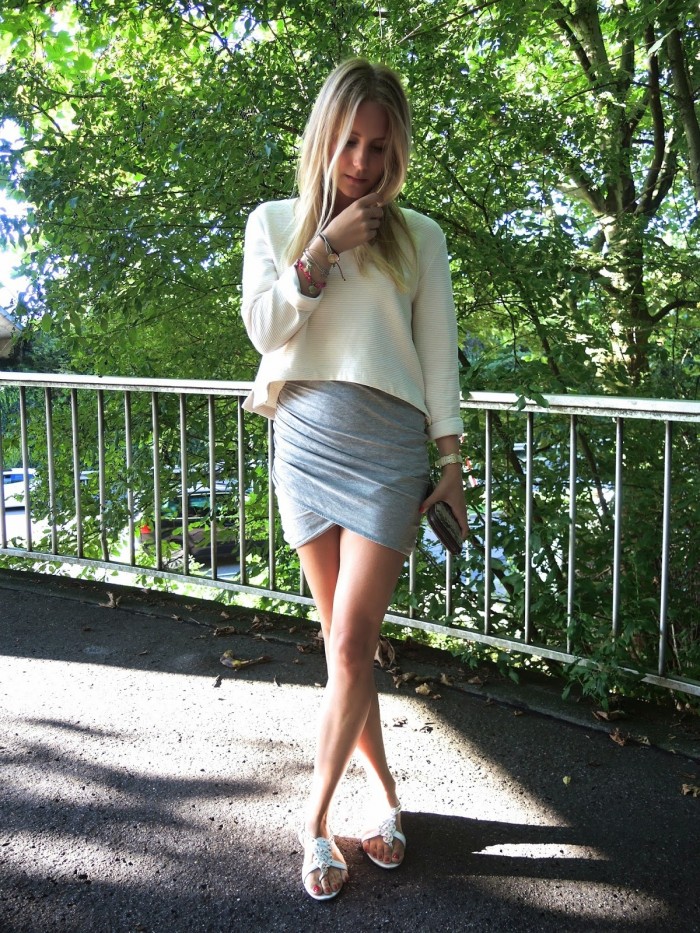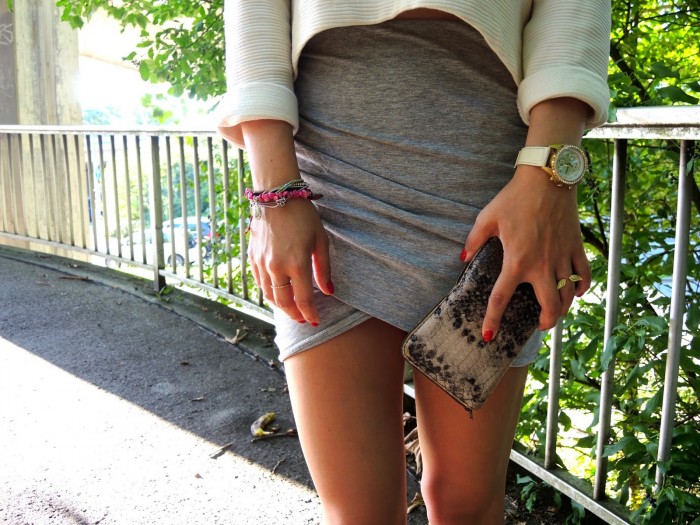 Rock/Skirt: H&M
Sweater: H&M Trend
Kette/ Necklace: Madeleine Issing
Uhr/Watch: Fossil
Clutch: Zara
Sandalen/Sandals: Zara
Die letzten Tage habe ich in Reutlingen bei der lieben Sonja verbracht. Denn das halbe Jahr ihres Praktikums verflog zum Schluss doch schneller als gedacht und einen Besuch in der vorübergehenden Heimat konnte und wollte ich mir wirklich nicht nehmen lassen.
Daher entschied ich mich für einen Kurzurlaub in den südlicheren Teil Deutschlands. Wir haben wirklich jeden Tag ausgekostet und das tolle Wetter genutzt um die Tage unvergesslich zu machen.
So wurde der erste Tag beispielsweise einem Freibadbesuch mit Sonnenbad und Test der neuen Triangel Bikinis gewidmet. Am Abend lernte ich Sonjas lieb gewonnene Mädels bei einem gemütlichen Abendessen und erfrischenden Getränken kennen.
Auf dem Weg sind auch diese Bilder entstanden, auf denen ich einen grauen Jerseyrock in Wickeloptik zu einem lockeren Sweater mit Rippen kombiniert habe. Der Clou an dem Oberteil ist, dass es vorne abgerundet ist und zu den Seiten etwas länger wird. Das perfekte Kleidungsstück für all Diejenigen, die sich nur langsam an den bauchfrei Trend trauen.
Die lieb gewonnenen Schmuckstücke von Madeleine Issing sind zu meinen täglichen Begleitern geworden, da sie klein und filigran gearbeitet sind und dennoch die Blicke mit den süßen Formen auf sich ziehen.
TRANSLATION///
I spend the last days in Reutlingen with our beloved Sonja. Because the half year of her internship is almost over and I couldn't miss to visit her temporary home there.
So I decided to go on a little vacation in the southern part of Germany. We really enjoyed every single day and the amazing weather to the fullest.
The first day we hang out in an open air swimming pool and tested our new Triangl Bikinis. At the evening a meeting with Sonja's friends was planned, where we let the day fade by some nice food and refreshing drinks.
On the way to the restaurant we took todays pictures where I wore a grey jersey skirt with a wrapped look in combination with a loose fit sweater. The clou about this pullover are the lower sides and shorter front. So it is the perfect item for everyone who attuned more slowly to the belly-top trend.
And naturally my decision fell on the lovely necklace and ring from Madeleine Issing. I love this jewelry because it is delicate, but also catches the attention with it's cute shapes.