*Advertisement/ Affiliate Links & PR Samples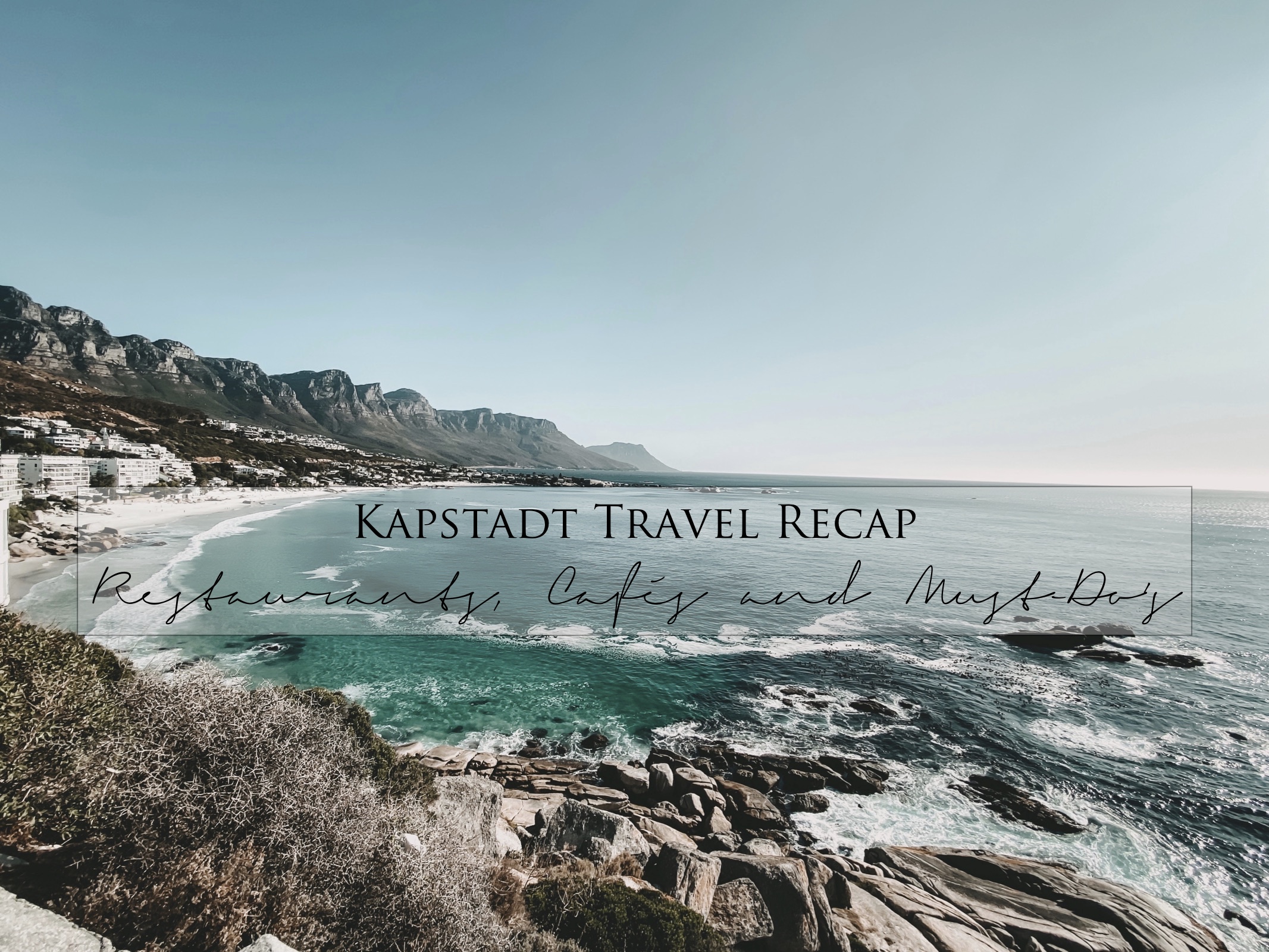 We have been back in Hamburg for a few days now and are changing dresses and bikinis into winter jackets and boots again. While we defy the rain and the wind, we reminisce about a good time in Capetown with delicious food, good wine and many unforgettable moments. Of course we would like to share our experiences with you. In this post, we will therefore show you our personal café and restaurant recommendations, what you should definitely see or do, and of course our accommodation.
"Once in a year, go someplace you've never been before!" – Dalai Lama
---
CAFÉS
Nourish'd
Our first café recommendation is the Nourish'd. You will find the Nourish'd twice in Capetown – in Kloof and in the Observatory. The vegetarian and partly vegan café offers a large selection of delicious bowls and cold pressed juices as well as sandwiches and toasts, which you can order gluten-free.
Kauai
You can have breakfast in one of the many Kauai branches right on the promenade of Camps Bay. The menu offers everything you need for a balanced and healthy start into the day. The juices are also highly recommended here. Our tip: Order a juice for take-away and have a walk at the Glen Beach.
Harvest Café & Deli
For breakfast as well as for lunch you will find a large selection of bowls, warm pumpkin porridge, toasts, salads and even burgers in the Harvest Café & Deli. This great selection and the quality of the food have made this café our favorite. In addition to the delicious menu, you also have a great view of the colorful houses of Bo-Kaap, which are also a great photo spot.
The Strangers Club
The Strangers Club is located in Greenpoint, in the north of Capetown. The Strangers Club is not just a café, but rather a place where stories are collected and shared. There is a small shop where you can buy clothes, accessories and beauty products as well as traditional African jewelry, decorative items and art. The café makes the heart of every coffee lover, like ours, beat faster and serves coffee from different regions of Africa, South America and Indonesia. In addition to the good coffee, you will find delicious hot and cold bowls, sandwiches, juices and salads on the menu. Our tip: The Nuttie Bowl is so delicious!
With great attention to detail and a mixture of traditional African and modern interiors, the Strangers Club creates a great atmosphere.
JASON Bakery
On our last day we went to this bakery in Greenpoint on recommendation. A bakery with everything from croissants with ham & cheese, avocado toast, omelet, donut and much more. Jason Bakery is an absolute must-do for anyone who loves bread in any form for breakfast!
---
RESTAURANTS
La Parada Waterfront
The La Parada restaurant is right at the waterfront. The restaurant is located on the harbor and is the right place to go for anyone who loves tapas and seafood. If you eat at La Parada, we can warmly recommend the churros as a sweet sin afterwards!
The Kloof Street House
The Kloof Street House was definitely one of our favorites. The restaurant offers beautiful indoor and outdoor areas and the interior gives a true Great Gatsby feeling. The food is just delicious. The menu offers a small but very fine selection of fish, meat and vegetarian dishes and on the drinks menu you will find good drinks, such as the "Grand Porn Star Marini" with vodka, passion fruit and vanilla.
Our recommendation: The ostrich steak and for dessert the salted caramel cheesecake with popcorn ice cream!
The Lawns
For a small day drinking session, we recommend The Lawns at the foot of the Table Mountains. With a view of the Atlantic Ocean, the mountain peaks and a relaxed atmosphere, you can enjoy the day here. In the late afternoon at The Lawns you can also watch the sunset with a wonderful glass of wine. You can have a picnic here or sit down at a set table.
Our favorite: The Lawns Nachos (Cheese overload !!)
The Bungalow
Right on the coast of Camps Bay with a unique view of the water, there is a real holiday feeling in The Bungalow. In the restaurant with Mediterranean flair you will mainly find a large selection of fish and seafood as well as sushi, but also a few burgers and salads. Be sure to try the calamari here!
Tiger's Milk
You will find the Tiger's Milk several times in Capetown. The most central restaurants are in Long Street, Kloof Street or Camps Bay with a great view of the beach. The interior and the menu are slightly Mexican. If you want to eat really good burgers in Capetown, then you should definitely visit the Tiger's Milk. In addition to burgers, tacos and pizza, there are also delicious salads and many vegan options.
Codfather
All fish lovers should definitely pay a visit to the Codfather. Here you will find the best quality seafood. The restaurant does not have a fixed menu but compiles individual plates for each person or the entire table on request. We had the sushi roll called Salmon Rose and were more than happy!
Asoka
Both the menu and the ambience at Asoka are very Asian. There are many fish and meat dishes, but also some vegetarian alternatives. Our favorites were the mezze platter for 2 people with humus, various vegetables and bread as well as the scampi and for dessert the malva pudding.
Active Sushi on Bree
Delicious sushi is also available in Active Sushi on Bree. The food is of good quality and tastes really good. The wine is served with frozen grapes, which we really enjoyed. However, small smears were made in the ambience. Still definitely a recommendation and great value for money!
---
PHOTO SPOTS IN CAPETOWN
We have received so much messages and positive feedback about our pictures from Capetown that we wanted to give you a small overview of our favorite photo spots. Because we all want to capture some nice memories in pictures. This will definitely succeed here!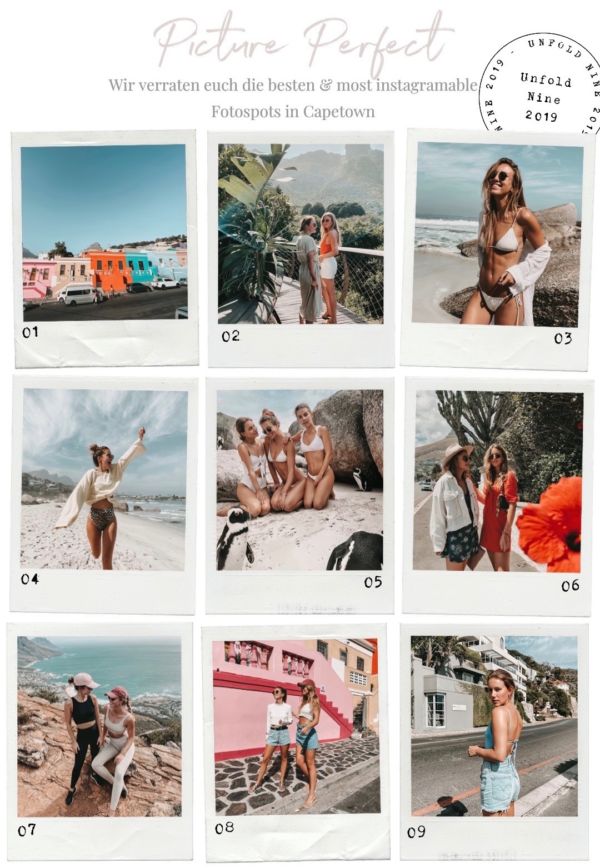 1.Bo-Kaap
We would recommend combining the visit to the colorful houses with a visit to the Harvest Café. Because the area is not entirely safe and does not really invite you to linger. So you can combine breakfast with a quick souvenir photo and the trip was worth it twice.
2.Boomslang Tree Canopy Walkway at the Botanical Garden
3. Clifton Beach 1
4.Clifton Beach 3
5. Boulders Beach
6. Promenade at Sea Point
7. Lions Head
8. Bo-Kaap
9. Victoria Road in Clifton
---
ACTIVITIES
Winetasting "WE NEED GLASSES"
In addition to the unique nature, Capetown is also known for its numerous wineries. As a true wine lover, a wine tour should of course not be missing during our stay! We decided for a tour with WE NEED GLASSES and would do it again right away. We visited the following four wineries on our tour:
1. SIMONSIG:
The wine tour started at the Simonsig Wine Estate. We were guided through the wine cellar and were able to try, among other things, the Sparkling Rosé for which the winery is known. In the end, Kira turned out to be a true professional when beheading a bottle with the saber.



2. FAIRVIEW
At the Fairview winery there was not only a wine tasting but also a cheese tasting. For every wine there was a suitable type of cheese, the components of which complemented each other wonderfully. The winery also offers a small deli where cheese, wine and other souvenirs can be bought. If you want, you can even pet the goats.


3. DE MEYE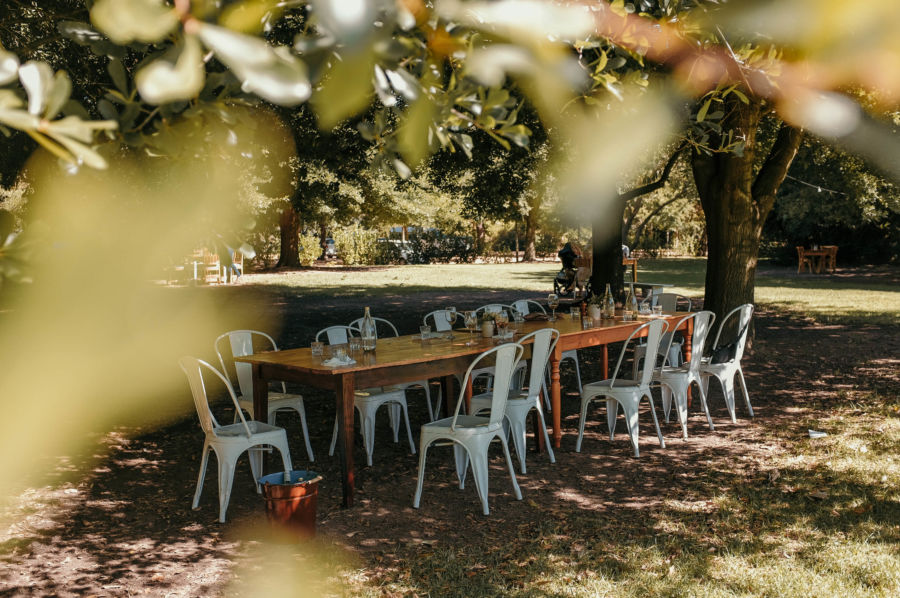 4. TOKARA
At the end of a great wine tour, we visited the Tokara winery. In addition to the very good wine, the unique architecture and the beautiful view were the special features of Tokara. Good wine meets breathtaking architecture.



Oranjezicht City Farm Market
The Oranjezicht City Farm Market (The OZCF) is a market where local independent farmers sell their food. Starting with fruits and vegetables, bread, honey and muesli, there is almost everything to buy here. You will find the OZCF at the V&A Waterfront every Saturday from 8:15 a.m. to 2:00 p.m., every Sunday from 9:00 a.m. to 3:00 p.m. and every Wednesday from 4:00 p.m. to 8:00 p.m.
The Old Biscuit Mill
The Old Biscuit Mill is a former factory in Woodstock that now houses office space, restaurants and cafes, designer stores and food trucks. It is open from Monday to Saturday. We particularly recommend the Neighbourgoods Market, which takes place every Saturday from 9 a.m. to 2 p.m. Local artisans, designers and gourmets sell their products here and there is a lot to discover and try.
Lion's Head Hike
Something you shouldn't miss during your Capetown vacation is a hike up Lion's Head! You can either book a guided tour or, what we would recommend, climb the mountain on your own. Then the hike is also free and you can take as many or as few breaks as you like. The only thing you should be aware of is wearing sturdy shoes and putting on clothes that you can move around in. Take a small backpack with you and pack something to drink and some snacks. The way up and down takes about 1.5 hours and leads in spirals around the mountain. Only at the end of the route you have to climb a bit with the help of small ladders and rungs. From up here you have a breathtaking view of the entire city. It's especially worth it for sunrise or sunset!
More Must-Do's
Penguins at Boulders Beach (Our advice: go right past the main entrance, there are not so many tourists)
Morning dolphin kayak tour with vendors like Atlantic Outlook
Cable car to Table Mountain (costs between 13 and 23 euros)
Sundays at sunset for the Open Air Kirstenborsch Summer Concert
Galileo Open Air Cinema in and around Capetown (You can buy various tickets that include certain services, such as renting blankets and chairs. For couples there is even a "Special Romantic Package" with air mattress, pillows and snacks)
A walk through the botanical garden in Kirstenbosch and over the Boomslang Tree Canopy Walkway, a curved wooden bridge that leads over the botanical garden
Sunbathing on Clifton 3rd & 4th Beach (attention: don't forget sunscreen!)
---
ACCOMMODATION
During our stay in Capetown we received numerous questions about our accommodation. We found and booked these via Airbnb. The dreamlike apartment is located in the Camps Bay district directly on Clifton Beach with a view of the sea and the beach.
We liked it so much not only because of the breathtaking view from the balcony, but also because with the UBER we were able to reach all the bars, restaurants and cafés very quickly. Nevertheless, we would like to be honest with you here and also deal with the small flaws of the accommodation. Because it is a bit smaller and more worn than it appears in the pictures. The sound of the waves can be heard clearly, but what we found to be incredibly beautiful. It is not a luxury apartment, but because of the special charm, the location and the view, we felt incredibly comfortable in the cute beach apartment.