*Advertisement/ This post contains PR-Samples & Affiliate Links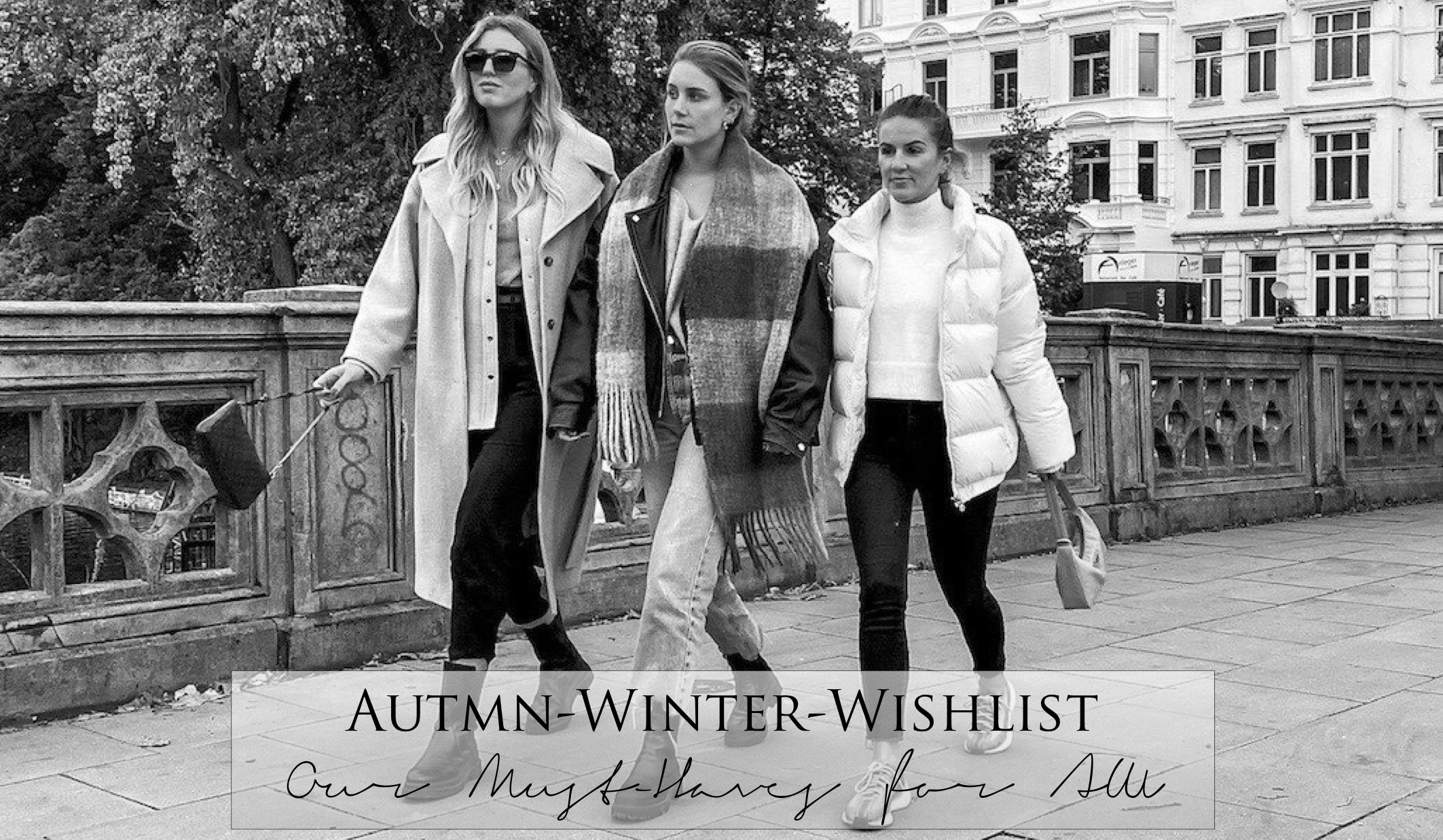 Only 65 (!!!) days until Christmas and 73 until 2020 comes to an end. It's crazy how time passes so fast every year. It's mid-October and slowly you can see the temperatures sink. Time to give our wardrobe an autumn-winter upgrade again!
The AW 2020/2021 season is all about brown and checked pattern. Cozy sweaters or jackets in an oversized fit should of course not be missing. And the well-known chunky boots that have been with us since last autumn are still very much in trend! Today we're going to show you our autumn / winter wishlist and which must-haves are at the top of our shopping list.
---
Overshirts and Shackets
Let's start with an IT piece that Instagram & Co. is currently indispensable: the shacket. The mix of shirt and jacket has usually a boxy fit and creates a casual, oversized look. Whether in a checked pattern, monochrome, made of cord, wool or leather, cropped or as a coat – the jacket comes in all possible colors, patterns and materials.

The shirt jacket can be combined without limits. Elegant with a pair of trousers and blouse, with matching trousers as a two-piece or casual with jeans, hoodie and rough chunky boots (our next must-have for this autumn and winter).



---
Chunky Boots




Chunky, usually with a platform sole, as a Chelsea boot or sometimes higher – we love the rough shoes and have also liked to combine our chunky boots in summer.
---
Front Slit Pants
We already know this trend from the summer, too. While the slits are sometimes really high in summer, we use a weaker version in winter.

---
Pieces in Braun- und Naturtönen

In AW 2020 / 2021 tragen wir Braun. Wir haben uns definitiv schon in die Trendfarbe verliebt und es gibt noch ein Outfit, ohne ein Accessoires oder Kleidungsstück in dem Naturton. Die gedeckte Farbe ist eine willkommene Alternative zu unsere zweiten Lieblingsfarbe Schwarz. Auch zusammen in einem Look machen sich die beiden Farben gut. Wer sein Outfit etwas aufhellen möchte, kombiniert Weiß oder einen hellen Naturton wie Beige oder Creme.



---
  Puffer and Quilted Jackets
Especially here in northern Germanys, a wind and weather repellent jacket is worth more than gold! When the wind blows around our ears again, we prefer to snuggle up in thick, oversized puffer and quilted jackets or coats.



---
Oversized Blazer

A well-fitting blazer is definitely a must-have for us! Not just for this season, but in general. A blazer always gives the look a business touch, which is necessary on certain occasions.
At the moment we also love oversized blazers, which can actually be combined with anything. Even with hoodies and sweatpants.


---
Wide Leg Pants
The 90's are back! At least when it comes to Wide Leg Pants. We can still remember our 90s, when the blow couldn't go far enough, the trouser hem covered the entire shoe and when the weather was bad it was soaked with water. Admittedly, we had to get used to the trend again, but now we're back to Flaires.

Since the pants are an eye-catcher in themselves, it doesn't take much for a cool outfit. A basic top or body, with sneakers, boots or high heels, a jacket over it and your look is ready. You can round off the look with a few accessories such as jewelry and a bag.



---
Mouth and Nose Mask
Well, who would have thought at the beginning of the year that we would have to wear face masks for most of the year in public transport, in restaurants & cafés and now sometimes on the street … Unfortunately, corona infections are increasing again everywhere and the end requirement is not in sight. That is why masks are also one of our must-haves. How good that so many labels and designers have jumped on the bandwagon and designs fabric masks with cool prints and funny sayings.

Which AW 2020 trends shouldn't be missing in your wardrobe ?!
For more inspiration visit our Shop …