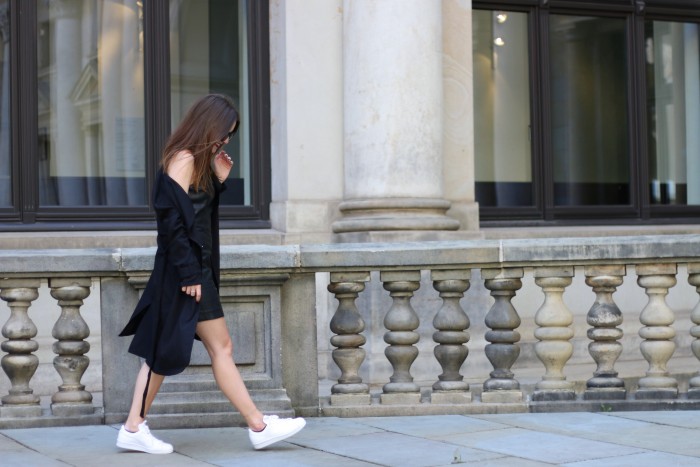 Der Sommer in Hamburg bringt auch gern mal etwas kalte und windige Tage mit sich. Da ich aber im Sommer grundsätzlich nicht gern lange Hosen oder Strumpfhosen trage, versuche ich mein Outfit so zu gestalten, dass mir trotzdem nicht kalt wird, ich aber Kleid, Rock, oder Culotte tragen kann.
Heute zeige ich euch genau so eine Kombi. Das schwarze Lederkleid ist zwar kurz, aber super warm und wenn es noch etwas frischer ist, ziehe ich einfach ein schwarzes Longsleve drunter. Damit die Füße warm bleiben, greife ich immer gern zu Sneakers und diese sind momentan meine absoluten Lieblinge. Durch die Sneakers fühle ich mich in dem schicken Lederkleid auch einfach so viel wohler, da sie ein Kontrast zu dem Kleid bilden. Damit es an den Armen nicht kalt wird, habe ich einfach noch einen langen, schwarzen Trenchcoat drüber geworfen und schon ist das Lederkleid alltagstauglich geworden.
TRANLSATION ///
Sometimes the summer days in Hamburg are cold an windy. But since I don't really like to wear pants or tights in summer I try to arrange my outfit so that I still can wear a dress, a skirt or culottes. 
Today I want to show you an outfit that I can also wear at colder days at Hamburg. The black leather dress is short but super warm and if it is still a little bit fresh outside, I simply prefer a black longsleve underneath. It is important that my feet stay warm at those days so I always like to grab some sneakers. With the sneakers I feel a lot more comfortable because it is a contrast to the chic leather dress. To complete the outfit I just throw a long black trenchcoat over the dress.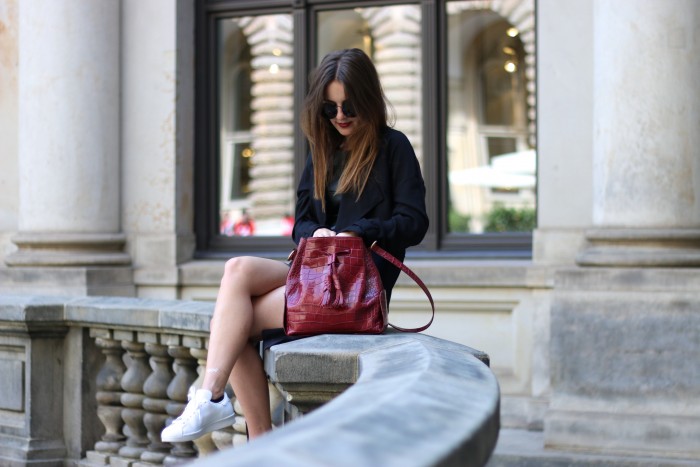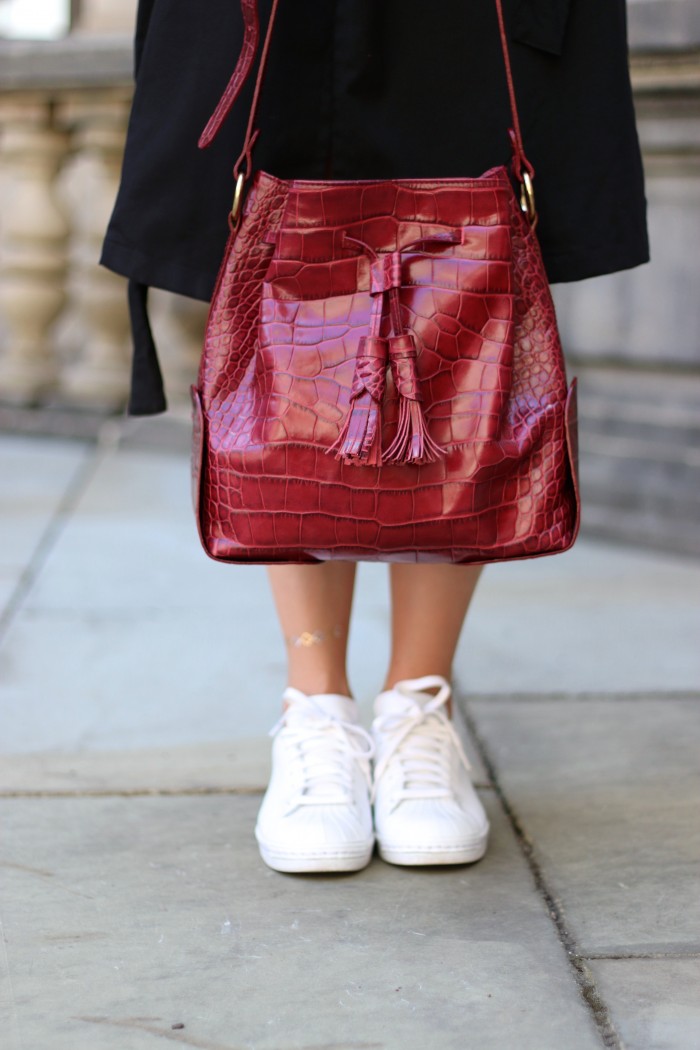 I was wearing:
Lederkleid / Leatherdress: H&M (similar here)
Trenchcoat: H&M (similar here)
Tasche / Bag: Zara (similar here)
Schuhe / Shoes: Adidas Superstars
Sonnenbrille / Shades: Le Specs
Fotocredit: Fashionindividual