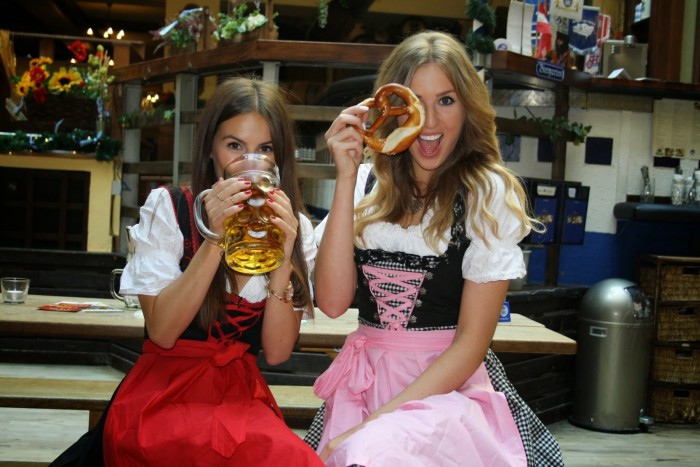 Wie ihr alle wohl bemerkt habt, hat seit knapp einer Woche die Wiesn-Zeit wieder angefangen. Leider bekommen wir im hier Norden nur wenig von dem Spektakel mit, konnten es uns aber nicht nehmen lassen euch unsere neuen Dirndl vorzustellen. Mit der Lieben Laura von Designdschungel im Gepäck machten wir uns gemeinsam auf den Weg ins Münchner Hofbräuhaus in Hamburg. Mit einer Maß in der Hand linken und einer Brezel in der rechten Hand wurden die ersten Bilder geschossen und wir hatten wahnsinnig viel Spaß dabei.
Nichts desto Trotz gehört das Dirndl zum Oktoberfest und für den besonderen Anlass macht es um so mehr Spaß, wenn man sich ein bisschen "verkleiden" und rausputzen kann.
Leider werden wir es dieses Jahr nicht auf die Wiesn nach München schaffen, haben es jedoch schon fest für nächstes Jahr geplant. Das heißt jedoch nicht, dass wir nicht schon dieses Jahr uns ein bisschen Oktoberfest auch nach Hamburg holen können.
Falls ihr jedoch einen kleinen Wiesntrip dieses Jahr geplant und noch nicht das passende Outfit gefunden habt, dann schaut doch einfach mal bei Dirndlfest vorbei. Gerade jetzt könnt ihr noch eins der begehrten Dirndl zu 50 % Rabatt für nur 70€ ergattern.
Wir wünschen euch viel Spaß beim shoppen und eine unvergessliche Zeit auf den Wiesn.
TRANSLATION///
Like you all already might have noticed, the time of the Munich Beer Festival has began just a week ago. Unfortunately way up in the North we don't witness to much of that spectacle, but we didn't want to miss the chance to present you guys our new dirndls. We went to the Munich Hofbrauhaus in Hamburg to take some nice pictures with our lovely friend Laura from Designdschungel. With one liter of beer in our left and a Pretzel in our right Hand we started to take the first pictures and we had so much fun while doing that. Especially unfamiliar view, of us wearing a dirndl made us laugh a couple of times.
Nevertheless the dirndl is part of the Octoberfest and for that occasion it's always fun to dress up and to doll us up a little bit. Unfortunately we don't have the time to go to the Octoberfest this year, but it's already planed for next year. And this doesn't mean that we can't bring us a little bit of the Munich Beer Festival feeling to Hamburg.
If you are planning to go to Munich this fall and you didn't find the right outfit yet, than you should have a look at the website of Dirndlfest. Just now, they have a 50% discount and you can buy your favorite dirndl just for 70€.
We wish you a lot of fun while shopping and especially a great time in Munich at the Octoberfest.