*this article contains Affiliate Links & PR Samples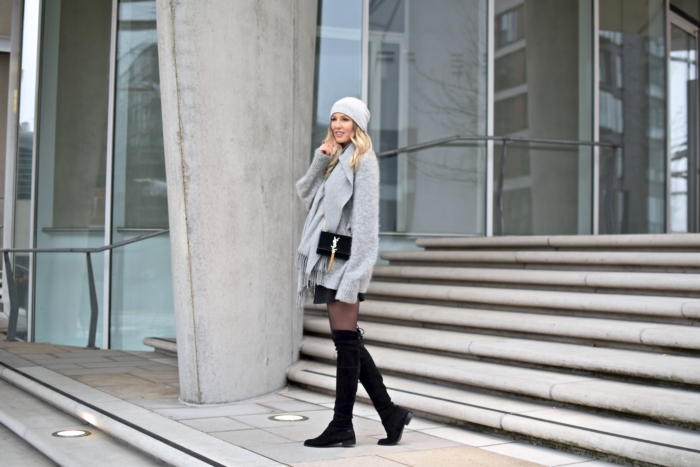 ---
Let's be honest to ourselves – in winter we almost all look the same. In today's post I would like to show you my Basics for a simple winter-like everyday look. My first part of my "winter uniform". Why uniform? Simply because I feel like wearing everyday the same. Who doesn't know this feeling in winter? Your Favorite pullover, a scarf & a hat and there it is your everyday outfit in winter.
The color palette of the wardrobe gradually adapts to the gray environment. As if you were a camelion, which desperately tries to camouflage with the rest of the world. Also the three of us are kind of like that. Even if we are fashion bloggers, I officially admit that we also those kind of people, who rather wear black or grey in winter.
But why should we hide? Even our colorless basic looks can look nice. What can be better than warm cozy knitwear in winter? Whether it's the warm oversized cuddly pullover or the oh-so-soft cashmere hat – One thing is for sure knits can't be missed out in winter. As in many cases, quality is also often the case here. Personally, I always prefer natural fibers such as mohair, wool or cashmere. Of course, this is always a small investment, which in my opinion, however, clearly proves. Because products with high-quality natural fibers, if they are properly maintained, still look like new for years.

---
---
Knit Favorites:

---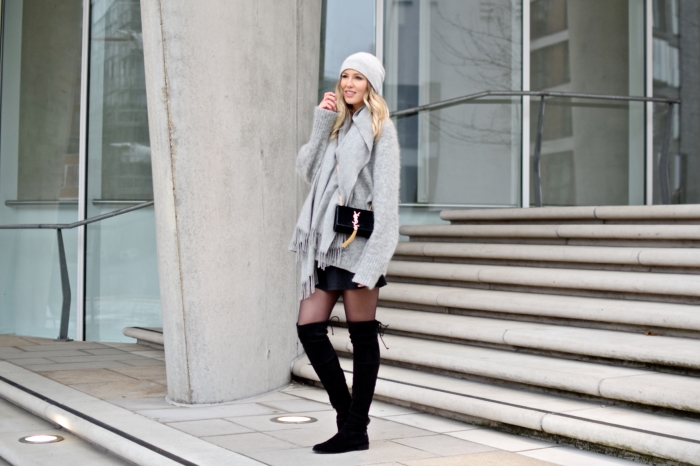 ---
My Look:
Pullover: H&M Trend (Ähnlich hier)
Shoes: Stuart Weitzman (Ähnlich hier)
Purse: Saint Laurent (Ähnlich hier)
Scarf: Acne Studios (Ähnlich hier)
Hat: COS (Ähnlich hier)
For more inspiration visit our Shop …