*Advertisement/ This post contains PR Samples & Affiliate Links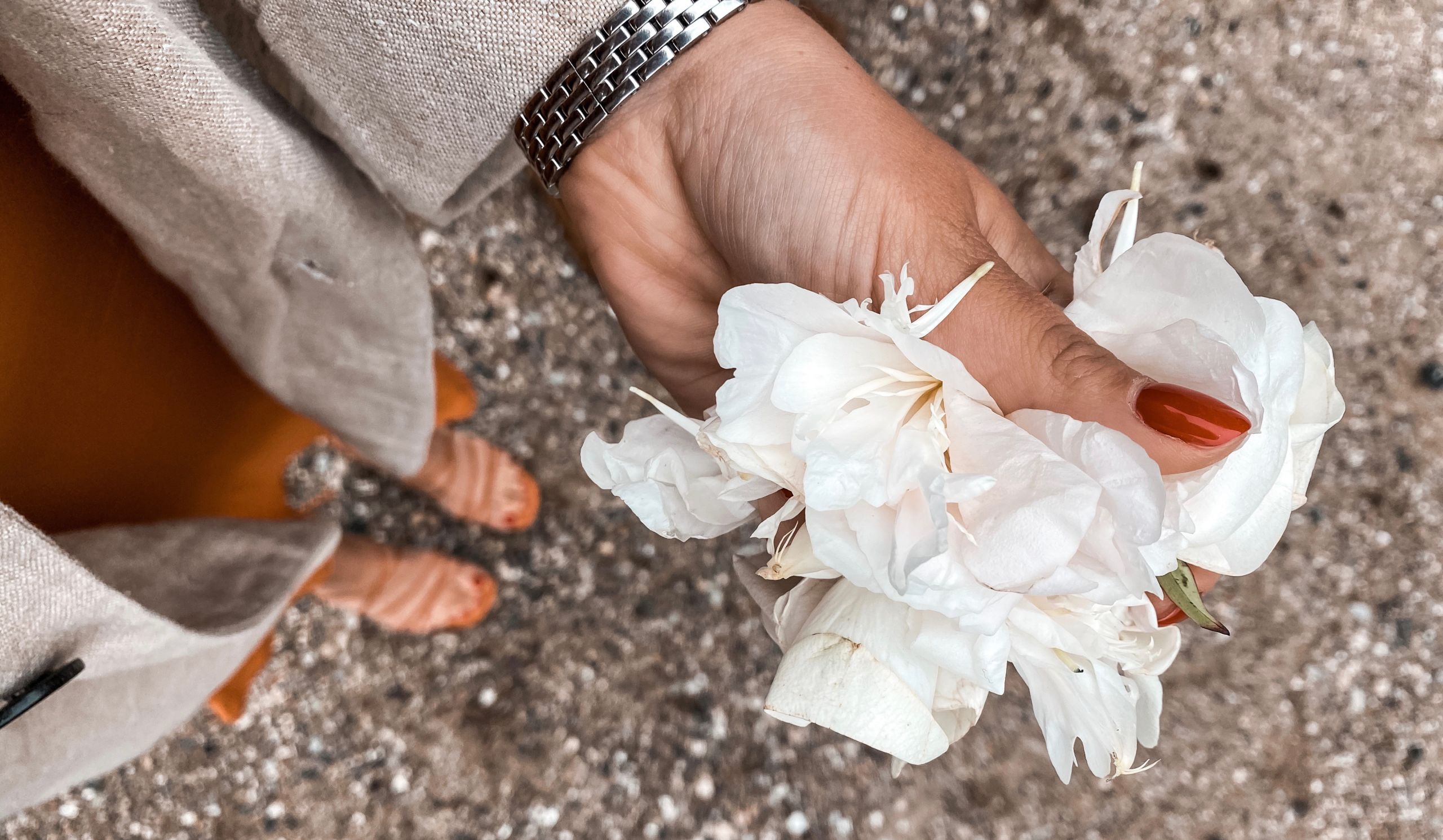 ---
You are finally engaged and would love to start planning your wedding right away? But you just don't know where to start? Full of happiness and emotions it could be difficult to grasp thoughts out of sheer.
In order to get an overview of the to-do's, we have created a wedding checklist for you, which will hopefully help you to plan your wedding of your dreams. Of course, the list is rather general and depending on the perceptions, there are other tasks to be faced or can be ignored.
You should take at least 6 to 18 months to plan your wedding, depending on how big you would like to celebrate.
---
Before you start planning the wedding, there are a few questions to answer:
Type of wedding and celebration: First you need to know how you want to get married. Only a civil wedding or also a church wedding? Or would you prefer a free wedding ceremony? Would you like to celebrate only with your family afterwards or would you like to throw a big party with all your friends?
Wedding date: The date is of course one of the most elementary things for planning. As a precaution, you should also choose a few alternative dates (highly recommended, especially in times of a pandemic).
Budget & Financing: Think about how much you can afford to spend for your wedding and set a fix wedding budget.
Create a wedding folder: In order to have an overview about everything at all times, you can create a folder in advance with all important documents, invoices, order confirmations, etc.
Weddingplaner: Planning a wedding should not be underestimated. Think about whether you can get partial help from a wedding planner. The three of us got support from dear Katharina Landenberger, who is always available to help and advise.

---
Once these things have been clarified, planning can be carried out step by step. Find out which tasks you will (and can) face by reading our wedding checklist.
Have fun and "let's get married!"
12 to 18 months before the wedding
♡ Location:
Among other things, a wedding depends on the location. Since the most beautiful locations are partially booked up to 2 years in advance, you should start searching for wedding locations and arrange appointments to view as soon as possible.
♡ Guest list:
Start the rough planning of the guest list early enough so that you can also find a suitable location.
♡ Save the Date:
To be sure that as many guests as possible have time to celebrate your marriage with you, it is advisable to send a save-the-date. Even if its a simple message or a save-the-date card matching to the invitation card.
♡ Catering, Photographer / Videographer, Musician / DJ & Co.:
Think about which services you need. Good caterers, photographers and musicians are quickly booked up, especially for the wedding season in spring and summer.
♡ Made of honor / Bridesmaides:
If desired, choose your maid of honor and / or bridesmaids and ask them whether they will take up the position. Bridesmaids often take over the planning of the bachelorette party and support the wedding planning.
♡ Resereve hotel rooms (if necessary):
Depending on where you get married and the area from which your guests come, it is recommended to reserve a few hotel rooms near the wedding location if necessary.
♡ Visiting wedding fairs:
You still need some inspiration? Just visit a couple of wedding fairs.

---
9 to 12 months before the wedding
♡ Wedding dress & suit:
The groom can take his time looking for his suit, but should also keep his eyes open.
Start looking for bridal gowns early enough, because sometimes this can take a lot of time and nerves. Search for shops and arranges fittings. Most dresses have to be ordered in the correct size, which can often take several weeks or even months.
♡ Wedding motto:
Many couples have a wedding theme or color scheme that runs through the entire wedding.
♡ Book service provider:
If you know which service providers you need and have obtained an offer, book them early so that your desired caterer or musician is not already fully booked.
♡ Documents for the wedding ceremony:
Find out which documents you need for your wedding ceremony. This depends on whether you only want to get married in a civil office or in church.
Already apply the documents. But be careful: some documents may not be older than 6 months. Calling the registry office if you are not sure.
♡ Create and print invitation cards:
Think about whether you want to design and print your invitation cards yourself or get them done by a professional graphic artist and a print shop. It is often advisable to have the cards printed, as the quality is simply better.
♡ Wedding speaker / pastor:
Depending on the type of wedding and your wishes, you need a wedding speaker and / or pastor for your wedding. Inquire or ask already married friends if they can recommend someone and make an appointment.
Je nach Art der Hochzeit und euren Wünschen benötigt ihr einen Trauredner und / oder Pfarrer bzw. Pastor für eure Hochzeit. Erkundigt euch oder fragt bereits verheiratete Bekannte, ob diese jemanden empfehlen können und vereinbart einen Termin.
A good wedding speaker makes a lot and you should have a good feeling about this person straight away.
---
6 to 8 months before the wedding
♡ Invitation:
Send the invitations. Tip: Include a reply card on which your guests can note whether they will be accompanied or alone or have, for example, a food intolerance. Also specifies a date until acceptance or cancellation.
♡ The wedding menu:
It is highly recommended to arrange a test meal so that there are no nasty surprises at your wedding and plan the wedding menu together with the catering service.
♡ Book the honeymoon:
Would you like to go to your honeymoon straight after your wedding? Then you should book 6 to 8 months in advance.
♡ Wedding rings:
Talk together about your ideas about the wedding rings and get advices from a jeweler.
♡ Decoration:
Even if you have a decorator, you should start with the coordination and planning. Also if you take the decoration yourself, it is time to buy or order the first decorative elements now.
♡ Apply for the wedding at the registry office:
The marriage ceremony can be requested at the registry office at least 6 months in advance.
♡ Dance course:
A wedding dance shouldn't be missing at any wedding, right? But for most people it was a little bit since they last danced. So maybe you will go to a dance class again beforehand.
---
3 to 5 months before the wedding
♡ Final guest list:
The guest list should be final, apart from small changes now.
♡ Seating order:
Coordinate how the tables can be set up and define the seating order so that there is no chaos on the day of the wedding and everyone will find a place.
♡ Program & Schedule:
Since a lot of things are fixed, it is now necessary to plan the wedding in more detail. You can also print a rough timetable on posters or small cards and hang or distribute it on the wedding day so that your guests know what to expect on that day.
♡ Dates for Hair & Make-Up:
If you don't do your hair & make-up yourself, you should book an appointment for your wedding day now. Also arrange a trial appointment so that everything runs according to your ideas.
♡ Fitting wedding dress & suit:
Nothing is worse feeling restricted in your dress. Therefore, make sure to check the fit of your outfits again and make changes if necessary.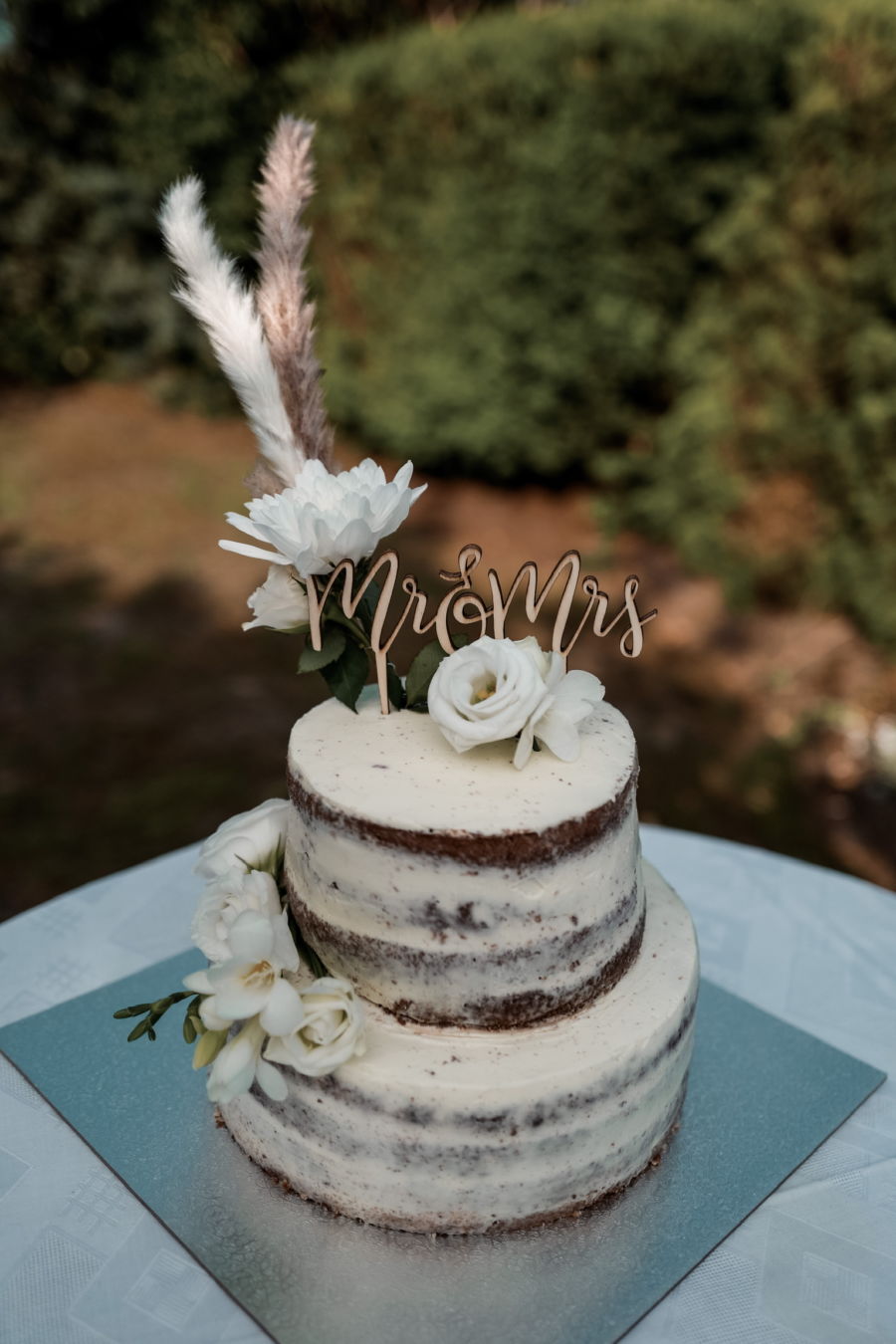 ---
1 to 2 months before the wedding
♡ Accessories:
Have you found the wedding dress and suit? Now accessories such as jewelry and bags are still missing. You should have your bridal shoes shortly after buying the dress so that the seamstress knows how high the heel is and can adjust the dress length perfectly.
♡ Wedding cake:
If you haven't already done it through your catering service, it is now time to order your wedding cake.
♡ Pick up your wedding rings:
Are your wedding rings selected and engraved if necessary? Then go to the jeweler to pick up the rings.
♡ Bridal Bouqet:
Go to the florist of your trust and order your bridal bouquet.
♡ Marriage vows:
Would you like to say a few more loving words at your wedding? Then slowly start to think and take notes.
♡ Last wedding dress fitting:
The final changes should now have been made.
♡ Last general check:
Take a day and go through everything step by step again. Contact the location, the catering service and other service providers and make sure that everything is fixed.

---
1 to 2 weeks before the wedding
♡ Cosmetic appointments:
Manicure, pedicure, facial treatment – treat yourself to a little spa program the last days before the wedding.
♡ Break in bridal shoes:
We all know that there is nothing worse than wearing uncomfortable shoes all day. Wear your bridal shoes at home 1 to 2 weeks before the wedding.
♡ Packing for your honeymoon
---
1 Day before the wedding
♡ Arrange clothes, rings and documents:
On your wedding day, the emotions go crazy, so put together all the important things that you need on your wedding day.
♡ Go to bed early:
In the night before the wedding, you can hardly think of sleep. Anyway, try to go to bed early, take a deep breath, so that you are fit and alert.
---
The wedding day 
♡ Enjoy your day, laugh, love, cry and just be happy:
Today is one of the most beautiful days of your life and you should just enjoy it to the fullest! Leave all the hardships of the past weeks and months behind you and just celebrate your love!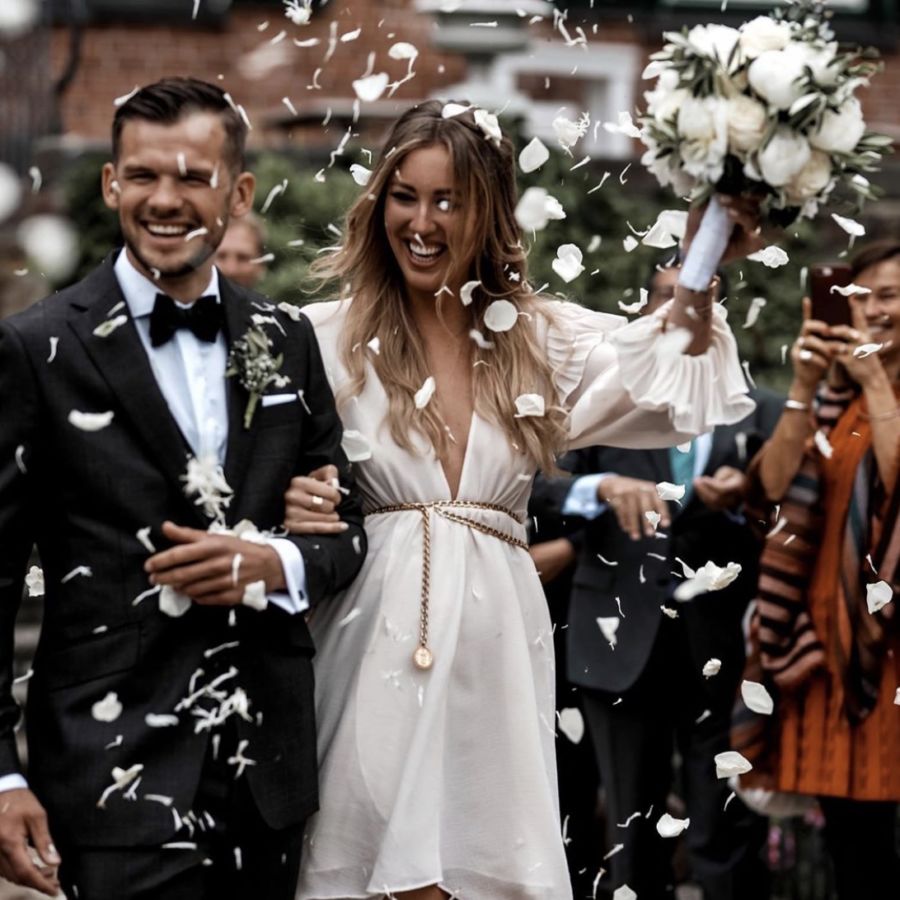 From now on you can find all of our blogposts about weddings in our new category "Wedding". Here you can also read everything about Kira's and Flo's civil wedding and a detailed wedding Q&A.
For more inspiration visit our Shop …