*Advertisement, Brands tagged / own paid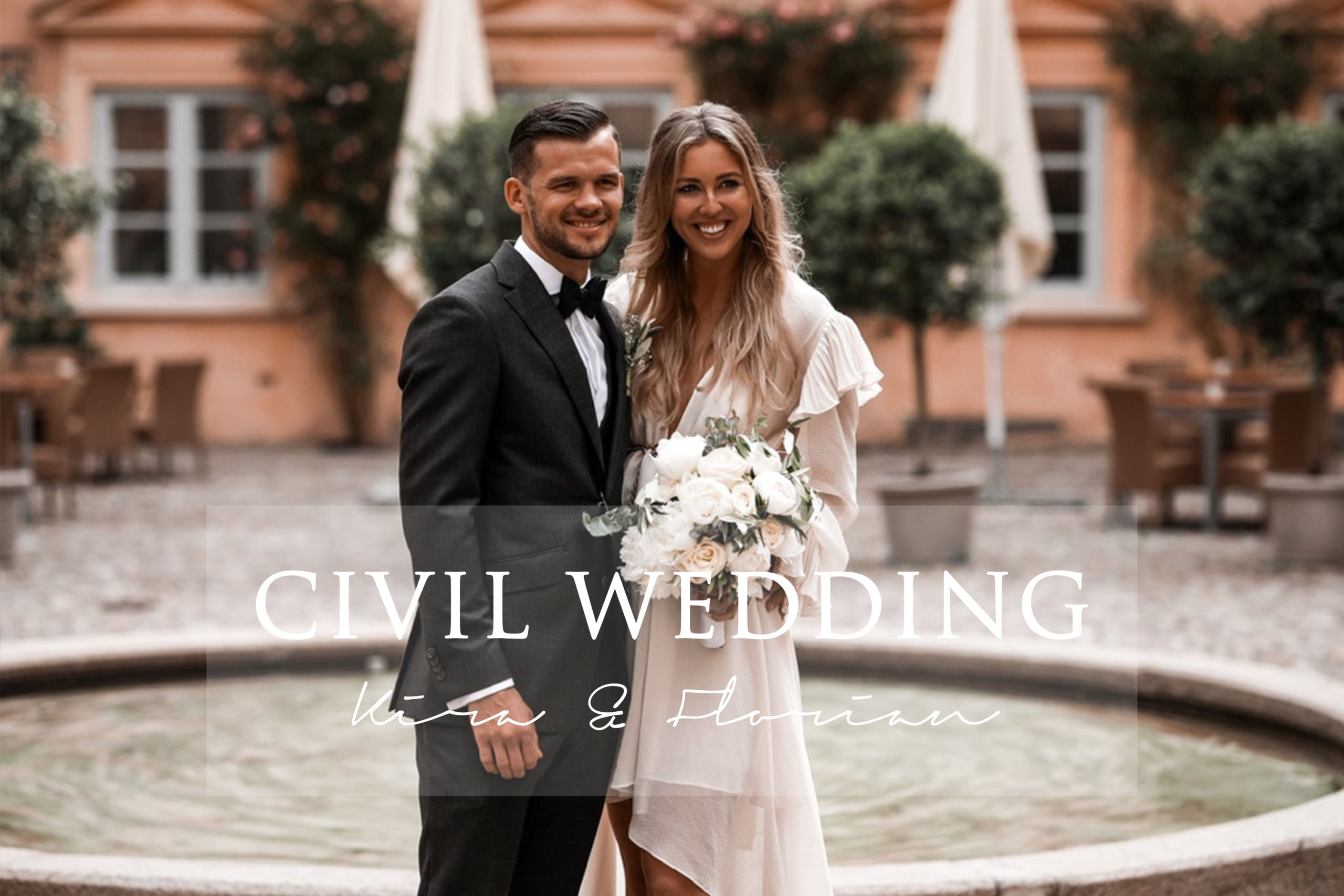 ---
Planning a wedding is always super emotional. If it's also your own, you need enough nerves. And when it happens in the middle of the corona pandemic, it starts – the roller coaster of emotions.
The past weeks and months have been an up and down of emotions. The anticipation was covered by uncertainty.
Will our wedding take place on June 12th as scheduled?
Do we need an alternative?
Will my parents be able to come from Spain? How many guests are allowed to celebrate with us and how many guests are allowed to join us in the wedding room?
Questions after questions and no answer. But we never lost our optimism. The closer the wedding date came, the more positive news we got regarding the Corona restrictions. And at the end of the day we were able to celebrate our civil wedding just as we had planned it before Corona.
We didn't have to compromise and were able to fully enjoy our very special day. We couldn't have imagined the day more beautiful. It was a wonderful day with our families and closest friends, the weather was amazing and the atmosphere was exuberant. It was perfect all around and we had the best day of our life.
---
---
Admittedly, we had planned  a very small and private civil wedding from the beginning. Since we will celebrate our real wedding in Greece in summer 2021. By the way, we also decided this before Corona.
L O C A T I O N
Our civil wedding took place in the beautiful Castle "Schloß Eutin". The castle can be reached with a one-hour drive and is located directly on a lake. A beautiful moat encompasses the beautiful walls that were built in the 16th century.
The fairytale-like backdrop takes you into a romantic dream world. We were particularly taken with the courtyard and enchanted us with its Mediterranean touch. For me, the "Schloß Eutin" is a real insider tip as a wedding location. We were able to choose our desired date directly without waiting, and on the wedding day itself, we were treated very warmly.
Especially in Corona times, the entire team was very cooperative and assisted us with many advices.



---
P R O C E D U R E
As I said, we only invited our closest friends and family for our civil wedding.
Flo and I started the morning in a very relaxed way at home, everyone got ready and then allowed ourselves a moment of rest together. We read our wedding vows intimately just for both of us and confessed our love.
The morning was already super emotional and couldn't have started better for us.
Together we made our way to Eutin, where we received our guests at half past ten in the courtyard of the "Schloß Eutin".
Our civil wedding started at 11am, where Flo and I walked in together.


---
Our registrar took an hour for us, where our friends and family shared brief anecdotes about our love. I never thought that a civil wedding could be so beautiful and emotional.
The wedding was topped with a wonderful speech by my parents, who let almost everyone crush a tear.
---
---
After the ceremony, we went to the terrace, where our guests were already waiting for us with a rain of petals and loud cheers.
After we had toast to our marriage with champagne several times, our lunch followed.
---



---
We couldn't have wished for a better lunch. One dish was more delicious than the next.
Well-saturated and full of happiness, we went back to Hamburg with a classic motorcade to our second location.
Here we invited a few more friends outside in the countryside and ended the day together.



---
O U T F I T S
For the ceremony I chose a playful dress by Philosophy di Lorenzo Sarafini in a beautiful ivory. The dress is short at the front and has a small waving train at the back. The playful ruffles on the shoulder and cuffs made my wedding dress fit into the baroque setting of the location. Together with the Hamburg seamstress Sissy Bredehöft I changed a few details on the Dekoltée and thus created my dream dress.
As accessories, I wore Miu Miu shoes with small rhinestones. I bought my shoes and my dress in the online shop Yoox (advertising, own paid) and saved around 60%. On special occasions I always like to look in this online designer outlet, because you can find really good pieces here for a fabulous price. To give the dress a new look and the final touch, I combined it with a vintage Chanel belt.
---



---
I created my second dress for the garden party with the seamstress Sissy Bredehöft. Actually, it was just a simple skirt that I converted into a dress. With the little flowercrown it was the perfect outfit for our celebration in the green.
Florian's suit was made to measure by the Hamburg-based men's outfitter Rooks & Rocks. The suit looked fabulously good and fit like a glove. I can only recommend it.
Everything around was just perfect. I can't say it any other way. Both Flo and I had a big smile all day long and couldn't hide our love and happiness. We wanted to continue spreading all these positive happiness hormones and sharing them with our loved ones.
The best day of our lives!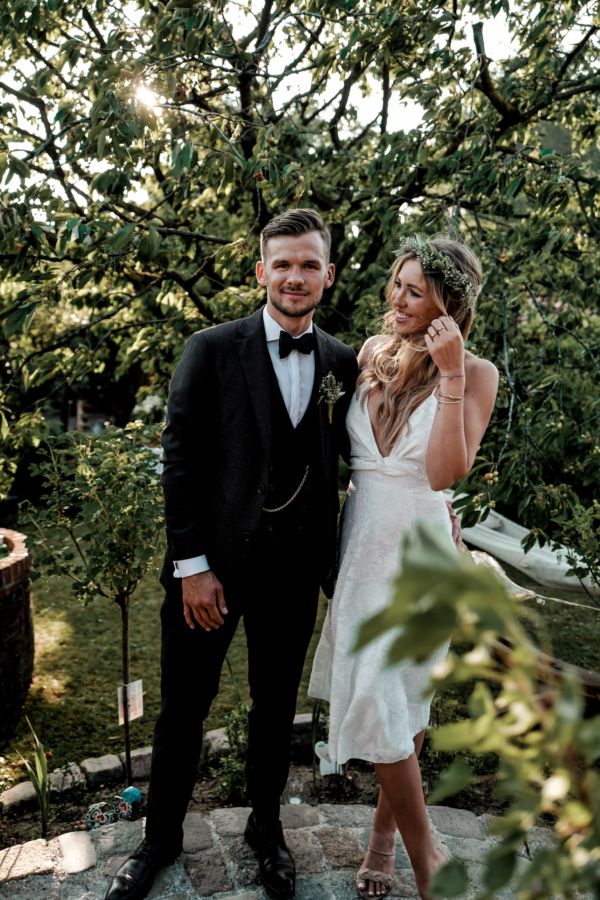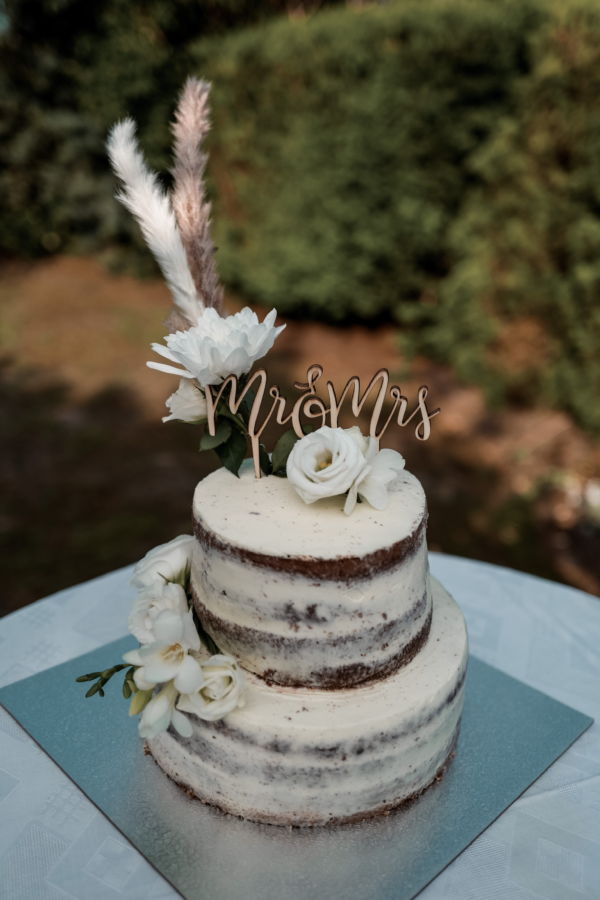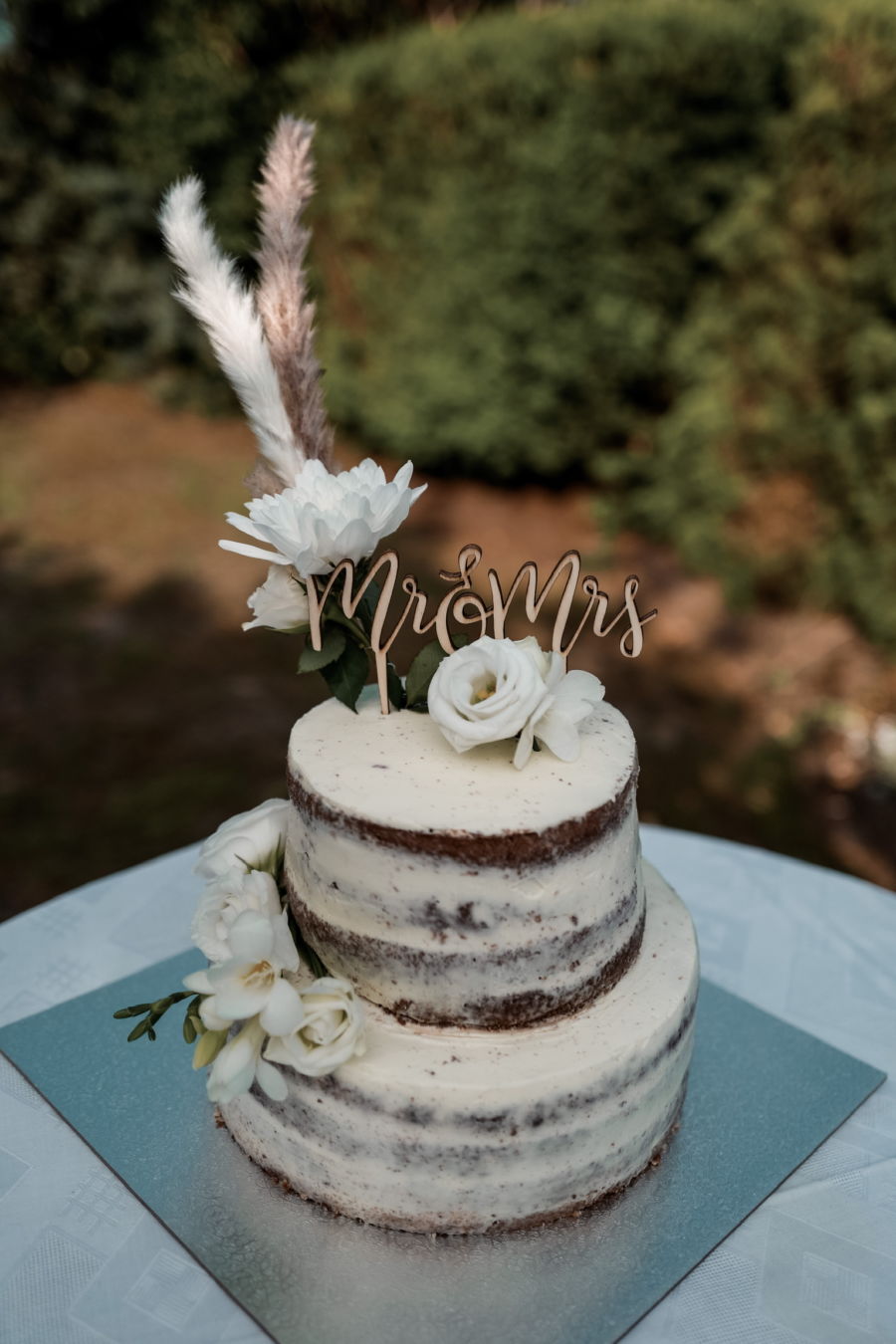 ---
For more inspiration visit our Shop …