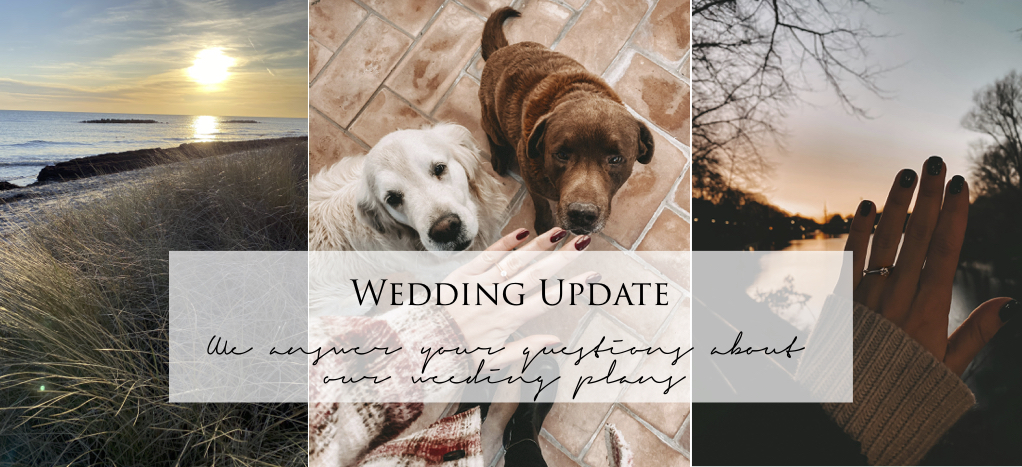 Wedding Update: We answer your questions about our wedding plans
---
We actually owe you this post for a very long time and had initially planned to answer all your questions about wedding in a shared live video. But somehow we were so overwhelmed with our feelings in the beginning of the year that we couldn't find a date – or let's face it, it was difficult for us to structure our appointments and hovered somewhere on cloud nine.
We hope you will forgive us for getting an overview of the next steps. A lot of things happened and now we can answer all your questions about our wedding plans.
Are you all getting married next year or do you already know when the marriages will take place?
Yes and no! Kira and Flo will get married in a beautiful castle in northern Hamburg in June 2020. That is definitely the plan and we are keeping our fingers crossed that the current situation will allow it. As you can imagine, the organization of the weddings by COVID-19 is definitely not easy. Nevertheless, we try to make the best of the current situation and keep calm. That means thinking positive and sending a lot of wishes into the universe! Because, as you may know, Kiras Mum is living in Spain and the arrival of the family is the biggest challenge right now. Nevertheless, there have been so many updates on travel restrictions and quarantine in the past weeks that we are all more than confident are that the wedding ceremony will takes place. The "big wedding" is going to take place in Greece next year.
For Sonja and Henrik it was clear that they would like to organize a rather private celebration. With around 50 guests, a civil wedding should take place in a castle near Hamburg. However, a specific date could only be found withe the registration for the marriage. So it turned out that they will marry kind of spontaneous in July instead of August. Excitement increased in Sonni thinking about being able to get married in a beautiful setting. How? Where? What? Answers to all of these questions had to be found in just a few minutes and then our wedding planner Katharina contacted us at exactly the right time. With her support, the two have found an incredibly beautiful location in which they will say the "Yes!" in the beginning of July 2020.
Sven and I decided to take it easy and plan our wedding for next year. It also took us a few weeks to get clear about our ideas and we couldn't have done it that fast this year. Therefore, we hope to get a date in July at the registry office to be officially appointed husband and wife in 2021. In the meantime there is also a fixed date for the wedding in July 2021. We just don't want to reveal more, because of course we want to surprise our loved ones with the 'Save the Dates' first.
Will you marry all together?
This question actually came up several times and made us smile a lot. We really share a lot and are so thankful to somehow share this exciting phase of life together. Nevertheless, we marry our partners and not our friends. We will play a very important role for each other at each of the weddings and are probably also very emotionally involved. But no – we will all celebrate our own wedding so that we will have even more occasions for celebrating together;)
Did your boyfriends know about each other's plans?
Did your fiancés talk to each other?
Was it somehow planned that all three of you would be engaged at the same time?
It was definitely not planned and as you have probably noticed, we were all so surprised by this. Our boyfriends have all decided to do it independently and have been thinking about the idea for several months. Of course, we didn't notice any of this and neither asked us for advice on choosing a ring. So we were completely unknowing all the time.
Only Sven and Henrik had met shortly before Christmas and told each other about the plans. So they knew about each other, but otherwise they did everything else independently.
Can you repeat the order, please?
Let's start from the beginning. Sonja and I heard about Kira's engagement in mid-December and we were full of excitement and euphoria for the two. Plans were made and thousands of heart and bride emojies were send in our WhatsApp group every day 😀 Since Kira came back from Spain on December 29th and I was already on my way to Sweden on December 26th, we unfortunately missed each other to get the latest news personally. But we counted the days until we could all meet again and celebrate the engagement together.
On December 28th, as I said, Sven and I visited friends in Sweden. Sven was partying with the boys that evening. So I was alone in the hotel room and couldn't sleep. Suddenly at 12 p.m. my cell phone rang. Since Sonja called via Facetime, I quickly took off my sleeping mask and switched on the light so that we could see each other. At first I thought something had happened that could explain the midnight call. But she couldn't hide her biggest smile and held her ring up to the camera. Since the excitement from the first engagement in the Team Shoppi was still in our bones, this surprise hit me twice 😀 We screamed, laughed, cried and all at once. She told me everything in detail about the whole evening and the engagement and afterwards it was of course impossible for me to fall asleep again. I was just so happy and wanted to hug Sonja and Kira.
Sven came back early in the morning and I was waiting for him with the big news. He grinned and said: "I already knew it, Maike" and read Henrik's message from the successful engagement: "The eagle has landed" I laughed myself out of my mouth and hugged Sven anyway and forced him to jump with me. It's one of those things in our team. We hug each other with joy and jump together 😀
In the morning I went jogging on the beach and sent the newly engaged couple a video with congratulations and we counted the days of our reunion. I could never imagine that I should also get a proposal that day.
Even after that it was a bit calmer on my part, because I was soooo surprised by all the experiences that I had to let everything sag first. But I wanted to tell Sonja and Kira personally and first of all hug them. I was excited to get the proposals and moments described by them in detail before I wanted to tell them my news. But of course we know each other so well that they have become suspicious. The two of them looked for evidence that would also explain our engagement, but apart from the suspicion, there was nothing left until our reunion.
After I was back in Hamburg, Sonja and I were invited to a friend's birthday and wanted to meet for a Vino beforehand so that she could tell me everything. Of course I was aware that her eagle eyes would blink directly on my left ring finger and so I had put the ring in my handbag at first. Of course, we totally chatted, reviewed all the memories of the proposal and ordered wine several times to toast again and again. At some point we made our way to the birthday party and made a little stop on the banks of the Goldbek Canal. I had brought balloons with little cards on which we wrote our wishes for the relationship and let the balloons rise to the sky. We hugged each other and then I finally revealed the secret 😀 We laughed so hard, Sonni said she would have felt it and we jumped together again for joy. So there was another piccolo to go and it is certainly no wonder that we arrived a bit tipsy at the birthday party, where the engagements were celebrated again.
A day later I visited Kira late in the evening so that she could also tell me all her news in detail. Hours passed in which she already showed me some pinboards on Pinterest, in which she told me about her plans and showed videos of her desired location. At some point shortly after 11:00 p.m., I started to tell her about Sweden and at the point at which we were squeakily in our arms Flo came out of the bedroom and said: "I am hearing someone's jumping here for joy." Then the three of us jumped again and until we said goodbye for this evening.
Since then there has been a WhatsApp group called "Brides to be" where we share all updates, hairstyle inspirations and our excitement to the upcoming weddings.
How did your proposals take place?
Kira & Flo


In the run-up to Christmas on December 16th, Kira's proposal took place in a very private setting with her family in Spain. For them the perfect place to calm down completely and to float on cloud nine.
Sonja & Henrik


Sonja still wallows in the memories of her special moment: "I think the proposal is something very special for every woman. I never expected it that day and was just more than happy. We took a walk through the "Speicherstadt" in the evening and just had an incredibly nice day together. At one of the bridges Henrik made the proposal. It was definitely the best moment of my life so far. "
Maike & Sven


As I already mentioned, Sven and I spent a few days over New Year's Eve with friends in Sweden who had just got a baby. So I was prepared for pure relaxation. On December 29th they had prepared a surprise for us and asked us to come to them around 3pm. We went to the cars and split up, otherwise it would have been a little tight with the little Levi in ​​the back seat. So that was not a clue that could have made me wonder. Sven and I were blindfolded because of course we shouldn't be able to see where the trip was going. After 15 minutes we reached the destination and I just had no idea where we were and what the two had planned. I thought we would visit a market or something similar, but soon I should find out that I was wrong.
So I got out of the car and my friend took me to the meeting point. When I opened my eyes, I was just surprised that Sven wasn't standing next to me. I took a few steps and saw him standing on the beach. You can imagine the rest 🙂
Do you think it's sad that everything now comes at once?
We are more than happy that we can experience this special time together. Everyone can undersatnd the others 100% and we can give each other advice. As an outsider, this emotional roller coaster is hard to understand and we simply know exactly what is going on in each other's minds and this connects us even more closely. We couldn't have imagined it more beautiful!
These were the most frequently asked questions and we hope that we could give you a comprehensive wedding update. As soon as there is something new, you will of course find it here. We keep our fingers crossed and are in a positive mood that all ceremonies can take place as we have planned at the current state. We also wish that to all couples who want to say "Yes!" in this turbulent time either. We can definitely empathize with your emotional roller coaster and wish you the best for your upcoming weddings.