*Advertisement/ This post contains PR-Samples & Affiliate Links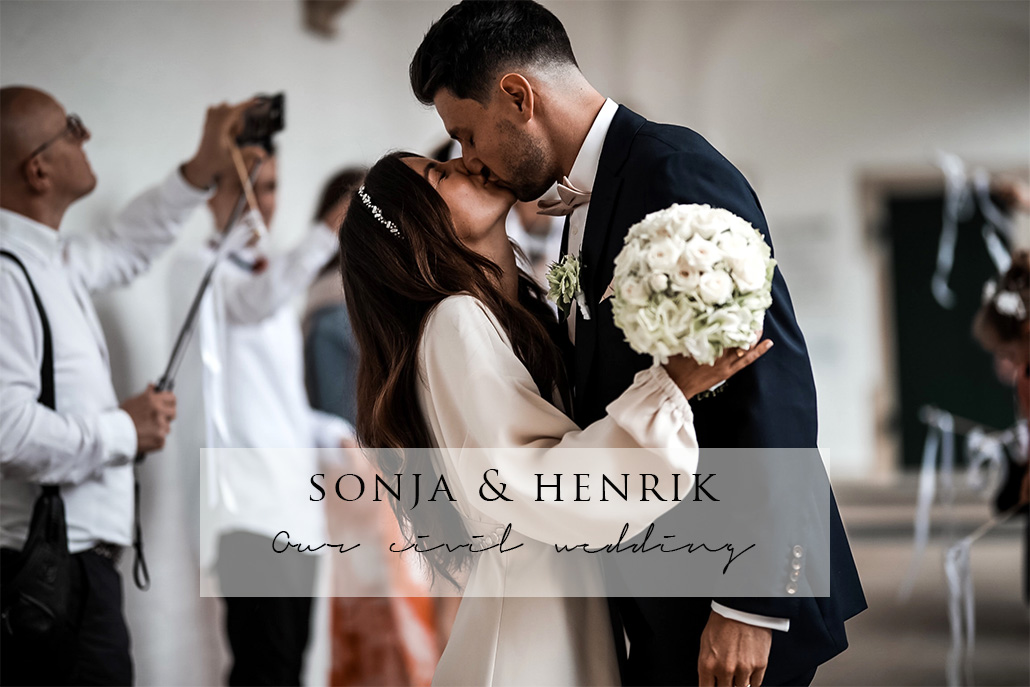 THE LOCATION
Acutally, we actually decided very fast to get married at the castle "Reinbeker Schloss". I was born in Reinbek and we simply viewed all the locations around Bergedorf. For us, the castle in Bergdorf was also shortlisted, but all the appointments in summer had already been taken. The castle in Reinbek is located directly on a small lake surrounded by huge oak trees and a small avenue that leads to the castle. As the location for the civil wedding it was just perfect for us.



OUR LOOKS
Henrik made an appointment at Rooks and Rocks right after the Corona Lockdown to get a tailor-made suit. The guys there are really doing their job incredibly well. Henrik was completely satisfied with everything. I also think it should be a very special experience for our men if they decide to put together the perfect outfit for the wedding. At Rooks and Rocks this is definitely the case.

From the start it was clear to me to wear something simple at the civil wedding. Of course it should be white, but I wanted it not to be too pompous or flashy. I found my dress at Revolve and added a pearl belt from LLR Studios. Kira found the shoes at YOOX and luckily my size was still available, too. So we didn't hesitate for a second and ordered them together. I found my headband at Pieces and think it fits the whole look really well.

THE PLAN (ACTUALLY)
Getting married in Corona is not easy. You plan and plan and in the end everything turns out differently than you wanted. Actually we wanted to go to the registry office on July 10 with our closest families and friends, get married there and drive together to our wedding location, where the free marriage ceremony with all our friends and family should take place in the afternoon. Three weeks beforehand, we still really hoped that everything would work, but unfortunately we had to postpone the free wedding. The regulations were still too uncertain and we didn't want to delay our guests for so long. It was a really hard decision because we hoped until the end. But in the end, we could really look forward to the two events separately.
At the moment it looks like you can do almost anything in Schleswig Holstein that concerns our wedding. At the current stage, we are just not allowed to dance – which we obviously want! A wedding party without a party and dancing is of course out of the question for us.
We completely understand the Corona restrictions, but we are now more than frustrated. There are so many relaxations, bars and restaurants are allowed to open and luckily have a more or less normal daily business again. Even large events can take place with less than 1000 people. But why not dancing at a wedding party? We are less than 60 people and no strangers will come and go with us. As you can see, there are some aspects that are simply incomprehensible and make all couples who want to celebrate their wedding really sad.
Henrik and I will remain positive and just hope that the last easing will be released for us before our replacement date.



IF SOMETHING GOES WRONG, EVERYTHING GOES WRONG!
So we already decided in June to postpone the free wedding because we couldn't organize the celebration the way we wanted it. In the end we were even happier with the decision, because otherwise the day would have been so packed and now we have two days to celebrate. So far so good…
We planned to have a champagne with our guests at the castle directly at the lake and go to Henrik's parents in the garden afterwards. Everything was prepared and we were ready for the little celebration in the garden. A week earlier, however, it looked super bad weather-wise. The champagne reception was shifted from outside to inside and for the garden party we could borrow a huge nine meter tent from friends. The day before our civil wedding it poured like a bucket, our hardworking helpers did everything all day and we set a long table, decorated the tent and prepared everything for our big day.
But as fate would have it, the tent collapsed at night due to heavy rain. It would be a lie if panic had not broken out for a brief moment. At 6 a.m., Henrik's parents, our groomsmen Caro and Steffen, Felix and Henrik's uncle, put everything from outside to inside and rebuilt it. I still don't know how they did it in such a short time! Henrik and I didn't know anything about it until shortly before our wedding because of course they didn't want to burden us with the bad news before the big moment. When we found out a little later, we were really deeply shaken for the first time. Everything that could go wrong went wrong. For me the whole situation was really difficult because of Corona alone and this "setback" just made me very sad because we stayed positive all the time, despite all the drawbacks. We were only allowed to take 9 other people to the registry office, the incredibly bad weather and the broken tent…
Despite the rain and despite Corona, the wedding was the most beautiful day of our life. In the end it doesn't matter if it pours from buckets, the main thing is the people with whom we could spend the day. Our families and friends made the day so incredibly special for us. I could never have imagined it more beautiful.


THE MOST BEAUTIFUL SURPRISES
Shortly before Henrik and I made our way to the registry office, my parents used a few quiet minutes to bless us before the wedding. It is a Polish custom that the parents give the bride and groom bread and salt before the wedding and give them lovely words along the way. From that moment on I couldn't stop my tears. Somehow I didn't expect it and was so surprised and happy about this wonderful moment with my parents.
Actually, the civil wedding should be kept very simple. We wanted to get the 'bureaucratic' behind us in order to really celebrate the free wedding. Therefore we have not planned so much for the registry office. When Kira and Maike came to our wedding with a welcome sign, I shed another tear. Somehow you don't expect that it's the little things that really touch you.
We weren't allowed to sprinkle flowers in front of the registry office, what made me a bit sad. However, there were so many things that I had no time to worry about it besides the rain. My mom and I had just organized petals and thought that we would just sprinkle a few flowers at the champagne reception. But it rained so hard that none of it was possible. But when we came out of the castle after our ceremony, all the guests had small sticks with white ribbons in their hands with which we were greeted with solemnity. It just looked so nice and I was incredibly happy about this cute idea.
Henrik and I agree – we do not like wedding games and have also let everyone know that we do not want such promotions. Nevertheless, Henrik's parents had prepared a sweet surprise for us when we went to them after the registry office. The way to the house was blocked by a white tape, so Henrik had to climb over a small obstacle to organize scissors that paved the way for us. After that, the path could be cut freely and we were allowed to enter the decorated house. It was a wedding game to our taste 🙂
For the garden party, Henrik and I had said directly that we were not planning a wedding cake because we wanted this little highlight for the free wedding ceremony. We were happy that we had prepared some delicious cakes and were all the more surprised that Caro and Steffen came around the corner with a white cake that they had baked themselves. It was a chocolate cake covered with white fondant. I never thought that the combination would taste so good and with the beautiful eucalyptus ornamentation it also matched optically our wedding concept. This surprise was also more than successful!



THE GARDEN PARTY
The garden party was a complete success in the end. We ate coffee and cake first and afterwards we were even able to enjoy some sun rays in the garden. Caro brought her Polaroid camera and so we took so many pictures straight away because everyone wanted one with the wedding couple. As a result, all the guests got to know each other even better and at the latest one could start talking to everyone. In the evening we had dinner together. Everyone was in a good mood and the atmosphere was just really nice. We celebrated and laughed and the last guests left at 2.30 a.m.
I can't say it too often, it was the best day of our lives and we owe it to our family and friends!


OUR PICTURES
By the way, none other than Jeremy Möller took our pictures. I didn't search for wedding photographers for a long time because I knew directly that I would most like to have him with me. We have known each other for a long time now through our jobs and Jere is simply a person of the heart for me. The pictures have become more than perfect, Jere has captured all the beautiful moments and has taken fantastic pictures of us even in the rain.
Photocredit: Jeremy Möller
For more inspiration visit our Shop …




If you need more wedding inspirations you should have a look to our wedding category.