*Ad/ in cooperation withTOM TAILOR
---
Often during winter time, the style factor is lost due to the coldness. We hide under numerous pieces of clothes, the so-called layering look in order to fight the cold. Additionally, the color range decreases along with the temperature and ranges between light grey and black. In order to avoid wearing oversized knit and lined coats every day, there are some tips and tricks to trick the cold.
The first question I ask myself in the morning is "How is my day scheduled?  Will I be outside or indoors? Of course, the choice of the clothes differs and depends on my plans. A visit to the Christmas market requires different outfit than for the office or a meeting with friends. Therefore, dress appropriately regarding the events and already this thought creates variation concerning the outfit choice.
For everyone who wants to try out new fashionable experiments, we created some inspirations by highlighting some it pieces of the current  TOM TAILOR collection for you.
1. THE BOMBERJACKET
---
Cool, simple and with a bit of an oversized cut: Padded bomber jackets are the perfect winter jackets for everyone who prefers a sporty look. Standing collar and incorporated corduroy suit is the scarf redundant. Besides that, combinations with dresses are and get an extra dash of nonchalance. Combined with cool boots or over knee boots a stylistic inconsistency is created and you are well dressed for a spontaneous after hour with friends.
Whoever prefers it warmer can wear warm tights, over knee boots and a warm knit pullover. The many layers create, and extra isolation and it looks still cool.

---


2. MIXING PATTERNS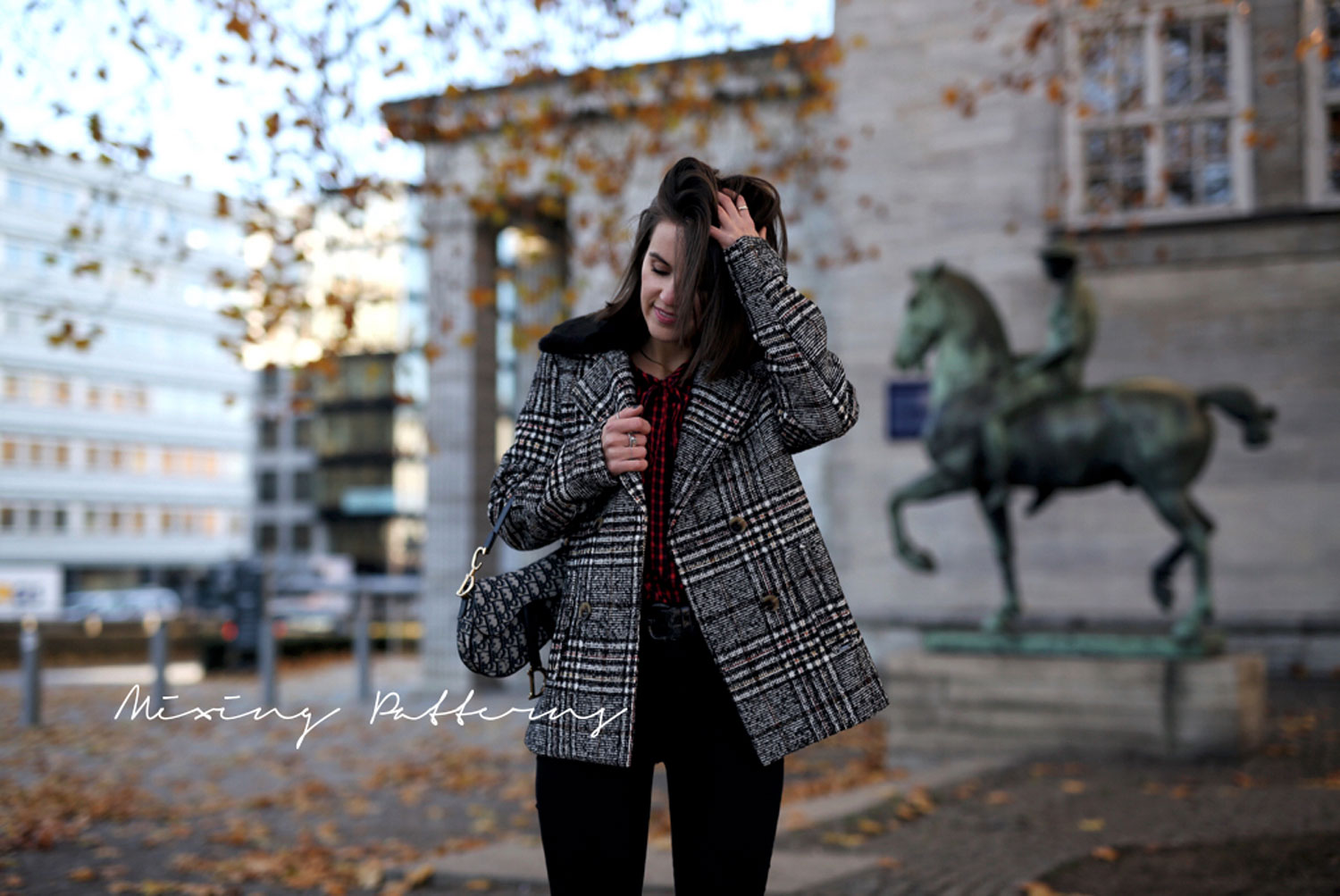 ---
Another option to ban the boredom out of your closet is by mix patterns. You can believe us, it is a small detail with lots of impact! Whether it´s camouflage, leo-print, stripes, dots or flowery – there are so many pretty patterns, you could just wear a different one every day.
I decided to wear a classic print, which is celebrating its big comeback this year. Die check pattern pea coat with reverse collar and double button facing convinces with its many details and beautiful shade. The mixing patterns are highlighted by the long sleeve red/blue blouse with buttons, gathered sleeves, ruffles and a pretty bow on the collar.
Whoever needs a warm upgrade for this style, could wear a warm long sleeve underneath the blouse. As soon as soft material is worn directly on the skin, it feels warm and has a positive influence on the heat sensation.

---


3. IT´S ALL ABOUT THE COLOR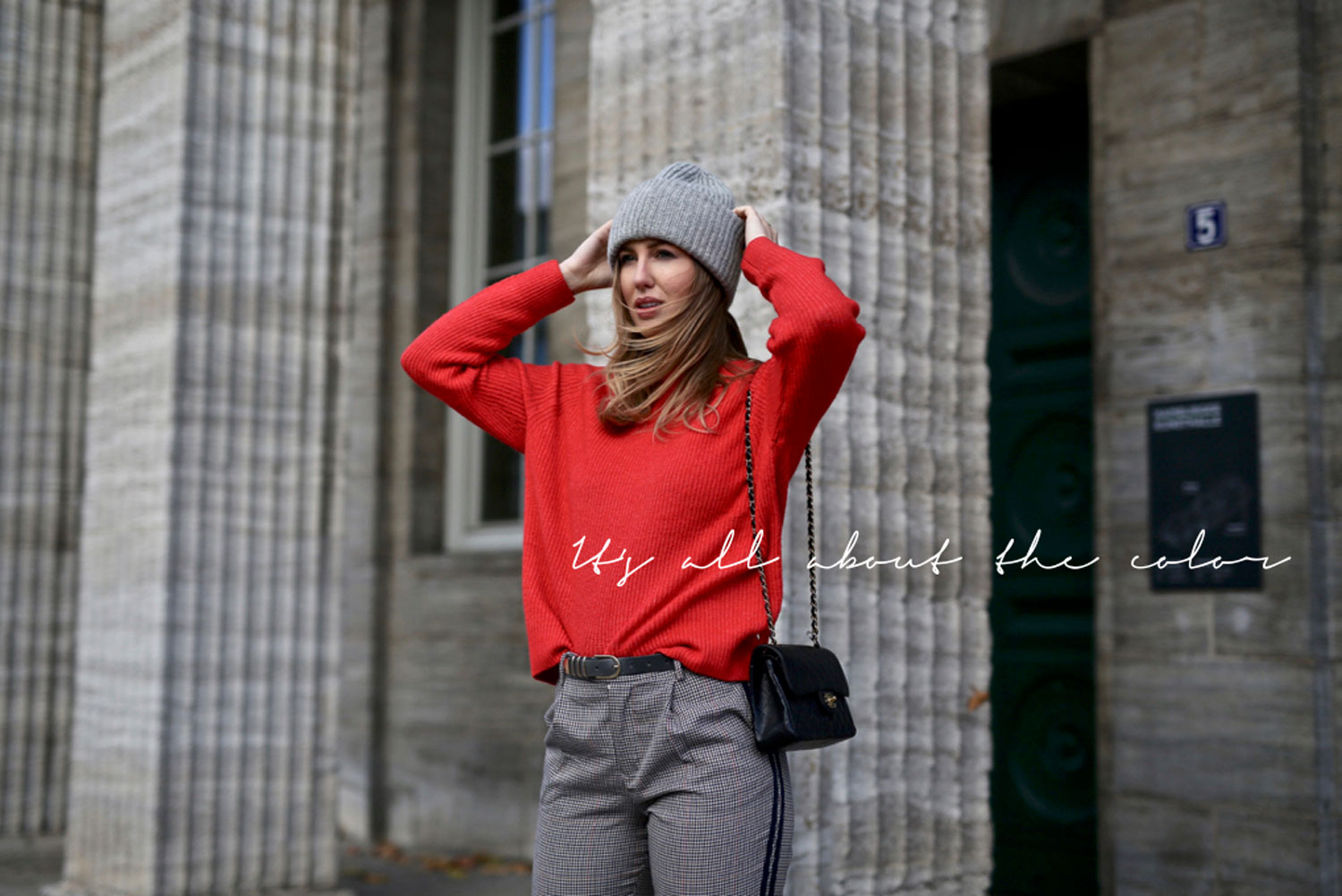 ---
Although I love grey and black, a color choice is beneficial. Especially during the winter season, which is dull and dark itself. Colorful knit pullover and jackets are a must-have. They are not only soft and warming moreover create a good mood. I especially love chunky knit or rib knit.
As Sonja already mentioned, you cannot not have check pattern. So why not trading the black jeans for tapered pants with check pattern and sideway stripes? In case it gets even colder you can easily wear tights underneath.

---


We hope you love our Outfit ideas as much as we do and are willing to experiment with color and patterns. You can find all of the It-pieces from this article now on TOM TAILOR (here).
For more inspiration visit our Shop …