Die modebewusste junge Frau von heute zeigt Schulter. Ob nur leicht über eine Schulter fallend oder konsequent auf beiden Seiten. Dieser Trend ist gerade überall zu entdecken und wie bereits Sonja und Kira gezeigt haben, stehen die leichten Sommerblusen auch bei ihnen ganz hoch im Kurs.
Ich habe mich diesem Trend mal anders gewidmet und mir kurzer Hand mein ganz persönliches Musthave gezaubert. Eine Bluse, die mir eigentlich viel zu groß ist, kann mit einigen Handgriffen zu einer schulterfreien Bluse umfunktioniert werden.
Für viele ist es vielleicht unvorstellbar, sich anstelle der möglich kleinste Konfektionsgröße, für eine XXL- Variante zu entscheiden. Doch eigentlich sollten wir uns alle von diesem Schönheitsideal verabschieden. Denn Attraktivität lässt sich nicht an einem eingenähten Etikett messen. Und ich finde der heutige Look zeigt, dass es sich lohnt auch mal die Oversized Bluse einer figurbetonten vorzuziehen.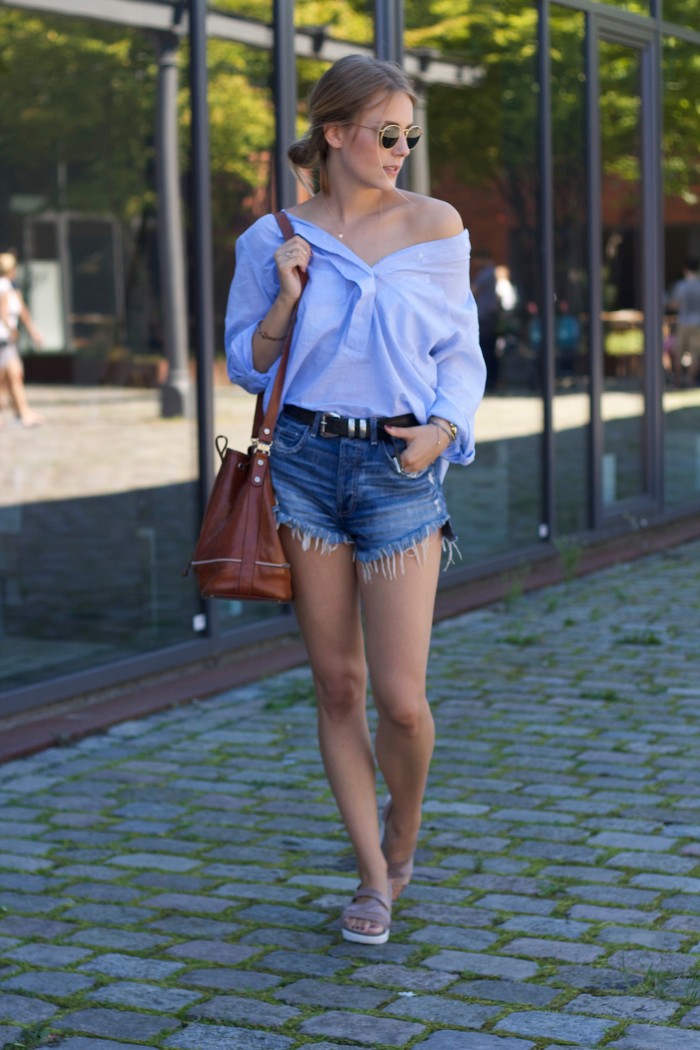 TRANSLATION///
The fashion-conscious young woman of today shows shoulder. Whether only slightly falling over one shoulder, or consistently on both sides. This trend is just everywhere and as you could already see, Sonja and Kira have shown their love for the off shoulder blouses before.
I am dedicated to this trend a little bit different and tried to conjured up my own personal must-have. A blouse, which actually is much too large to me, can be converted easily to a strapless blouse.
For many of you it may be inconceivable to decide instead of the possible smallest clothing size, for a XXL version. But actually we should all say goodbye to this ideal of beauty. Because attractiveness can not be measured on a sewn-in label. And I think today's look shows that it is worth, to prefer the oversized blouse instead of a fitting one.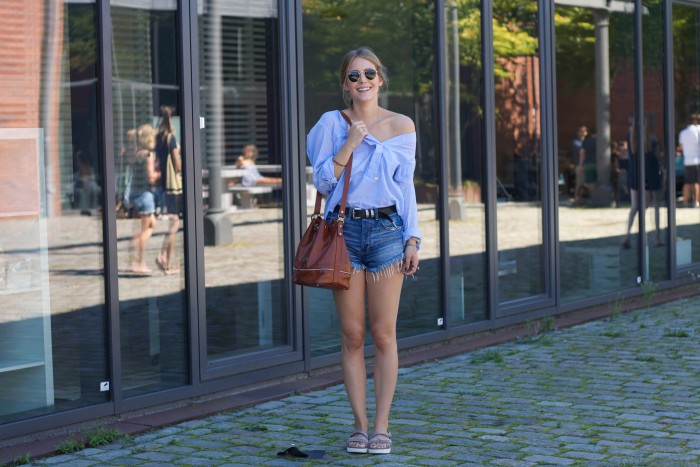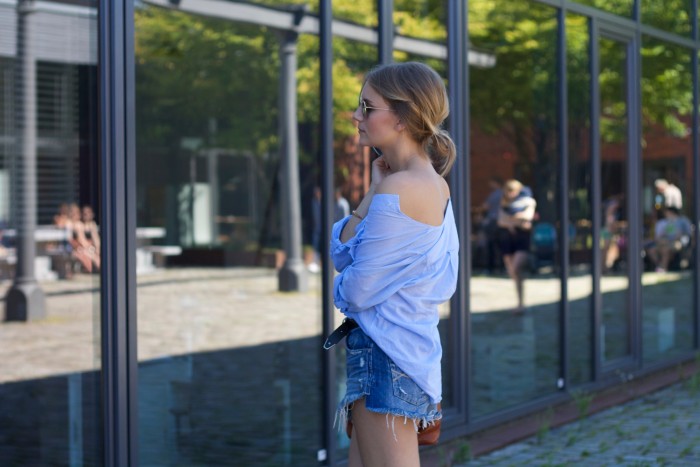 I wore:
Bluse/ Blouse: H&M (similare here)
Shorts: Abercrombie & Fitch (similare here)
Sandalen/ Sandals: Tamaris
Gürtel/ Belt: Vintage (similare here)
Tasche/ Bag: Vintage (similare here)
Kette/ Necklace: Jane Koenig