*Advertisement / in cooperation with Rituals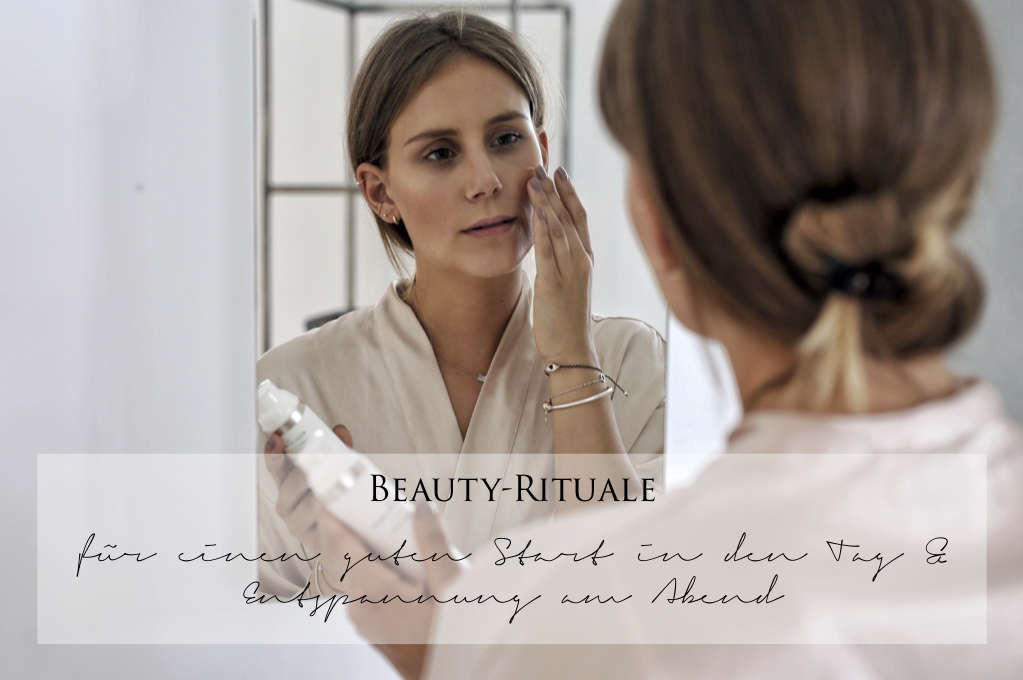 ---
We are all familiar with the feeling to get up on the wrong side of the bed or just not being able to get out of bed at all. Shortly after, you are standing in the kitchen preparing breakfast all dazed, while hoping that the tiredness will stop after drinking the first coffee. Or do you belong to the people who cannot relax and think about everything and just can´t seem to fall asleep?
It is easier for me to get up in the morning during summer time. However, I always schedule enough time in the mornings in order to start my day relaxed. Because I noticed that if I am rushed in the morning, I am feeling an inner restlessness throughout the whole day. That is why I started to treat myself in the morning with a little "me-time" – a moment that only belongs to me. To be honest, this moment developed into a morning ritual, which creates the perfect start into the day. It´s the little things that make the difference and influence my wellbeing.
My tips for a beautiful start into the day
– with The Ritual of Namasté  the new skincare of Rituals –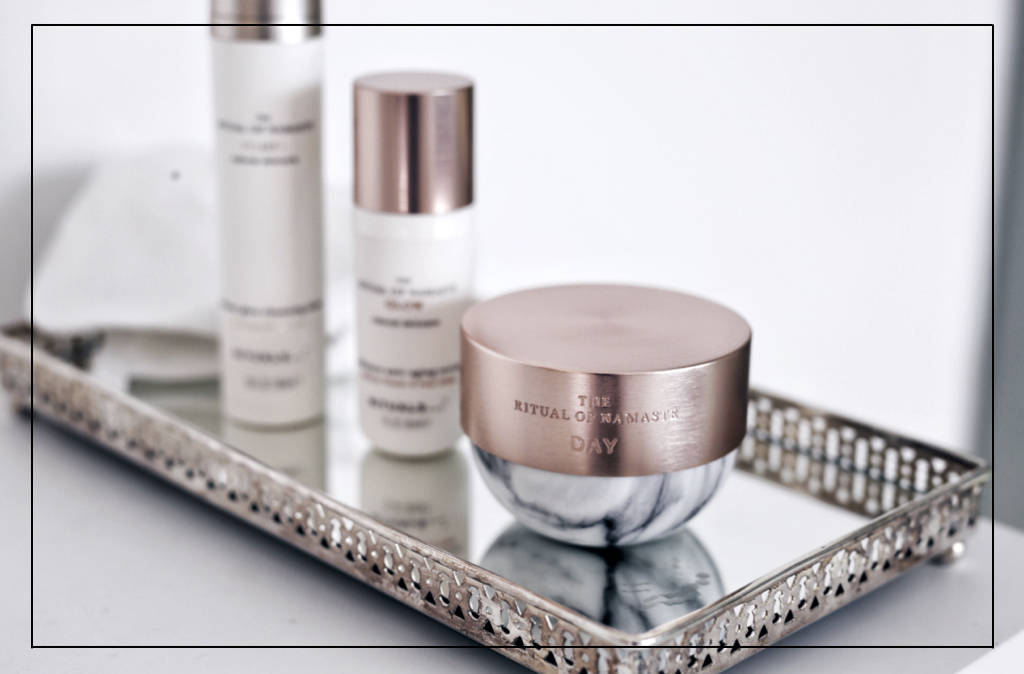 1. Washing away the tiredness
Every day starts with a small beauty routine, the walk into the bathroom. It really feels like I am washing away my tiredness and prepare my skin for the day. I clean my skin with the Radiant Glow Cleansing Balm von Rituals and massage a bit into my skin. For cleansing is the Rituals Hot Clothsoaked in medium warm water enough. Subsequently, the cool boost with cold water follows to close the pores and the last signs of tiredness disappear. Well, during the shower at latest.
2. A serum for skin care with depth effect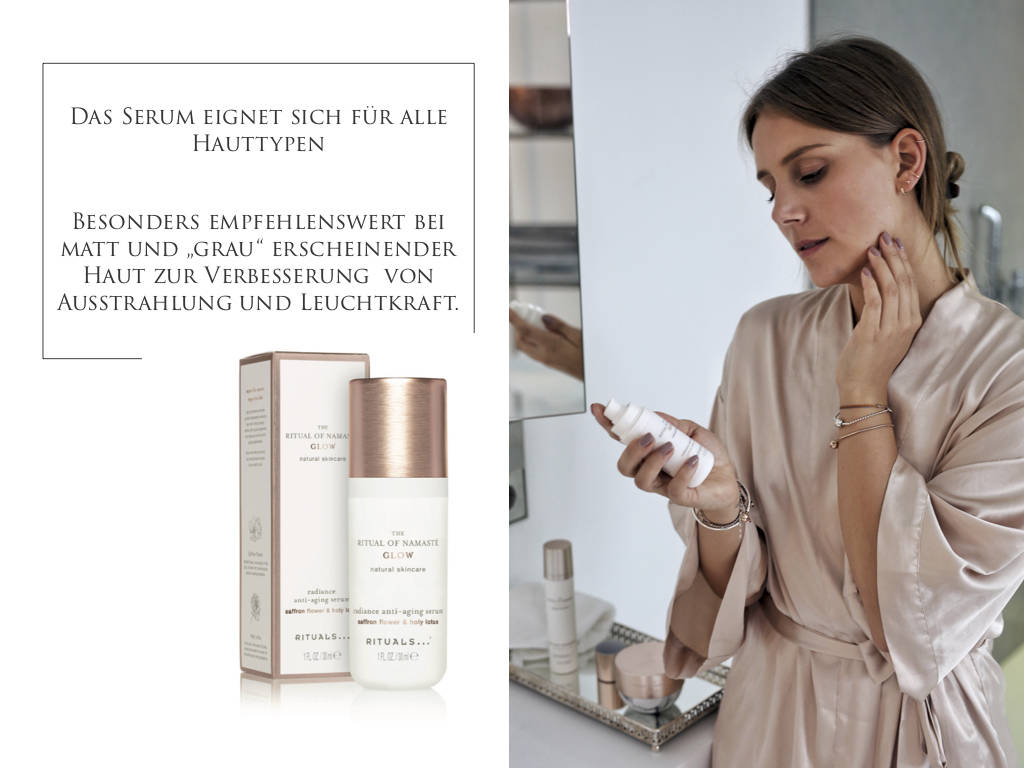 Since I have been taking more intensively care of my skin and use the right care. I use complementarily to my day cream a serum. Because, a serum consists of more concentrated ingredients, absorb rapidly and the special small molecules penetrate deep into the skin. An additional beauty secret is that I have been using anti-aging products for years now and I am trying next to healthy food and sun protection to counteract skin aging. We cannot hide the fact that I am getting closer to my 30´s and I have only this one skin to take care of optimally.
3. Day Cream
After the serum has fully penetrated into my skin, I put on the Radiance Anti-Aging Day Cream. A light anti-aging day cream, which also belongs to the new The Ritual ofNamasté Glow-collection. I Especially like the company's´ vision and mission which believes in natural ingredients and responsible and sustainable extraction. Additionally, the believe that careful handling of nature reflects in the natural beauty of the skin. The day cream is even available in a sustainable refill packaging. While I am slowly getting to the next step of my morning ritual the skin care product had enough time to fully penetrate into the skin.
4. A healthy breakfast
The creation of my beloved acai bowl is perfectionated by me and I start the day with a great feeling and I did something for my body from inside. Thus, next to the right skin care a healthy diet plays a major role regarding our beauty and well-being.
5. Food for Thought
I used to eat my breakfast in front of the TV and watched a series or movie. I reconsidered this habit and changed it into reading a book or an exciting article. Because often I don't have the time to read and I enjoy recapping the thoughts later on the way to work.
6. GETTING READY
My last step is to put on daily make up and dress up regarding the planning of the day.
I would love to extend this morning routine with a short yoga session, but for now it is only a good intention. So far, I only managed to do sports before breakfast on the weekends. At least during summer time, I take my bike to work and enjoy the quiet moments and the daily
My evening ritual to tune out and relax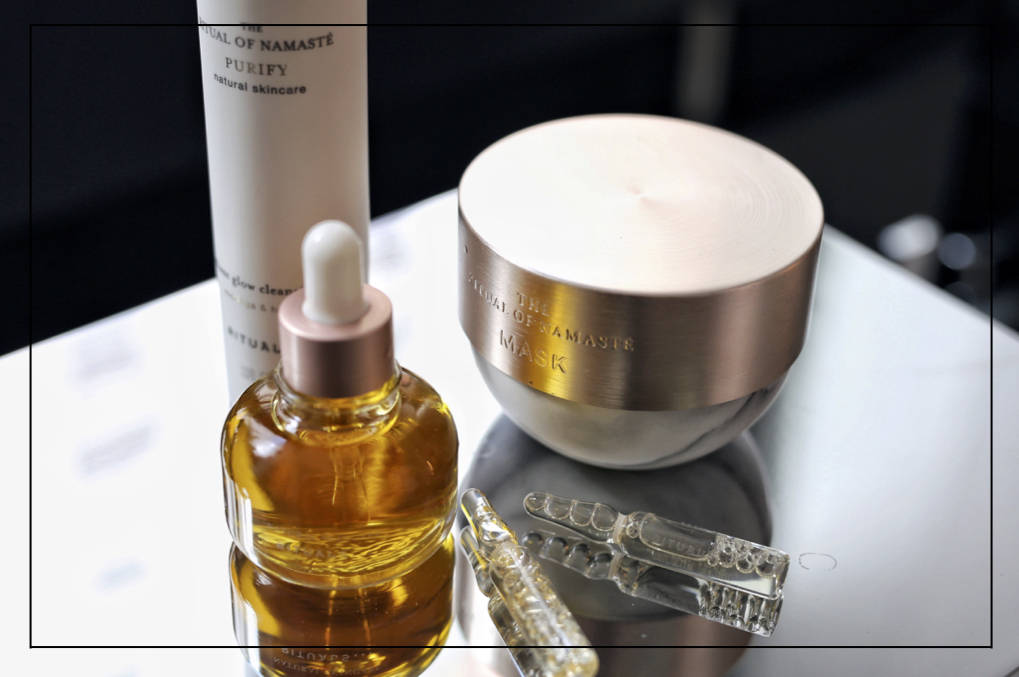 As mentioned before, I have difficulties to shut down on stressful days because I keep thinking about all the things, I still have to do which churned me all up inside and that keeps me awake. Furthermore, it helps me to draw a clear line between work and time with my boyfriend or going to the gym. Especially in our job the lines between private life and job blur easily. It took quite a while to realize that I need a balance for my daily life. Already 15 minutes are enough to relax and to improve the sleeping quality.
1. Bye-bye MAKE-UP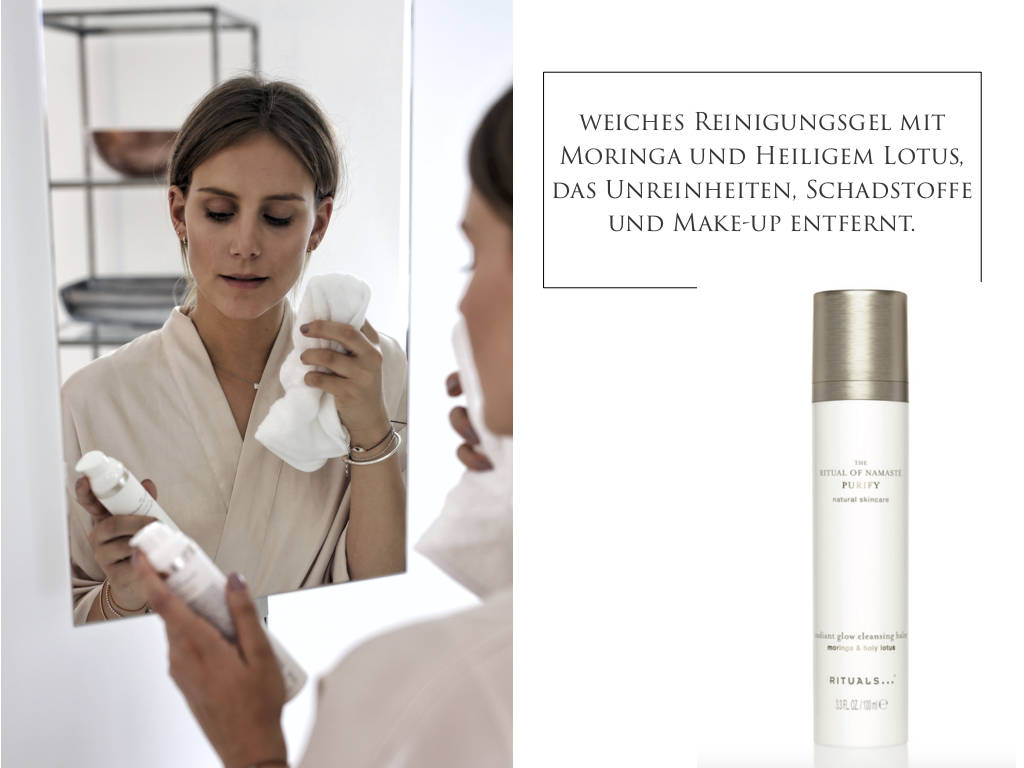 Before going to sleep I take a few minutes off and appreciate this time out while brushing my teeth, turning on my favorite playlist and preparing my skin for the night. Again, I use the Radiant Glow Cleansing Balm and remove with the gel to oil formula, impurities, harmful substances make up. My skins feels very soft after the cleanse. When I use make-up, remover pads the last bits of the mascara are history, however I have the feeling that my skin is irritated afterwards. Therefore, I prefer this careful version and I am very happy with this choice.
2. Listen to the needs of your skin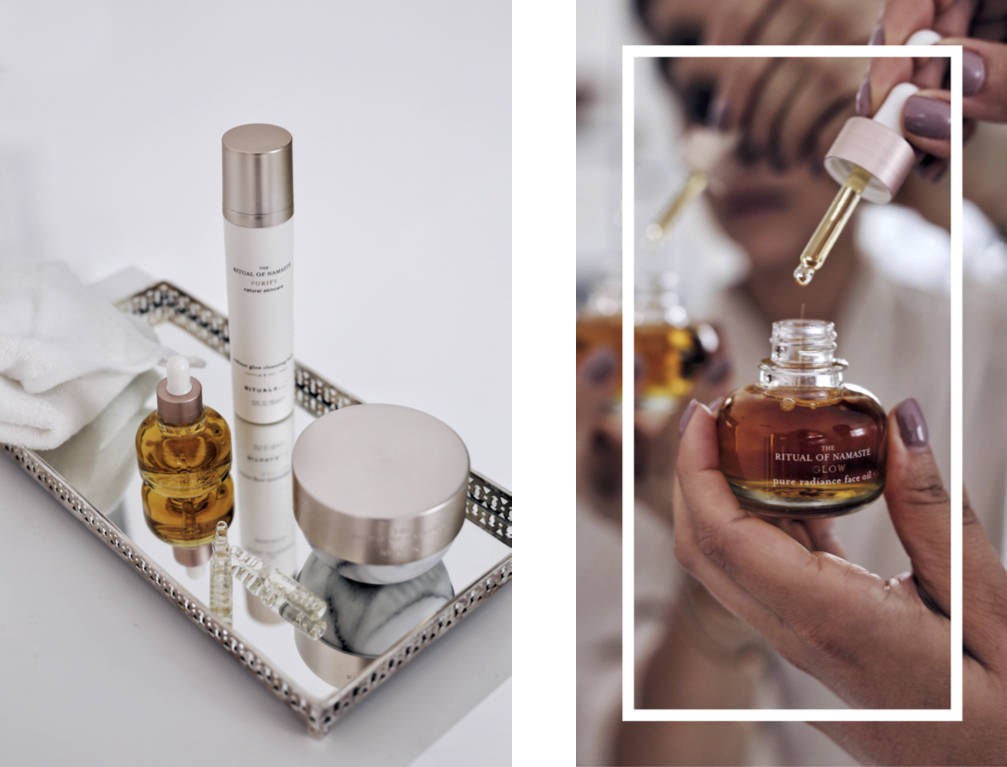 After cleaning my skin, it gets the needed extra care that can enter throughout the night. It really depends on my skins needs, my feeling and complexion on what product I choose. I always add a few drops of Pure Radiance Face Oilszu to Radiance Anti-Aging Night Cream. The hyaluronan acid supports the natural moisture of the skin restore.  In combination with the oil this effect is supported. The skin feels soft and smooth.
If the skin feels dry and tight 7-day care cure work miracles. The concentrated active ingredient of saffron flower and lotus provides the skin intensively with moisture and supports to prevent wrinkles. The hyaluronanacid moisturizes the deeper layers of skin and improves the elasticity. Therefore, this concentrate helps to reduce the wrinkles caused by dry skin and creates an even appearance. Exactly with this issue I have been dealing with in the past and was able to improve it with the right care. In combination with the Renewing AHA Mask dead skin is removed with fruit acid. The mask is like a soft peeling and makes the complexion glow, smoother and daintier.
3. Eye cream
Additionally, I use an eye cream every evening, like the Anti- Aging Eye Concentrate and I massage it into my skin with soft pressure. Especially in this area my skin is especially dry and develops wrinkles. Moreover, I enjoy this small massage and it belongs to the last steps of my evening beauty routine.
4. Sleeping Mask
After my skin is prepared for the night, I go to bed and get my sleeping mask. I used to worry that my boyfriend might not like it but I noticed rapidly that I can sleep so much better with this light protection. My boyfriend even bought me a cute sleeping mask with a flower print and that shows me that I do not have to be ashamed of this tiny quirk.
5. Sleeping Aid from an app?
Whereas he cannot seem to adjust to my second sleeping aid. One year ago, Kira and Sonja took place at a slowdown session with Rituals in Amsterdam. They told me about the meditation app of ritual. I have never tried anything like that but was immediately able to adjust to the breathing techniques and the active relaxation. On very tense days, 10 minutes were enough to tune out completely and to ban all agitated thoughts and was able to fall asleep. However, I don't meditate regularly but practice it if needed.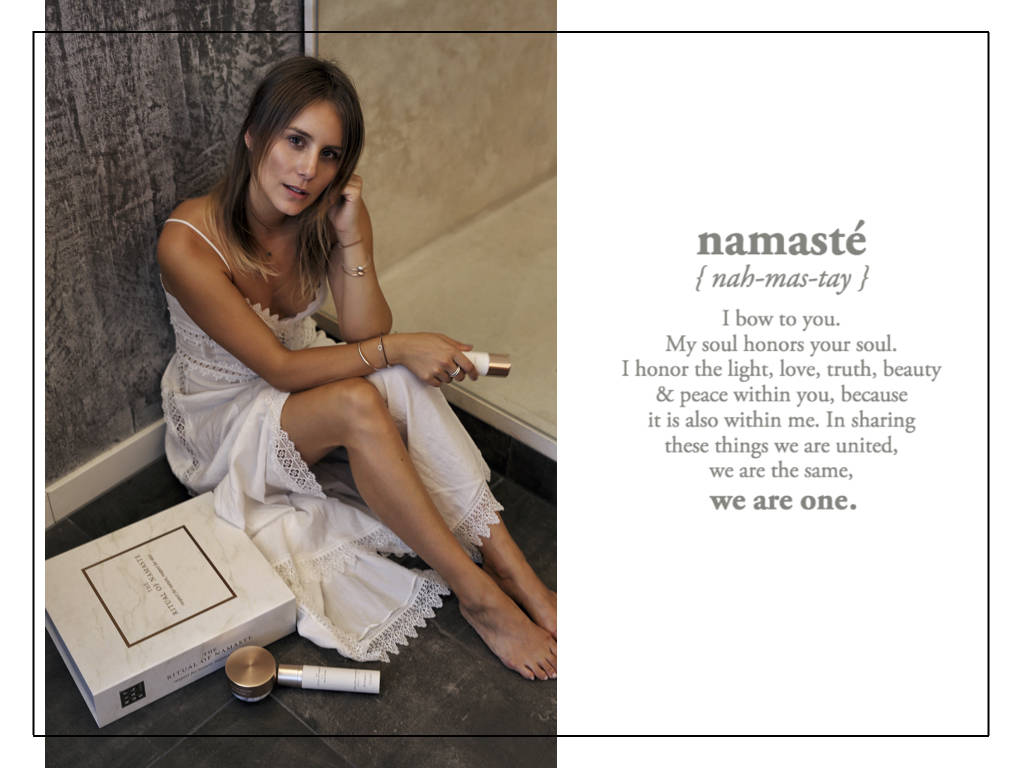 As you might have noticed, I take good care of my body and my skin. I strongly believe in the fact that this is the key to a more mindful life and healthy body. Therefore, a beauty ritual can reflect in a glowing completion. The Ritual Namasté is the new skin care of Rituals, that was created to admire the nature as well as the natural beauty. For all products only natural or natural based ingredients of sustainable extraction are used in order to provide the ideal conditions that an individual natural beauty needs to shine. Just like the name Namasté says and means, "my soul bows to your soul" the beauty of the skin is the result of with careful handling of nature.
However, the Ritual of Namaste is not only a skin care collection but rather an opportunity to grant yourself a small hiatus in form of a daily beauty ritual. If Glow, Purify, Hydrate, Ageless or Sensitive is your key to a successful start in the day and arelaxing evening you can find out here  .Moreover, Rituals offers a skin analysis in the stores in order to find the most suitable skin care products for individual needs.
MerkenMerken
MerkenMerken
MerkenMerken
MerkenMerkenMerkenMerken
MerkenMerken
MerkenMerken
MerkenMerkenMerkenMerken
MerkenMerken
MerkenMerken
MerkenMerkenMerkenMerken
MerkenMerken
MerkenMerken
MerkenMerken
MerkenMerken