*Advertisement/ This post contains PR-Samples & Affilate Links
---
Beach Essentials – Must-Haves for a perfect Beachday
As you might have noticed last week, the holiday feeling doesn't necessarily depend on the destination. Summer feelings can also arise at home! Of course, the weather has to be good, but otherwise there are hardly any limits to creativity for a few beautiful days including summer vibes.
We picked up our bikes, packed the cool bag and spontaneously went to the Elbe for a day. As soon as you walk barefoot through the sand and at the latest when you drink cool beer, the level of relaxation increases all by itself. There are so many lakes and beautiful spots in the area that are perfect for picnics and sunbathing. If you have some of the beach essentials with you that I would like to introduce to you today, you can be sure that it will be an all-round successful day – I PROMISE 🙂

---


1.The Beachwear
For the beach or a trip to the lake it is of course a good idea to pack your swimwear. To jump into your bikini in a relaxed way, it is advisable to wear an airy dress or a flowing caftan. These are also ideal as "mobile changing rooms".

2. All White Beachwear
White swimwear literally screams for vacation and quickly makes our skin look a little tanned. Whether trendy high waist panties, triangle top or swimsuits … the main thing is that you feel comfortable.

---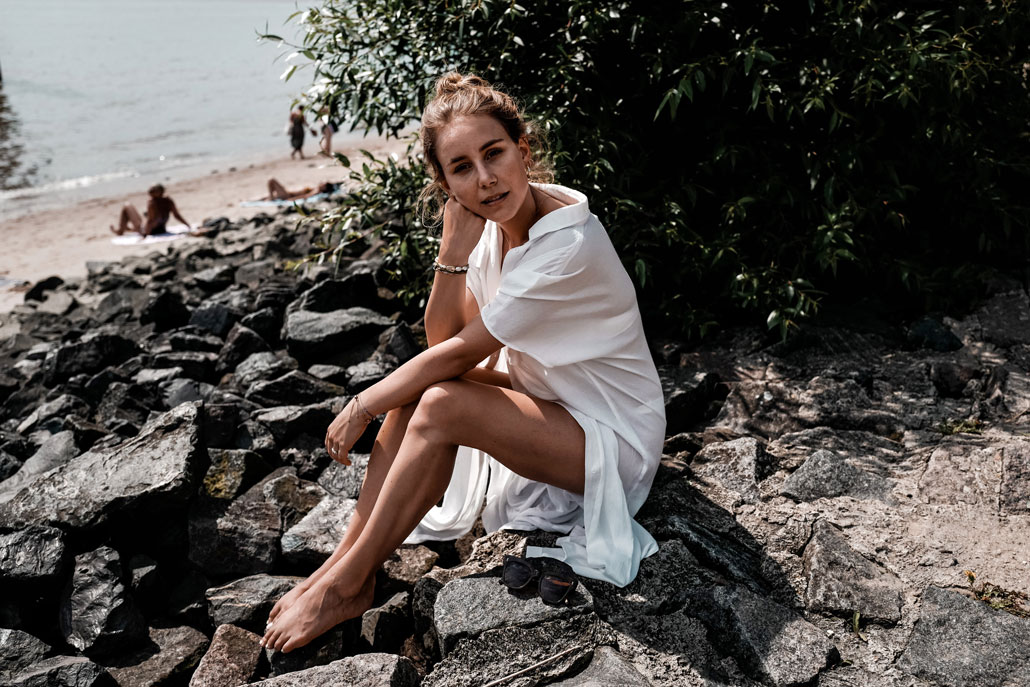 ---
3.Beach Bags
In order to be able to transport all the necessary beach essentials, a large beach bag is a must-have. Classic basket bags or colorful tote bags are a good choice because they offer space for everything.

4. Beach Hair Accessories
We love colorful scrunchies and retro hair clips to tie your hair up before bathing. You can match them in color to the beach outfit or set color accents. Also hair bands are a cool hair accessory that exude a good mood.



---
5. Beach Essentials for fun
Creating this category gave me the most pleasure. Cool drinks from a metal bottle, cute bags for your valuables, speaker for the background music and how about a game of cards? These gadgets are definitely fun on hot days.

6. Beach Towels
Last but not least, you should also lie comfortably in the sand. I now always have a light beach towel and a soft towel with me. So it can be endured for a long time and the colorful towels remind a little bit of my last vacation by the sea.

---