*this article contains Affiliate Links & PR Samples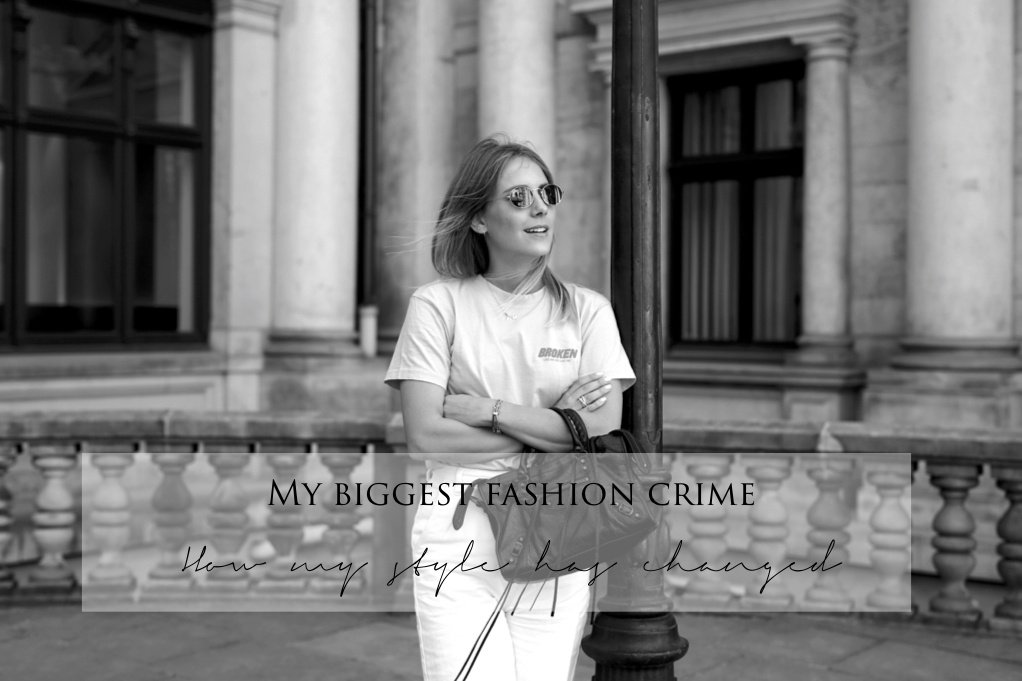 ---
I spent the last few days in my hometown, visited some friends and just took some time for myself. There I also like to browse through old photo albums, where many happy memories come up again. For example the first holidays with my big clique to Lloret or Bulgaria. But of course there're a lot of party photos with my girls. We were a girl clique, as it's in the book: At some point we actually had at  very cheesy group name. From today's point of view, of course, anything but cool, but hey … we were young and meanwhile my view on many things has changed. We also shared the interest in fashion experiments and when looking at the old photos, I have become aware of so many fashion sins. Therefore, I thought that I should share my biggest fashion sins and hope to find allies with similar missteps.
So leave a comment with your absolute No Gos. I'm curious to hear about your fashion crimes as well !
MY BIGGEST FASHION CRIME
Colored Tights: Now I understand why people on the street turned back to me. Probably not, because they thought my purple tights look beautiful.
Pointed ballerinas with a 1-2 cm heel: Ballerinas are not pretty at all. The pointed shape, that additionally lengthen the foot and the cheap looking plastic material, made it even worse. But the funniest thing was definitely the mini heel, which was a desperate attempt to run on high heels.
Leggings or Jeggins: All of a sudden, jeans were exchanged for the much cozier leggings and that had a very bad effect on my fashion sense. At first they were only worn with long tunics. Suddenly they became so suitable for the everyday use, that they were combined with hot pants or tops that minimally covered the butt.
Elastic Waist Belts: Belts in various designs have always had great trend potential. Thankfully, I didn't had a belt with a Playboy buckle. But I had this thing for belts made of a elastic rubber band with a plastic buckle. At some point these weren't only tightly tied at the waist, but worn just below the breasts. Maybe my motivation was, that I was hoping to make them look bigger – I honestly don't know anymore. One thing is for sure: It did not look good at all!
Boleros: Sonja, Kira and I have laughed about this trend so many times before. Boleros were "the shit" back then and you could get it in so many versions. My favorite models were a golden crocheted short-sleeved bolero and a simple bolero with long straps knotted at the front.
I laughed while collecting these 5 fashion sins so much. The funny thing is, that many of the garments I wear in todays post used to be absolute fashion no gos for me back then. I would never have worn Birkenstock sandals, a white culotte, small oval sunglasses or a yellow oversized T-shirt. But today they're among my favorites for summer and I really hope, that I wouldn't have to laugh about my preference in a few years.

---


---
BIRKENSTOCK SANDALS

---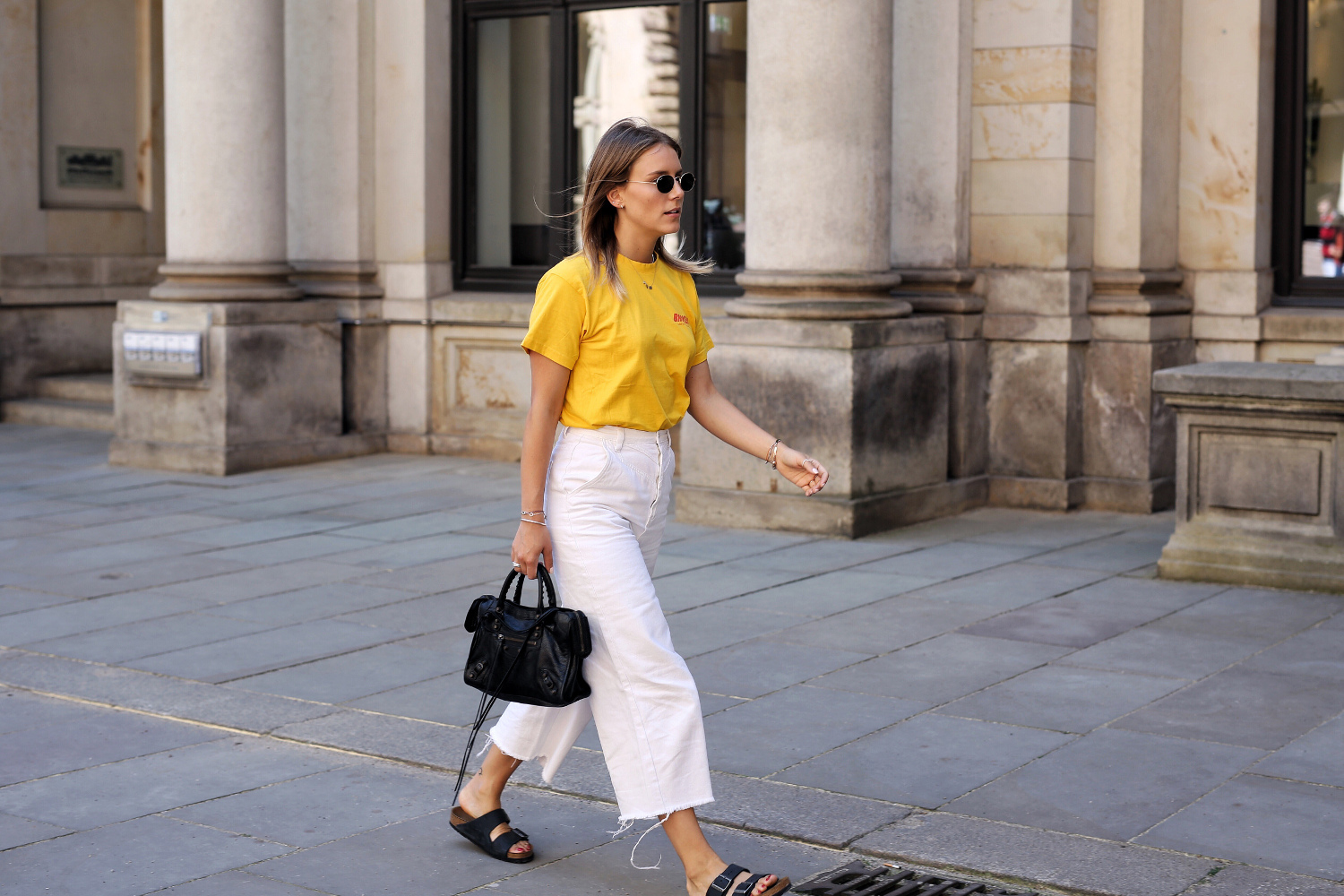 ---
 CULOTTES

---


---
YELLOW AS A STATEMENT

---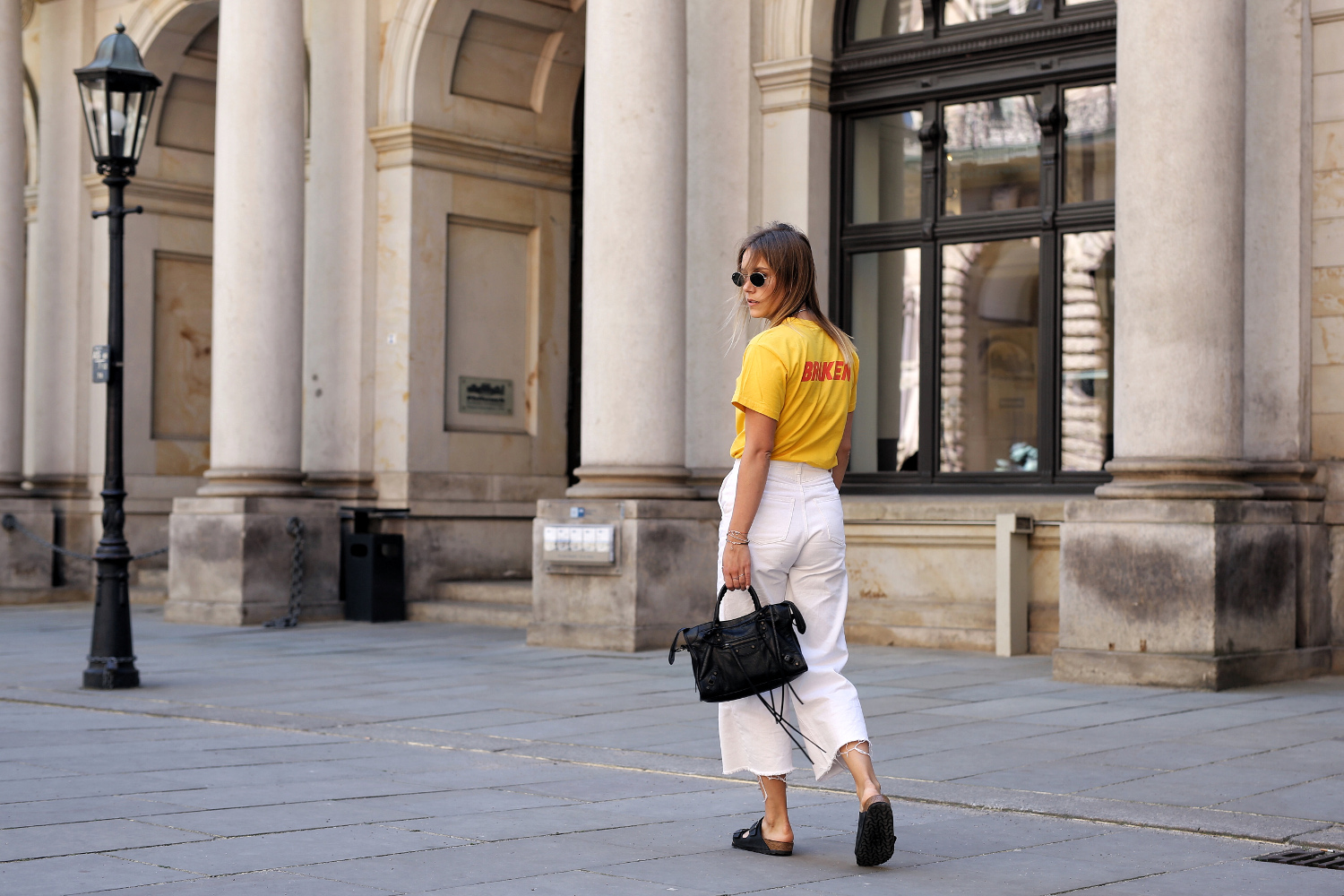 SHOP MY LOOK:

T-Shirt: Broken (here)
Culotte: EDITED (here)
Bag: Balenciaga (here)
Sandals: Birkenstock (here)
Sunglasses: Ray Ban (here)
Bracelets: ANNA IJ (here)
For more inspiration visit our Shop …