*Advertisement/ this article contains affiliate links & promotional content
Summer is just around the corner! Temperatures are shooting up even in Hamburg. High time to get some new summer outfits. I started my search for the trends 2019 and found super sweet summer tops and tops.
That the 90s have found their way back into fashion should have attracted everyone's attention. A great trend piece of this time is the One Shouldered Top. This eye-catching cut upgrades outfits in the twinkling of an eye and can make an outfit look elegant or super casual depending on how it is cut.
The so-called Racer Tank Tops are again suitable in and not only as a boring underwear shirt. It is a great basic must-have, which can be worn in a neon color under an oversized blazer. Without the neon top being too intrusive. In general tank tops are very trendy this summer and another Basic is celebrating its comeback: The Scalloped Tank Top. It is best worn in plain, basic colors. The top can be perfectly combined with trouser suits, with high-waist trousers in paper bag style or with midi skirts made of satin.
Remember your kids' birthdays? This activity has certainly been done by everyone at one or the other children's birthday party or at a children's camp – Batik! I can still remember when I tied my white T-shit with a rope and then dipped it into different color pots and was really curious what the shirt looks like later. I love the Tie Dye trend.
The Square Neckline is also a summer trend 2019. You've seen this cut on us before in the last weeks. Our favorite combination of the Square Neckline is a blouse with puff sleeves, but also in neon colors, with polka dots or in animal print this cut is well received. A popular color scheme this year is and remains purple! No matter if pastel, neon or Parma Violet it simply conjures a refreshment into your outfit. Normally you wear shorter clothes as soon as it gets hotter, but the Sheer Sleeve Trend is so great that you should definitely own at least a part of it.
I've been looking for you my favorite pieces for every category! Have fun shopping!
SHOP MY LOOK: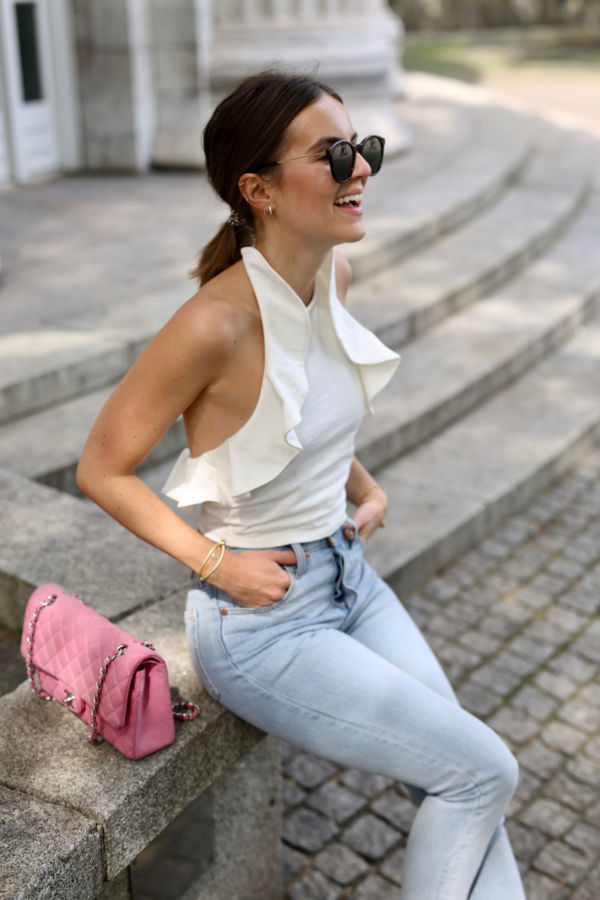 Eine weisse Bluse ist immer im Trend

Scalloped Tank Top

One Shouldered

Tie Dye

The Racer Tank Tops

The Sheer Sleeve

The Square Neckline

The Parma Violets shades

SHOP MY LOOK:
Top: H&M (here)
Jeans: Levi's
Bag: Chanel
Shoes: Ecco
Shades: Polaroid
For more inspiration visit our Shop …