*Advertisement/ this article contains affiliate links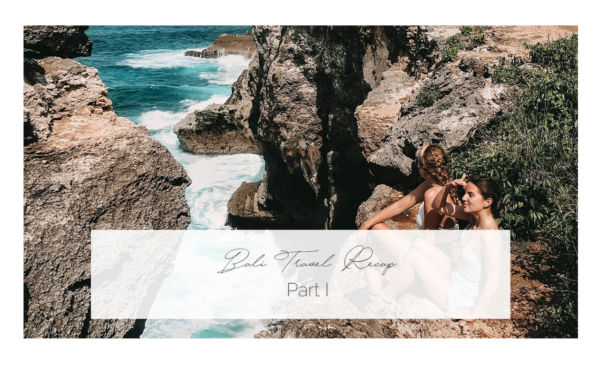 Bali – the "Island of the Gods" attracts many travellers, whether backpackers, luxury holidaymakers, newlyweds, adventurous, beach – or party seekers. There is something for everyone.
The most famous Indonesian island is just as versatile as its visitors, with its grass green rice fields, the fascinating culture and its fantastic beaches. And despite all the tourism you will find lonely beaches, hidden bays and unbelievable cultural and natural treasures on the island. We tell you about our experiences and favourite places – beaches, surf and dive sites, rice fields, volcanoes, temples, dances, yoga and spa.
Our journey through Bali started in Canggu. This place is a must for everyone.  You shouldn't miss the chance to experience this hipster lifestyle and see the small hipster community among the many rice fields. In Canggu there is every kind of accommodation! From a luxury hotel with room service up to a local homestay everything is represented. We were in the Canggu Beach Apartments it is super central, the beach is within walking distance and beach clubs and shops are nearby. The swimming pool area is beautiful, as are the lovingly furnished rooms and staff who are very friendly, courteous and helpful.
Rice Fields
Ubud attracts with its beautiful rice fields, a high density of temples, lots of yoga, meditation, wellness and healthy food. Among other things we have the rice fields in… and were thrilled how beautiful nature can be. On site you can make a tea tasting and try the Luka coffee, which the locals also call Magic Coffee. We admit it's worth it and it's just beautiful to stroll through the rice fields.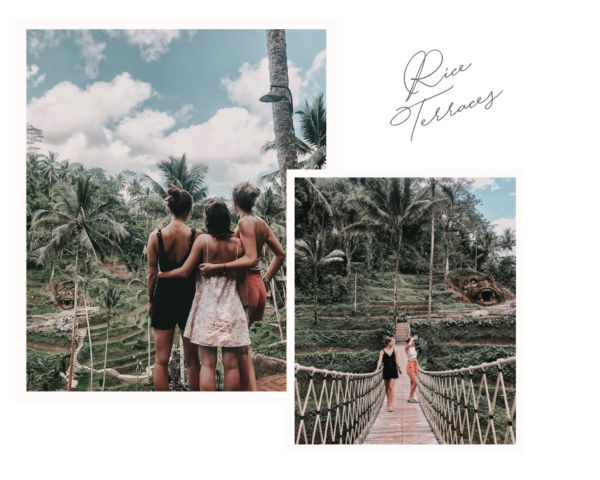 "Don't go chasing waterfalls"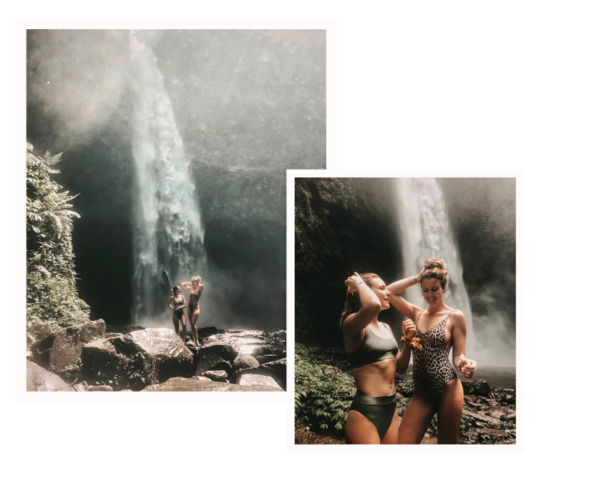 Monkey Forest
Ubud is not only known for the above mentioned attractions but also for the Hindu faith of the holy monkeys who live in the Monkey Forest. But you should always be careful, because they are wild animals and tourism can quickly become too much for them. You are always on the safe side if you stay with your guide. The Monkey Forest that we visited was an insider tip of a locals and is called "Monkey Forest Of Sangeh".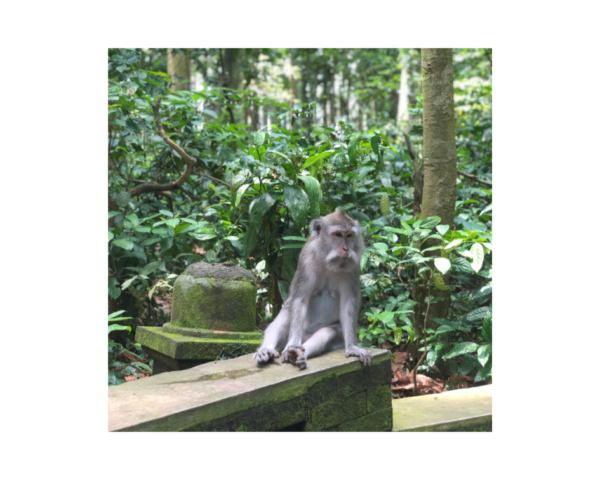 Our accommodation in Ubud was Furama Villas  & Spa The hotel is located in the middle of untouched nature and the villa was simply breathtaking. We had our own pool with our own swimming pool, with our own small jetty. The room was very spacious and the large interior made it cosy and modern at the same time. One of our highlights was the Floating Breakfast there. The hotel offers massages and spa and we can recommend the 1 plus Balinese full body massage. All in all the stay was super relaxing and very recommendable.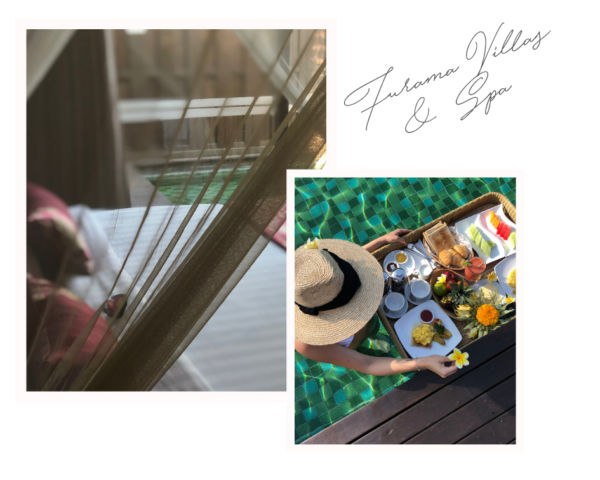 Surf
If you are already in Bali you should take at least one surfing hour. Kuta and Seminyak are perfect for learning to surf because they have beach breaks. We were lucky to spend four whole days in a surf camp in Seminyak. One thing we can tell you – we never thought it would be so much fun.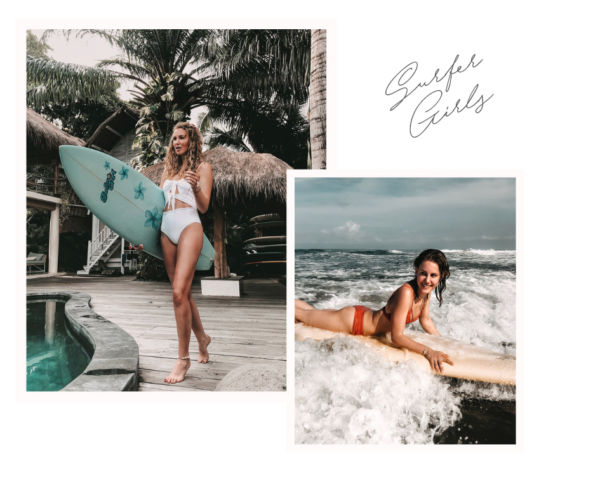 The Kima Surf Camp is highly recommended. We had a lot of fun, certainly drank litres of sea water but can now say that we can surf. Every morning we got up very early to catch the best waves for beginners and later we could watch on video how good or how funny we looked on the surfboard – as far as we could get up at all. The super nice surf instructors and the rest of the team gave us a warm welcome and took away any fear of surfing. The modern comfort of Kima Surf in combination with the authentic essence of Bali and the natural environment offers the perfect opportunity to create unforgettable experiences. The stylish and comfortable rooms are very clean and the bathroom was exceptionally beautiful. Each room has its own bathroom and terraces, which are located by the natural stone pools surrounded by a tropical garden. One pool has a pool bar with great cocktails and the other has a Jacuzzi. We would love to return at any time.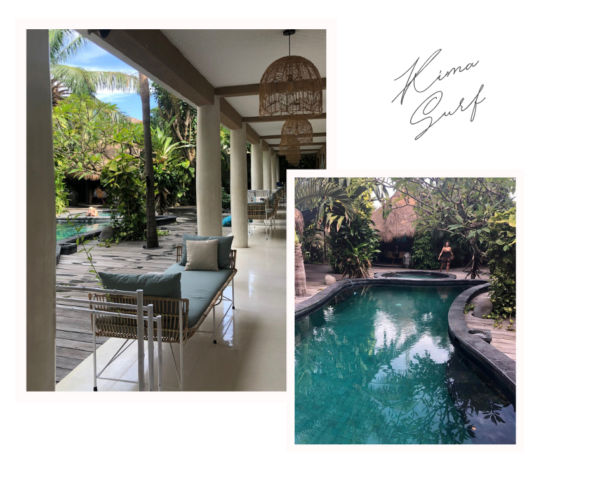 Tempel
The culture in Bali plays a very important role in the life of the Balinese from the small offerings on the ground, the incense smell in the air to the unbelievable many ceremonies in the temples. It is definitely worth learning more about these wonderful traditions. The traditional Legong dance tells the story of Princess Rangkerasi from the Kingdom of Daha who got lost and was taken in by King Prabu Lasem. This dance theatre should be watched by everyone once, because you simply get a good mood to watch the wonderful dance.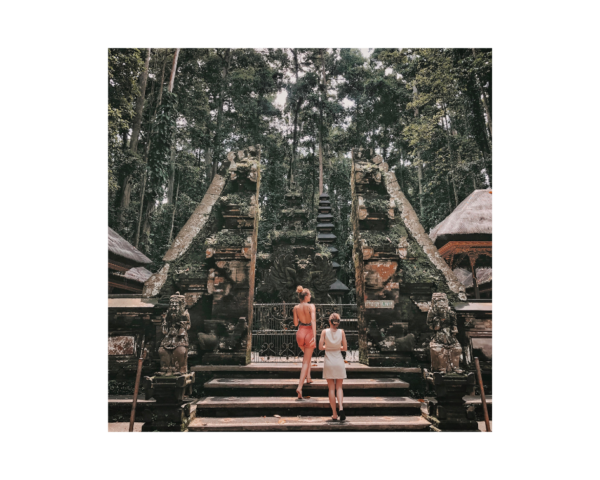 Nusa Islands
Those who are on Bali should definitely visit the surrounding islands. We were on the nearby Nusa Islands. The three islands have a lot to offer, especially dream beaches and pure nature. Directly on Nusa Penida the Kelinking Beach is perfect for swimming, but the distance to the beach is a real bumpy challenge, especially with the scooter. The Crystal Beach is a must for all who like diving and snorkeling. The bay on the west side of Nusa Penida is well known for its colourful fishes and great coral reefs. It offers a beautiful, bright sandy beach and a 300 meter long, wide bay. Of course you can also just come here to relax. The island of Nusa Lembogan is a small paradise. It is surrounded by fantastic beaches that invite you to relax and sunbathe. What is super great is that you can get from Nusa Lembogan by scooter over a connecting bridge to the small neighbouring island Nusa Ceningan. There is also a very nice beach, the Secret Beach. The beautiful beach is rather suitable for relaxing and sunbathing, because the current is very strong. The Dream Beach on Nusa Lembongan is recommended for swimming. The Sunset Beach is very suitable for sunsets, but also for bathing and relaxing. The sand is very fine and bright.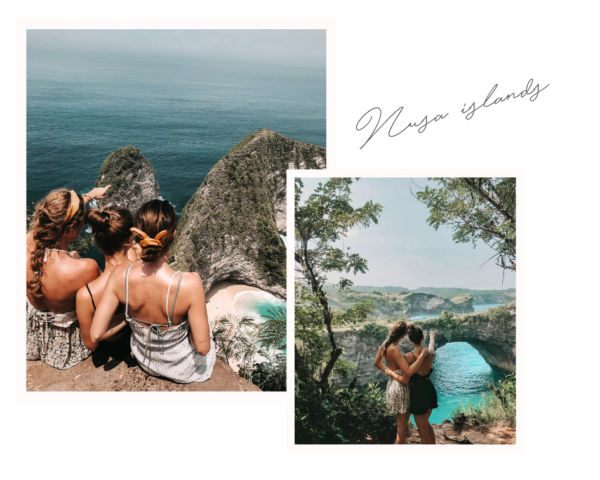 At the end of our Bali journey we were in Uluwatu. The well known Dreamland Beach is a wonderful place to swim and the water is very pleasant, but unfortunately very touristy and dirty. The Beach Club nearby is very old and could be renovated again.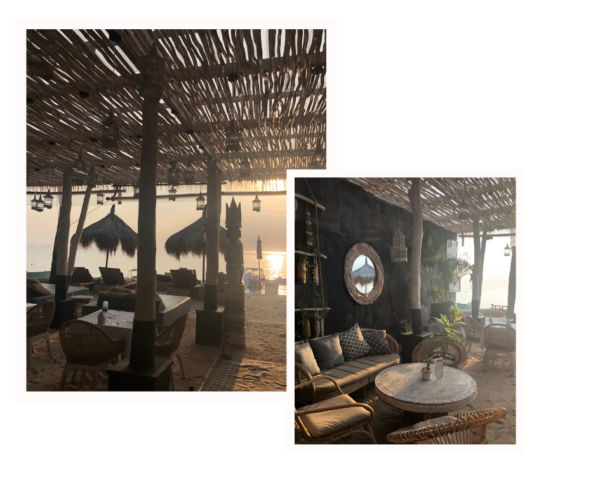 Long speech short sense Bali is warmly recommended as the island offers a wonderful place to stay for every need. You can travel from very cheap to very expensive. Hotel rooms vary from about 8€ per night to 250€ per night and for food you can eat at local warungs, street stalls for 1 Euro or in western restaurants for 20 € a meal. But it is always worth researching and comparing because often there are even accommodations with their own pool for little money. The island is so versatile and individual that you should have visited it at least once in your life.