*Advertisement/ This post contains PR-Samples & Affiliate Links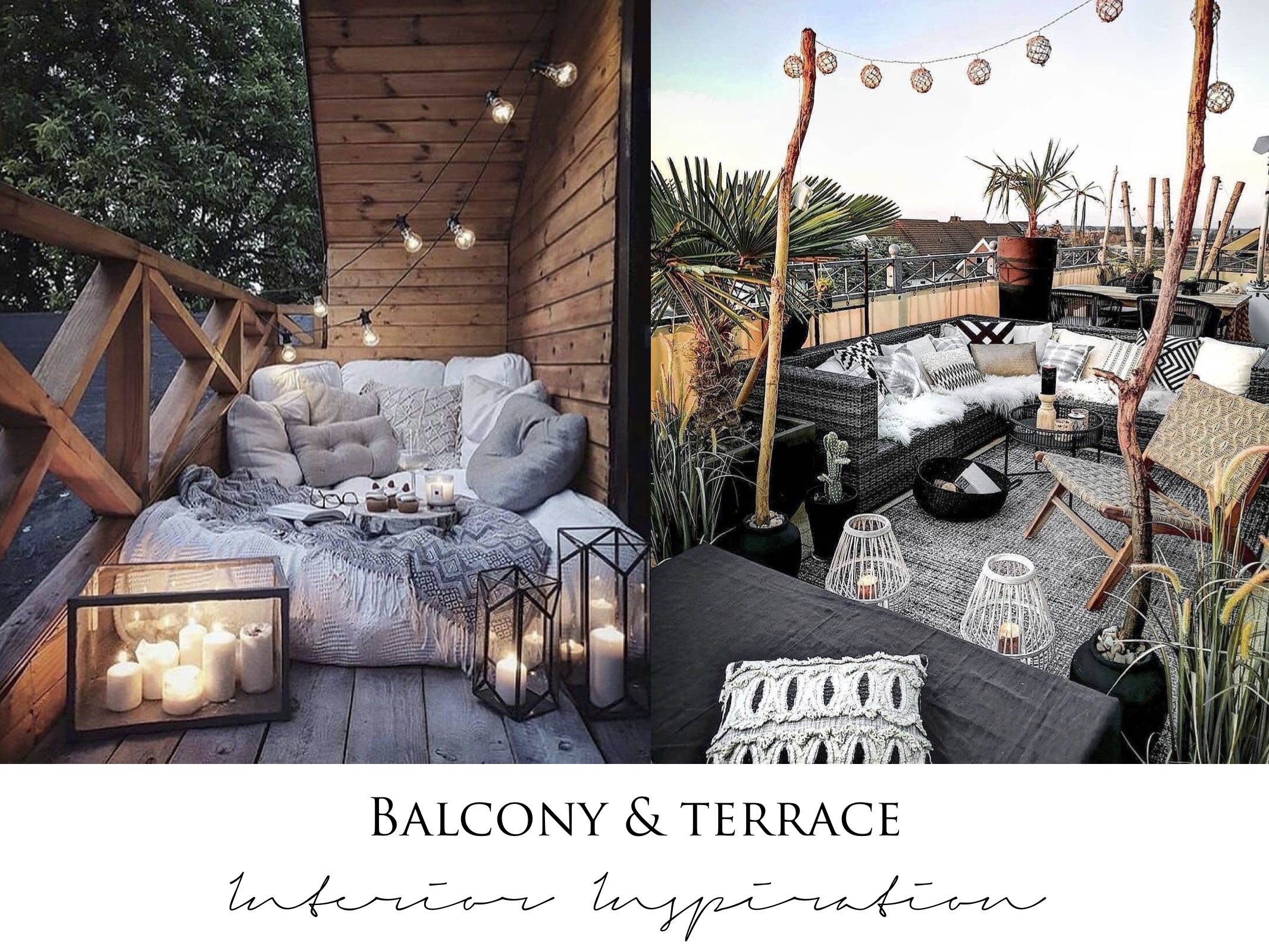 We cannot say it enough: spring is here – finally! And summer is also coming closer and closer. Time to freshen up, remodel or even completely redesign the balcony or terrace. Since summer holidays in Spain or Greece wont probably take place this year, it is all the more worthwhile to spend some time and money in order to bring the holiday feeling home.
We have put together a few inspirations on how you can design your terrace or balcony and browse through the online shops for beautiful and practical outdoor furniture. One or the other DIY idea is also included.
Have fun and enjoy the sun!
---
Lounge furniture and seats
The be-all and end-all on the terrace or balcony? Of course, cozy seats where you can read, sunbathe and relax all day long. Lounge sets made of rattan or wood, rocking chairs, hammocks or outdoor seat cushions – no matter what you have space for, comfortable cushions should not be missing.


DIY idea: old Euro pallets can be converted into a seating area. This low-cost alternative not only exudes a rustic charm, but is also particularly suitable for smaller balconies or terraces.



---
Plants & beds
A terrace or a balcony without plants ?! There is no such thing. Even if you don't have that much space, there are many great ways to bring some greenery to your outdoor oasis. You can either use the classic planters for the balcony railing or you can simply try vertical gardening. Multi-storey flower pots or ladder shelves and trellis, to which you can easily attach small pots with hooks, are super suitable for this.

If you would like to be even more creatively, you can also dare to make your own hanging baskets or hanging flower pots made of macrame. For this you only need thicker and thinner cotton yarn, S-hooks, wooden rings and planters of your choice. On Pinterest and YouTube you will find numerous instructions and tutorials on how the knotting technique works. We have already linked the utensils for this so that you can get started straight away:

A great upcycling idea: a flower wall shelf or a raised bed made out of old fruit boxes.




Tip: When choosing your plants, pay attention to the direction and sunlight of your balcony / terrace. In the garden center you can get good advices on which flowers and plants suit the circumstances.
---
The right floor
The floor on the balcony and terrace can make a big difference. With its natural charm, wood creates a cozy atmosphere. If you have your own garden and saved the necessary money, a high-quality wooden terrace is definitely worth an investment. Click tiles are ideal in a smaller space. These can be installed in no time at all and are available for a small budget in a variety of different looks to suit your taste. You can also combine several materials and set accents, for example by piling up a small corner of your terrace or balcony with sand or gravel.
Der Boden auf Balkon und Terrasse kann eine Menge ausmachen. Holz schafft mit seinem natürlichen Charme eine gemütliche Atmosphäre. Habt ihr einen eigenen Garten und das notwendige finanzielle Kleingeld gespart, ist eine hochwertige Holzterrasse auf jeden Fall eine Investition wert. Auf kleinerem Raum bieten sich Klickfliesen an. Diese sind im Handumdrehen verlegt und gibt es bereits für kleines Budget in den verschiedensten Optiken ganz nach Geschmack. Ihr könnt auch gut mehrere Materialien miteinander kombinieren und Akzente setzen, indem ihr zum Beispiel eine kleine Ecke eurer Terrasse oder Balkons mit Sand oder Kies aufschüttet.
Our favorite: outdoor carpets.


---
Decoration
As so often, the small decorative elements make that certain something on balconies or in terraces. Beautiful fairy lights and lanterns in different sizes create a romantic and cozy atmosphere at dusk.

You can create a very special highlight with a small fireplace. But be careful: Especially when using a fire bowl on the balcony, you should make sure that you have enough space and distance to the house wall and other flammable objects! If you are careful and considerate of the neighbors, you will easily have a campfire atmosphere. Of course, stick bread and marshmallows should not be missing.



---
Allrounder for smaller places
Especially in the big cities, we are not all lucky enough to have a balcony or terrace. If at all, most balconies or terraces only amount to a few square meters. Every angle should be used optimally. We have found some cool pieces that can be folded or converted in no time at all and are therefore ideal for small spaces:

You can find even more inspiration on our Pinterest channel!


Credits:
https://www.pinterest.de/pin/544724517435058736/
https://www.pinterest.de/pin/544724517435059113/
https://www.pinterest.de/pin/544724517435058753/
https://www.pinterest.de/pin/544724517435051349/
https://www.pinterest.de/pin/544724517435051373/
https://www.pinterest.de/pin/544724517435054470/
https://www.pinterest.de/pin/544724517435054473/
https://www.pinterest.de/pin/Afi3T7mU82GI2gkZnHt-9BlHb9_steu89vorInnoCzrfH5OxgqLWoNiN01HVHgDj7T2cQx2gJoHk1eqkVQ8754U/
https://www.pinterest.de/pin/544724517435079627/
https://www.pinterest.de/pin/544724517435078604/
https://www.pinterest.de/pin/544724517435058790/
https://www.pinterest.de/pin/544724517435058737/
For more inspiration visit our Shop …